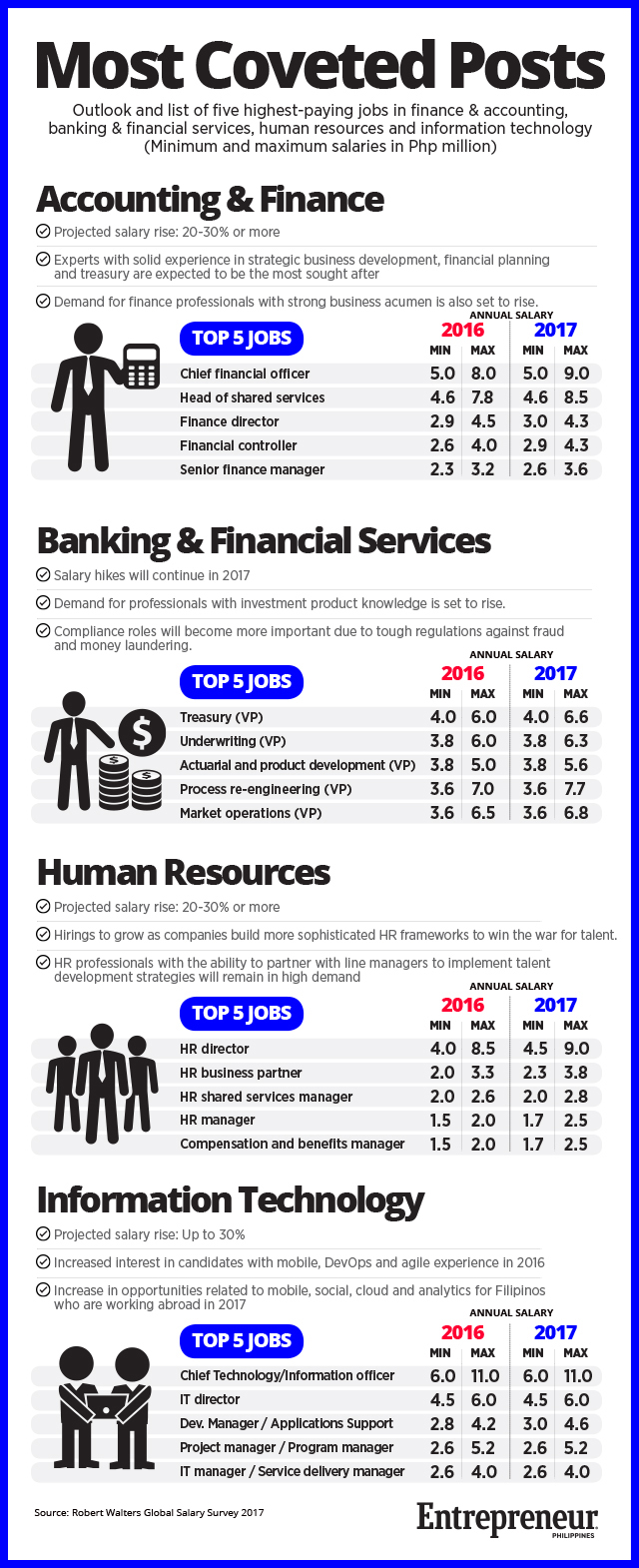 Specialists and highly skilled professionals working in the Philippines received a salary increase between 20 percent and 40 percent when moving jobs in 2016, according to a report issued by professional recruitment consultancy Robert Walters. 
It also predicted that "qualified professionals moving jobs in 2017 can expect average salary increments of 20 to 30 percent."
The report, called the 2017 Global Salary Survey, covered four sectors: finance and accounting, banking and financial services, human resources and information technology. The recruitment consultancy predicted that two of the sectors, human resources and finance and accounting, will see salaries rise by at least 20 percent.
ADVERTISEMENT - CONTINUE READING BELOW
Pay for specialized skills in the information technology sector are expected to climb by up to 30 percent this year. It predicted that salary hikes in the banking and financial services sector will continue although it did not provide a figure.
The survey also noted three key skills that will have high demand in the job market this year. "Professionals with solid experience in strategic business development, financial planning and treasury will continue to be highly sought after by employers in 2017," said the report.
"There will also be an increase in local opportunities related to mobile, social, cloud and analytics for Filipinos currently working abroad," it added.
The Global Salary Survey is an annual research tool on salary and employment trends around the world. According to Robert Walters, it is "used by employers, HR managers and employees for benchmarking salary levels within their industry."
*****
Lorenzo Kyle Subido is a staff writer of Entrepreneur PH
ADVERTISEMENT - CONTINUE READING BELOW