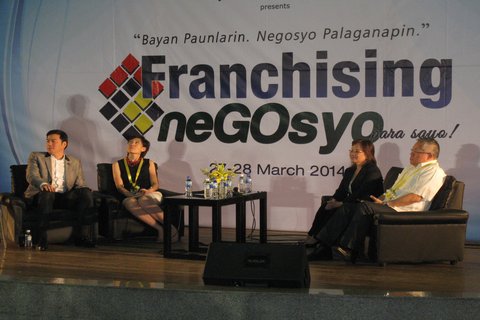 <>To sustain the country's economic growth through the promotion of entrepreneurship via franchising, the Philippine Franchise Association (PFA) mounted
Franchising Negosyo Para Sa 'Yo
at the Activity Center of Trinoma Mall last March 27 and March 28.
In partnership with Go Negosyo, PFA bannered the theme, '
Bayan Paunlarin, Negosyo Palaganapin
,' which was aimed at educating the public on wise franchise investment and at the same time encouraging them to work for inclusive growth by taking the path of entrepreneurship through franchising.
The first in a series of roadshows nationwide, the free-entrance event showcased viable franchise opportunities and learning sessions from industry experts through relevant seminars on wise franchise investment as well as presentations on technology and financing tools to help start-ups and aspiring entrepreneurs. To accommodate the multitude of visitors, the 'How to Invest in the Right Franchise' seminar was held three times on both dates, followed by presentations on various franchise investment packages.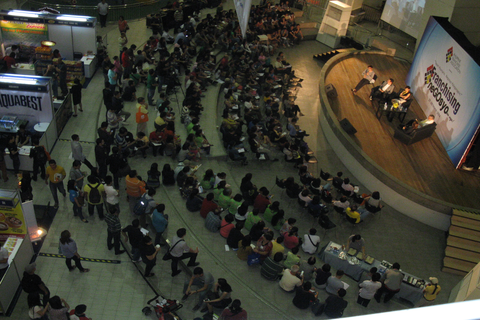 Congruent to the nation's goals to sustain the gains from overseas employment, generate employment, and contribute to the country's development aspirations through the reintegration of OFWs, the National Reintegration Center For OFWs (NRCO), Overseas Workers Welfare Administration (OWWA), and the Philippine Overseas Employment Administration (POEA) have also supported the event together with the Philippine Chamber of Commerce and Industry-Quezon City Chapter.
Franchising Negosyo Para Sa 'Yo
exhibitors included, among others, 7-Eleven, Aquabest, Bar-B-King, Chado, Crystal Clear, Dimsum Factory, Dimsum Republic, Finds Convenience Store, Fruit Magic, Fruitas, Hungry Juan, Julie's Bakeshop, Kettle Korn, Magic Melt, Minute Burger, Pansit Malabon, Pizza Pedricos, Potato Corner, Sam's Everything on Stick, Waffle Time, Bayad Center, Gamot Publiko, Generika, HBC, Little Lamb, Mr. Quickie, Oryspa, and PR Gaz.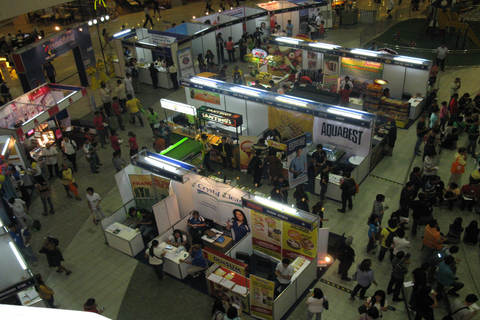 Special franchise investment packages were given out to overseas Filipinos and Seafarers. Aspiring and established entrepreneurs, overseas Filipinos and their families, members of the academe, professionals and medical practitioners, retirees and/or veterans, and franchise enthusiasts were among the participants.
ADVERTISEMENT - CONTINUE READING BELOW