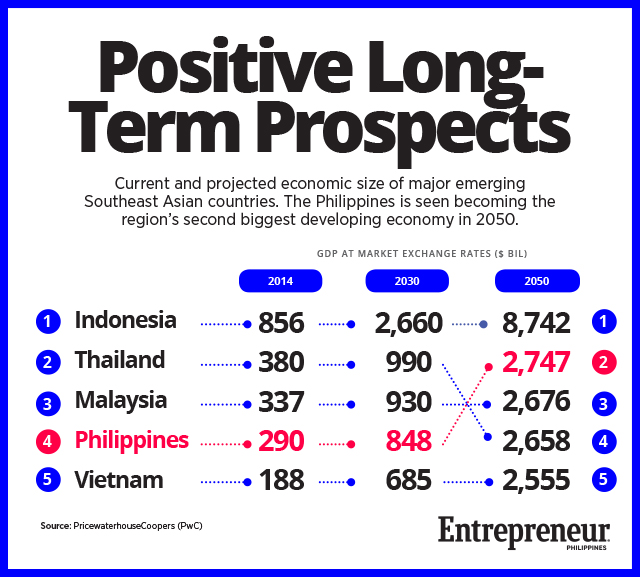 The Philippines is seen to become Southeast Asia's second largest emerging economy by 2050, according to a study by global accounting firm PricewaterhouseCoopers (PwC). Indonesia will retain its leading position in the region.
In The World in 2050: Will the shift in global economic power continue?, the UK-based professional services firm projected the Philippines will overtake Thailand and Malaysia after more than 30 years. The Philippines is currently No.4 in economic size among developing countries in the region. The PWC rankings do not include Singapore, which is considered a developed economy.
ADVERTISEMENT - CONTINUE READING BELOW
The Philippines' GDP is projected to grow from $290 billion in 2014 to $2,747 billion by 2050. It is projected to expand by an average of 6.3 percent per year in US dollar terms. Malaysia and Thailand will closely trail behind, with $2,676 billion and $2,658 billion, respectively.
Globally, the Philippines' ranking in economic size among 32 countries covered by the study is expected to climb from 28th to 19th. It is one of three countries seen to make the greatest moves up the rankings. The other two are Vietnam (from 32nd to 20th) and Nigeria (from 22nd to 14th).
*****
Pauline Macaraeg is Entrepreneur PH's data journalist