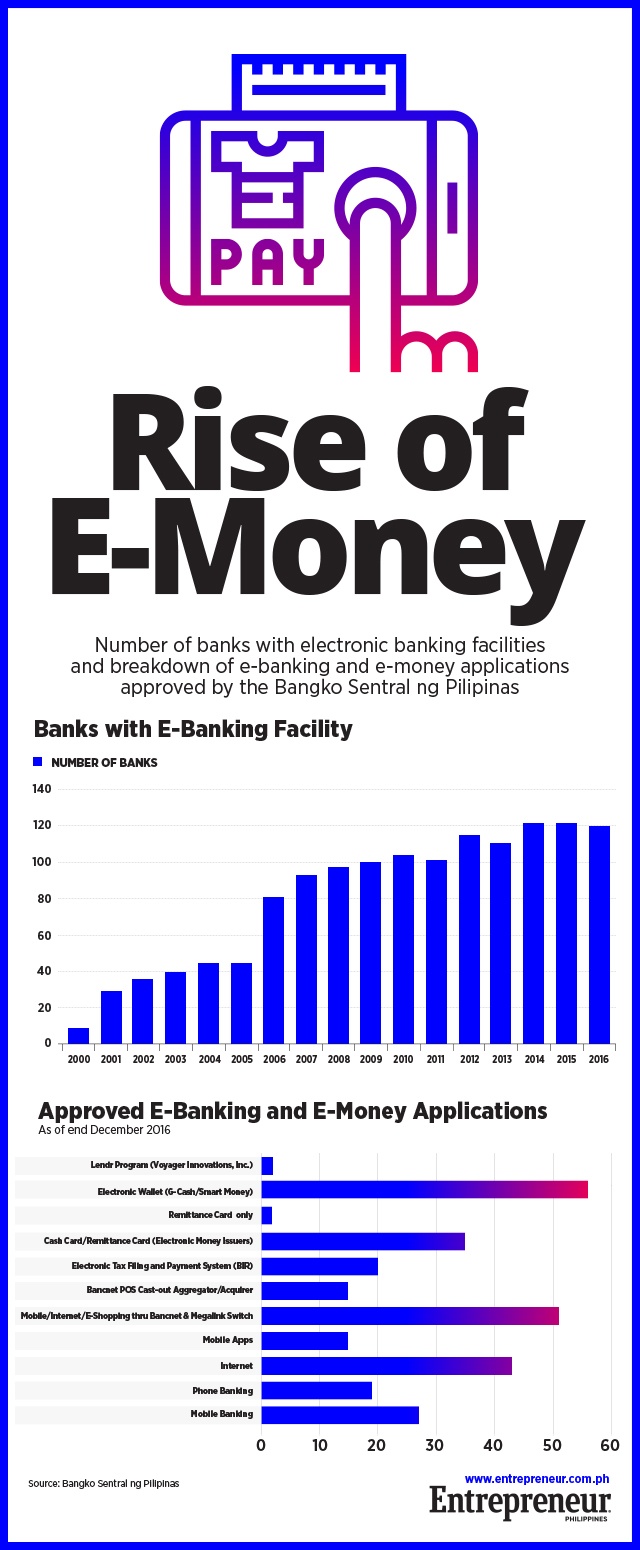 If you are a regular user of mobile e-wallet apps such as PLDT's Smart Money and Globe's G-Cash to pay for goods and services, you're part of the reason why the volume of electronic money transactions surged to Php1.1 trillion last year, according to a report released by the Bangko Sentral ng Pilipinas (BSP). That's more than triple the Php348-billion level in 2013.
ADVERTISEMENT - CONTINUE READING BELOW
E-money is the latest form of non-cash payment instrument recognized by the BSP in the Philippines, and comes after checks, credit cards, debit cards and stored value cards.
The rising usage of e-money in transactions offers policy-makers the best hope for making financial services available to unbanked Filipinos, who make up 86 percent of the population, according to the BSP.
According to a circular in 2009, the BSP defines e-money as "a monetary value electronically stored in convenient payment instruments that consumers can use to buy or pay for goods and services, to transfer or remit funds, and/or to withdraw funds."  It added that instruments used to store e-money include cash cards and electronic wallets, and cited PLDT's Smart Money and Globe's G-Cash as the most popular examples of e-money.
Of the e-money transactions in 2016, 78.2 percent were coursed through banks, which is equivalent to Php870.1 billion. The BSP noted in the report that 119 banks are engaged in electronic banking as of end-2016. The remaining 21.8 percent or Php242 billion cover the e-money transactions of electronic money issuers and non-bank financial institutions.
ADVERTISEMENT - CONTINUE READING BELOW
At the forefront of these e-money transactions are the financial services arms of the two big telcos. PayMaya, PLDT's mobile money unit, ended 2016 with six million users, including Smart Money customers, according to a BusinessWorld report. Meanwhile, Globe Telecom claimed that Mynt, its fintech unit, had some three million users, including G-Cash users, as of end-2016.
"Digital technology provides unprecedented access to customers to a virtual financial services industry which in turn allows them to perform banking transactions and make payments anytime, anywhere and at their own convenience," the BSP said in the report.
This upward trend is a step in the right direction for BSP's push in promoting digital financial services. In 2015, BSP Governor Amando Tetangco Jr. revealed that only one percent of all financial transactions in the country are done electronically, with the rest being done through cash or checks.
To promote digital payments use, the BSP launched the National Retail Payment System (NRPS) project in 2015 to promote cashless transactions. The NRPS will provide a central system that allows for interconnected transactions across different financial institutions. The system aims to increase the share of electronic payments in the country's financial transactions to 20 percent by 2020.
ADVERTISEMENT - CONTINUE READING BELOW
Related story: How PH banking will look like in 2020 
Ahead of the NRPS' full rollout, the BSP launched two automated clearing houses (ACHs) earlier this year: PESO Net, a system for batch electronic fund transfers, and InstaPay, a retail payment system for small-value payments. In a speech last March 31, Tetangco said that PESO Net would be convenient for large companies who need to deliver salaries and invoices in bulk, while InstaPay can be used by MSMEs to accept digital payments.
*****
Lorenzo Kyle Subido is a staff writer of Entrepreneur PH