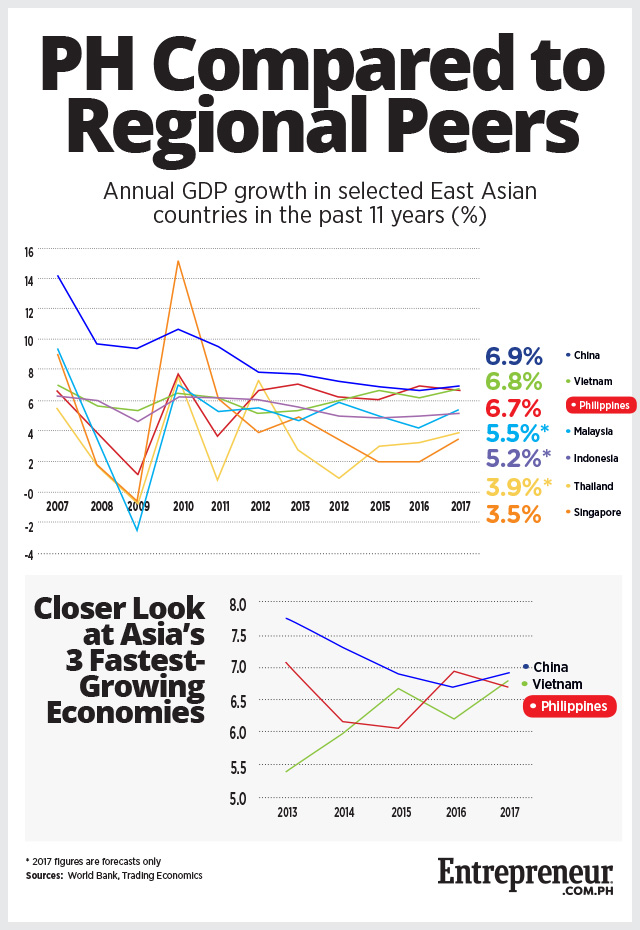 The Philippine economy grew 6.7 percent in 2017, the Philippine Statistics Authority (PSA) reported Tuesday, January 23. This is slightly lower than the 6.9 percent recorded in 2016 but still remains within the government's target of 6.5 to 7.5 percent for the year.
"[This is] a strong finish that keeps our position as one of the fastest growing economies in Asia," said Socioeconomic Planning Secretary Ernesto M. Pernia.
Among Southeast Asian countries, the Philippines slipped to the second spot as Vietnam took the lead as the fastest growing economy in 2017 with an annual growth of 6.8 percent.
Pernia said the 0.2 percentage point decline is "normal" after an election year, noting other previous post-election years have had steeper declines. "Our decline is really very moderate," he said.
In Asia, China still leads with a recorded 6.9 percent annual GDP growth. These three economies have been constantly occupying the top three spots since 2014, while Malaysia, Indonesia, Thailand and Singapore trail behind.
ADVERTISEMENT - CONTINUE READING BELOW
The government set a higher target of seven to eight percent GDP growth for 2018, banking on the expected surge in infrastructure spending.
"For 2016 and 2017, economic growth has been strong and steady. Our hope for 2018 and in the medium term is to shift the trajectory upwards some more," Pernia said.
The Duterte government has started rolling out preparations for the construction of its big-ticket projects included in the Build Build Build program.
"The Build Build Build, of course, will continue its momentum in providing more opportunities to our country—investments, job creation, connectivity, and dependable delivery of public services," Pernia added.
With a report from Elyssa Christine Lopez
*****
Pauline Macaraeg is Entrepreneur PH's data journalist. Follow her on Twitter @paulinemacaraeg