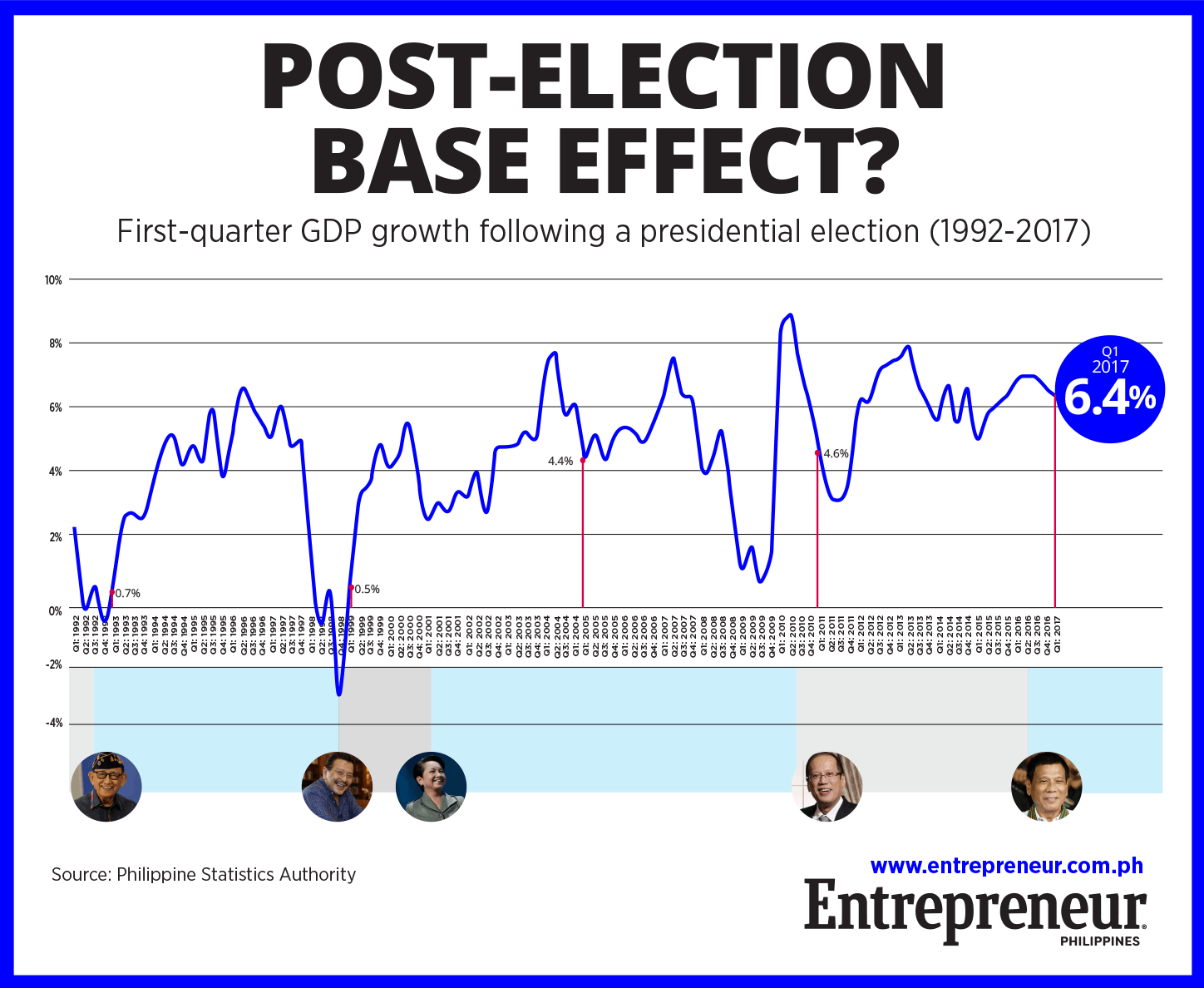 The Philippines' gross domestic product (GDP) grew 6.4 percent in the first quarter of 2017, down from the 6.6-percent figure in the fourth quarter of 2016.
Ernesto Pernia, director-general of the National Economic and Development Authority (NEDA), admitted that the Q1 growth rate was lower than expected. Experts forecast Q1 GDP growth at 6.8 to 6.9 percent, while the 6.4-percent growth rate is also below the government's target growth rate of 6.5 to 7.5 percent for 2017.
ADVERTISEMENT - CONTINUE READING BELOW
"We are a bit downcast," Pernia admitted in the media briefing last May 18.
The NEDA director-general blamed base effects of higher government and consumer spending ahead of last year's presidential election in May for the lower growth rate. "Growth last year was high due to election spending, the impact of which has already dissipated," said Pernia.
Indeed, the growth rate for the first quarter of the year after a presidential election has been lower since the 2004 elections. (See infographic)
Of the three major economic sectors, the services sector continued to account for the largest part of GDP growth, contributing 3.8 percentage points. It grew 6.8 percent year-on-year for Q1 2017, lower than the 7.2 percent of the previous quarter. The industry sector, which contributed 2.1 percentage points, also grew slower than the previous quarter with a growth rate of 6.1 percent, down from 7.9 percent in Q4 2016.
The remaining 0.5 percentage points were contributed by the agriculture sector, which grew 4.9 percent in Q1 2017. The industry bounced back from a decline of 1.3 percent in the previous quarter.
ADVERTISEMENT - CONTINUE READING BELOW
*****
Lorenzo Kyle Subido is a staff writer of Entrepreneur PH