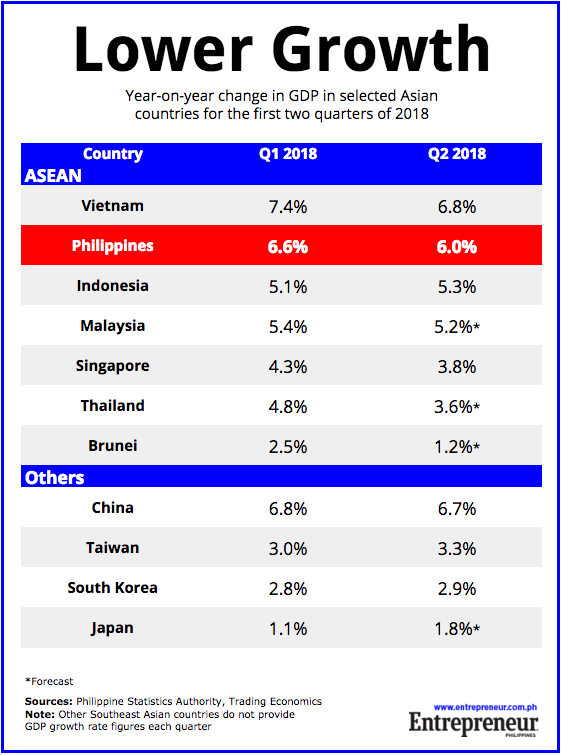 The country's gross domestic product (GDP) grew by a flat six percent annually in the second quarter of 2018, the Philippine Statistics Authority announced on August 9, slowing down from the revised 6.6-percent growth rate in the previous quarter.
It is the lowest that the country's GDP growth rate has been since the second quarter of 2015, when it also grew by 6.0 percent.
ADVERTISEMENT - CONTINUE READING BELOW
While GDP growth rate slowed down, that still ranks Philippines as the second fastest growing economy in Southeast Asia, putting it behind Vietnam's 6.8-percent growth rate for the quarter. It is also lower than China's growth rate of 6.7 percent for the same period. (See infographic)
"This is less than what we had hoped for," said Economic Planning Secretary Ernesto Pernia in a press conference.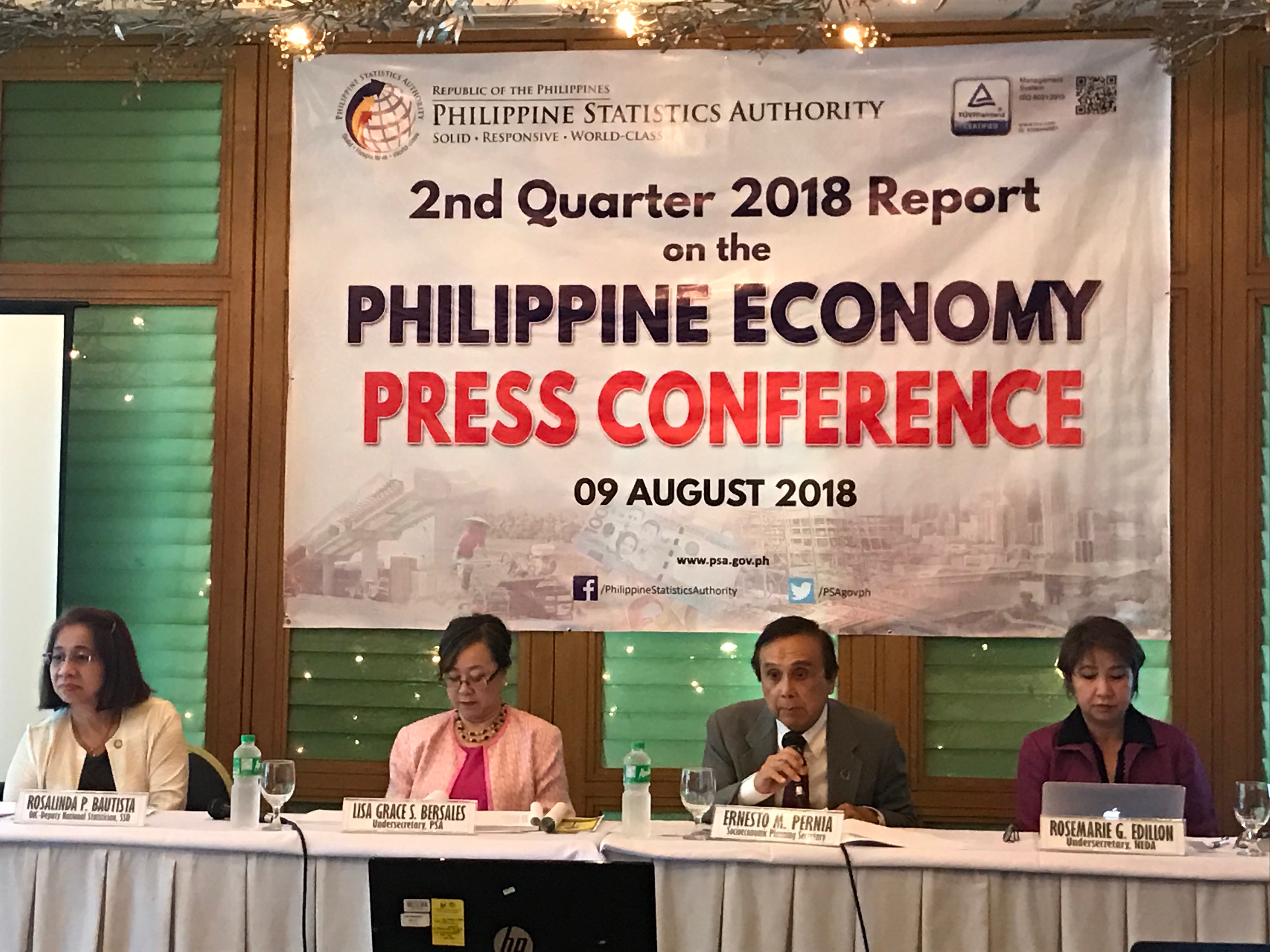 ADVERTISEMENT - CONTINUE READING BELOW
He estimated that for the economy to meet the government's growth target of at least 7 percent for the year, GDP needs to expand by 7.7 percent in the second half of the year. It rose by 6.3 percent in the first half of the year.
Pernia said the GDP growth slowdown, in part, was due to a series of policy decisions made by President Rodrigo Duterte and his department secretaries to address long-standing environmental problems.
"To be fair and put things in proper context, the slowdown is partly due to policy decisions undertaken that are expected to promote sustainable and resilient development," he said.
Pernia enumerated some of these corrective policies that contributed to the growth slowdown. He said: "We are referring to the temporary closure of Boracay Island from April to October 2018, which partly made a dent on the economy with growth in exports of services slowing to 9.6 percent in the second quarter from 16.4% in first quarter. We are also referring to regulations in the mining sector – the closure of several mining pits and the excise tax on non-metallic and metallic minerals – so that mining and quarrying sector showed a lackluster performance. It is down by 10.9 percent. Moreover, the stricter enforcement of regulations on aquaculture producers at Laguna Lake resulted in the drop of freshwater fish catch."
ADVERTISEMENT - CONTINUE READING BELOW
Still, he stood by the correctness of such decisions, saying they were needed to promote growth in the long term. "All measures should ensure sustainable and long-run growth for the economy. These policy decisions were prudent and judicious."
Related story: After 2 Years of Duterte, How Does GDP Growth Compare With Previous Presidents?
*****
Elyssa Christine Lopez and Lorenzo Kyle Subido are staff writers of Entrepreneur PH