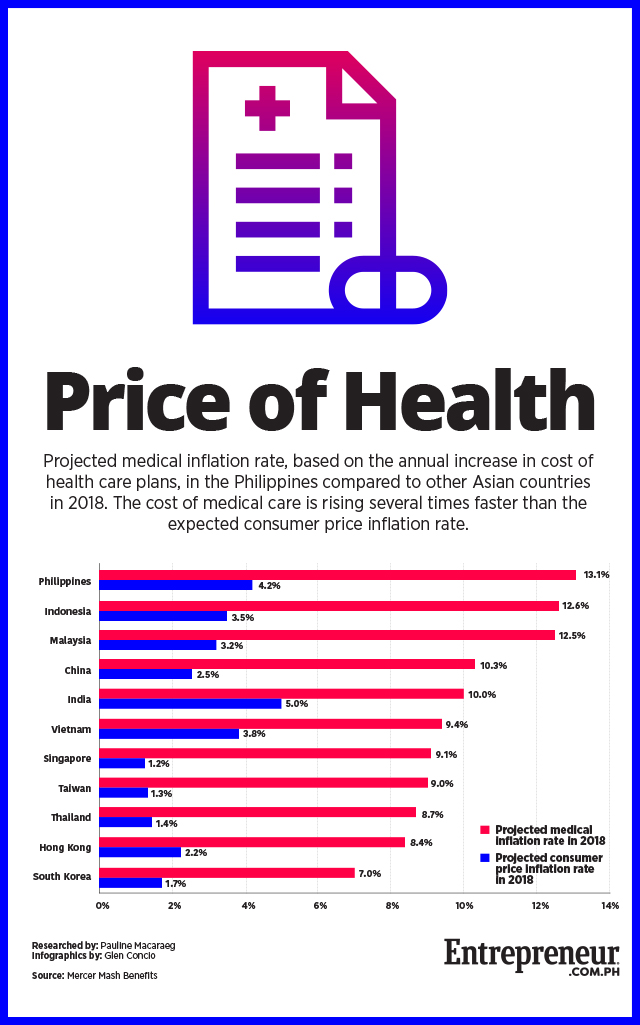 If you consider the 6.4 percent consumer price inflation in August very bad news, wait till you hear about the projected increases in health costs in the Philippines.
According to global HR consultancy Mercer Marsh Benefits' (MMB) 2018 Medical Trends Around the World survey, the Philippines' medical inflation rate is expected to hit 13.1 percent in 2018. This is the highest in all eleven countries located in Asia that are included in the survey. It's also significantly higher than the regional average of 10 percent. (See infographic)
ADVERTISEMENT - CONTINUE READING BELOW
"Despite having one of Asia's youngest populations with its median age of 23 years, the Philippines is expected to see the highest medical inflation rate in Asia that will outpace the 4.9-percent full-year inflation forecast by the Bangko Sentral ng Pilipinas (BSP) for 2018," MMB wrote in a press release.
The Philippines' projected medical trend/inflation rate is also higher than the global average for 2018, which stands at 9.1 percent. In 2017, MMB recorded an average of 9.5-percent medical trend rate across 50 participating countries.
To protect employees from the rising healthcare costs, MMB recommends firms and organizations to review their current healthcare plans and to invest in data analytics.
"Traditional medical insurance designs are mainly based on receiving crisis treatment in a clinic or hospital setting while seldom involve the principal of encouraging a healthy lifestyle. Adding the preventive elements into the design will help lower the employee health care cost," said Teng E. Alday, CEO of Mercer Philippines, Inc. and health business leader of Marsh Philippines, Inc.
ADVERTISEMENT - CONTINUE READING BELOW
"Employers need to be smarter about their organizations' healthcare plans, using data and harnessing digital advancements to fine-tune their approach," she added.
The medical trend rate, as calculated by MMB, includes all aspects of healthcare excluding dental but spanning hospitalization, outpatient, medications, maternity and vision.
MMB asked a total of 225 insurers from 62 countries to account for increases in cost per person for the 2018 study. The respondents, in turn, attributed medical inflation to the rising occurrence of non-communicable diseases such as heart disease, cancer, stroke, chronic respiratory disease, diabetes, and kidney disease, MMB said.
In the Philippines, MMB noted that one of the key factors that drive the medical inflation rate up is the increased stress or pressure experienced in the workplace. MMB further warned that an unhealthy population as manifested by an increase in chronic non-communicable diseases could become a big economic hurdle in the future.
"The country's upwardly-mobile young population has been one of our country's key economic drivers. However, if more of them are getting sick, their long-term treatments will be a financial burden both the private and public sectors will have to bear," Alday said.
ADVERTISEMENT - CONTINUE READING BELOW
*****
Pauline Macaraeg is Entrepreneur PH's data journalist. Follow her on Twitter @paulinemacaraeg