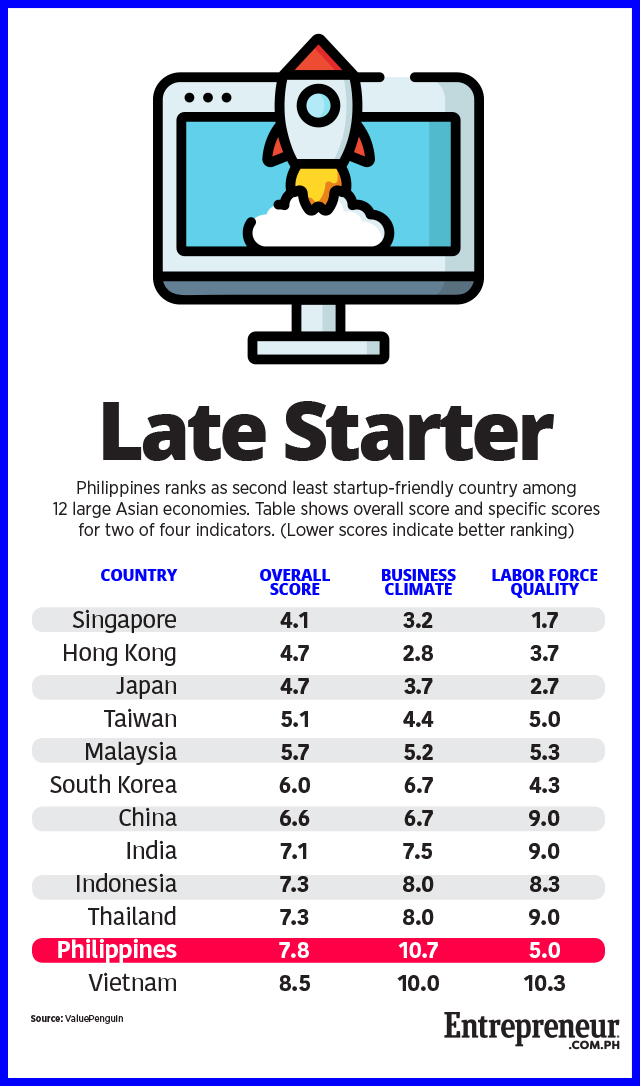 The Philippines ranked 11th among the 12 largest economies in Asia-Pacific as the best location for startups, according to a study by financial market analyst ValuePenguin. This made the country the second least appealing for startup companies, next only to communist Vietnam.
Using data from sources such as the World Bank, the World Economic Forum and various government agencies, ValuePenguin ranked the 12 markets according to four major categories: (1) Economic Health, which measured GDP per capita, unemployment rate and financial inclusion; (2) Cost of Doing Business, which ranked countries based on tax rates and cost of living; (3) Business Climate, which compared markets based on ease of doing business, access to funding and internet infrastructure; and (4) Labor Force Quality, which examined the countries' workforce based on educational attainment.
The Philippines garnered a composite score of 7.8, with only Vietnam ranking lower with a score of 8.5. (In the study, lower scores mean better ranks.) Singapore took the top spot with a composite score of 4.1, while Hong Kong and Japan tied for second place with a 4.7 score.
ADVERTISEMENT - CONTINUE READING BELOW
In the report, the Philippines ranked the lowest in two of the four categories. For Economic Health, ValuePenguin pointed to the Philippines' low bank penetration, low GDP per capita and high unemployment rate as factors for putting it at 12th place. Under Business Climate, the country ranked the lowest in most metrics, which included ease of starting a business, public institutions, access to venture capital funding and market dominance.
Related story: PH Businesses Waste Over 1 Million Days a Year on Business Registrations
Despite the low cost of living in the country, the Philippines still ranked 10th in the Cost of Doing Business category due to the high tax rates imposed on businesses. However, the country ranked fifth in terms of Labor Force Quality, owing to the large percentage of Filipino adults who finished secondary and/or tertiary education.
Some of ValuePenguin's findings were consistent with the results of the 2017 Philippine Startup Survey, the first-ever sector study on the local startup ecosystem published by accounting firm PwC Philippines and startup enabler QBO Philippines. In the survey of over 100 startup founders and entrepreneurs, respondents cited capital requirements, regulatory requirements and general economic and business conditions as the biggest challenges startup founders face in launching their businesses.
As well, when asked which areas the Philippines should improve on to help businesses start up, majority of respondents answered tax incentives and ease of doing business as the biggest areas of improvement.
Related story: 5 Things You Should Know About PH Startups from the First-Ever Sector Survey
ADVERTISEMENT - CONTINUE READING BELOW
*****
Lorenzo Kyle Subido is a staff writer of Entrepreneur PH