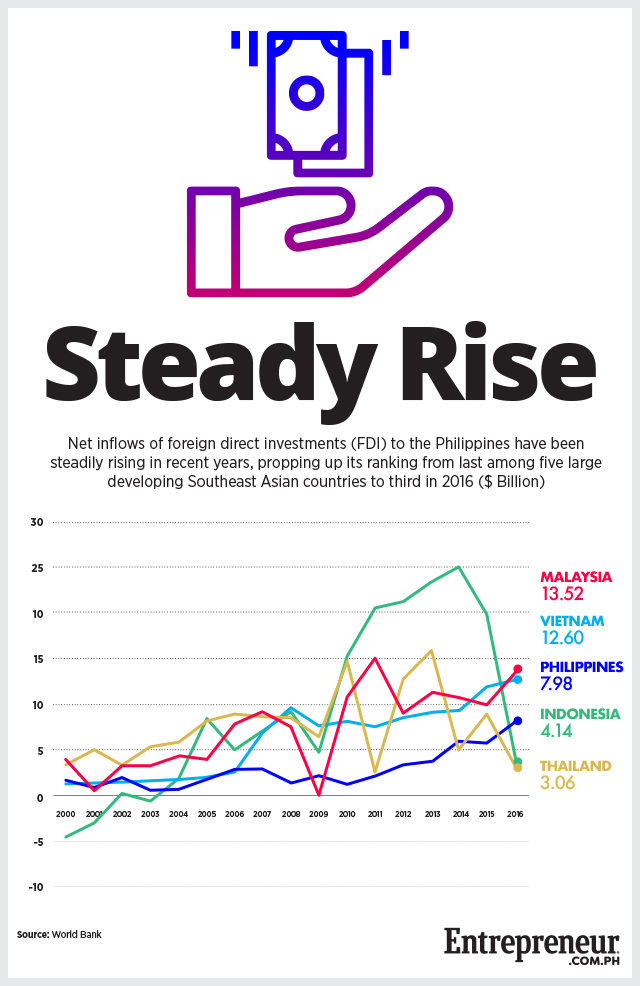 The Philippines came out on top in a list of countries that offer the most attractive investment opportunities for foreign businesses, according to American media organization U.S. News & World Report. The country ranked first in U.S. News' list of "Best Countries to Invest In," which it defines as "the countries business decision-makers find financially attractive."
ADVERTISEMENT - CONTINUE READING BELOW
The report surveyed over 6,000 business experts and ranked countries based on eight characteristics, judging whether or not a country is corrupt, dynamic, economically stable, entrepreneurial, innovative, has a favorable tax environment, has a skilled labor force and has technological expertise. On top of those factors, U.S. News also highlighted the countries' rising inflows of foreign investments as a major reason for topping the list.
"In contrast to declining inflows of foreign direct investment, or FDI, to Southeast Asia as a whole, the Philippine continued to perform well," wrote U.S. News. "In years to come, the country is expected to receive more FDI from within the region from powerhouses like China that are looking to utilize available labor in developing nations."
Indeed, net inflows of FDI to the Philippines have been increasing in the past few years, growing almost eightfold from $1.07 billion in 2010 to $7.98 billion in 2016, according to data from the World Bank. That stands in contrast with most other Southeast Asian countries, which have seen decreases and/or fluctuations in recent years.
ADVERTISEMENT - CONTINUE READING BELOW
The Philippines is joined by several Southeast Asian neighbors in the top five, with Indonesia ranking second, Malaysia coming in fourth and Singapore placing fifth. Also in the list are Thailand (No. 8) and Vietnam (No. 23).
The "Best Countries to Invest In" list is part of U.S. News' overall Best Countries ranking, which surveyed 80 countries based on several economic, social and cultural factors. In the overall list, the Philippines ranked 49th, down from 43rd in the previous year.
*****
Lorenzo Kyle Subido is a staff writer of Entrepreneur PH