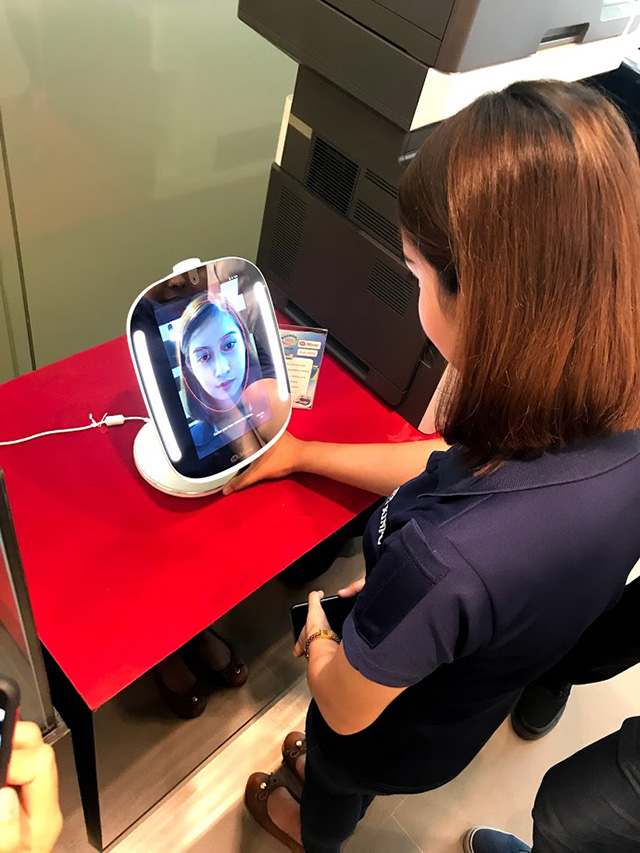 An NKG employee tests the HiMirror at the company's manufacturing facility in Batangas
Every day we're bombarded with beauty ads hawking countless products to improve our face, skin, hair and everything else about our looks. As if that wasn't enough, now there's a device that can tell us exactly what's wrong with our face and how we can fix it. And it's made right here in the Philippines.
At a press tour of their manufacturing facility in Lipa City, Batangas, officials of Cal-Comp Tech Philippines, a subsidiary of Taiwan-based conglomerate New Kinpo Group (NKG) , showed off a product called HiMirror, a smart mirror that can scan a person's face to look for blemishes, wrinkles, pimples, red spots and other flaws. It can then recommend products to the user that would correct these imperfections. You can also use it as a traditional mirror just to check how you look.
ADVERTISEMENT - CONTINUE READING BELOW
HiMirror was introduced at the Consumer Electronics Show in Las Vegas last year and bills itself as the world's first voice and gesture-activated smart mirror. According to Hugh Lo, NKG vice president, the mirror uses facial recognition technology to track a user's skin health. It can store data on various skincare brands, remind users when it's time to apply the products and can even recommend other beauty products that can target specific skin issues.
The HiMirror also connects to YouTube or Spotify to stream content through a companion app. An updated version called HiMirror Plus+ is Amazon Alexa-enabled, while a smaller version called HiMirror Mini comes with almost all of the same features.
In the HiMirror website, NKG CEO Simon Shen said he was inspired to design and develop HiMirror after noticing his wife go through her skincare routine.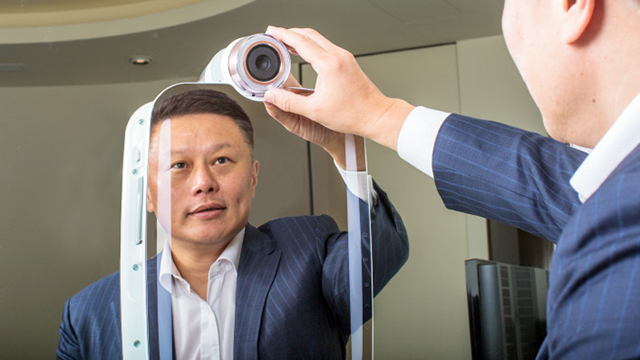 NKG CEO Simon Shen says he was inspired to develop HiMirror after seeing his wife's nightly skincare routine
ADVERTISEMENT - CONTINUE READING BELOW
"Suddenly it hit me," he said. "I would combine the (earlier developed) Smart Body Scale with a smart mirror. Not only would the information from the scale be easily displayed, but the mirror would also help my wife with her skincare and makeup."
In addition to HiMirror, NKG also manufactures other smart beauty products such as a facial moisturizing spray, facial cleaning brush, facial massager, sonic electric toothbrush and hair dryers. All of it is made at the Cal-Comp Technology Manufacturing plant in Sto. Tomas and Lipa, Batangas.
NKG officials said the company even manufactures the products of a well-known UK-based beauty and appliance brand.
HiMirror is a brand under NKG, which is perhaps best known as a global electronics manufacturer of calculators, external hard drives, printers, medical and healthcare items and other consumer electronic products under well-known tech and consumer brands like Canon, Casio, Citizen, Texas Instruments, HP, Dell, Toshiba and many others.
*****
 Paul John Caña is the managing editor of Entrepreneur PH