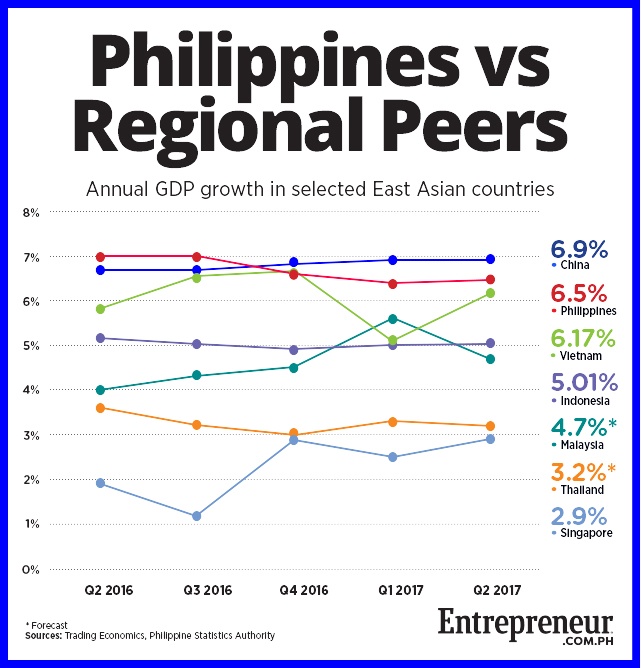 The Philippines is still the fastest-growing economy in the ASEAN region in the second quarter of 2017, according to data released by the Philippine Statistics Authority (PSA).
A rise in GDP, a measure of economic output, is often considered an indicator of a country's favorable economic performance. Typically, countries with high GDP growth also tend to have lower poverty and unemployment rates.
ADVERTISEMENT - CONTINUE READING BELOW
Despite Vietnam's strong recovery from 5.1 percent GDP growth in the first quarter to 6.17 percent in the second quarter, Philippines still maintains leadership with 6.5 percent. Vietnam comes second and Indonesia follows next with 5.01 percent.
Malaysia and Thailand still haven't released official figures but forecasts suggest both countries' GDP to fall to 4.7 percent and 3.2 percent, respectively.
Singapore remains at the bottom of the list with 2.9 percent, although that is an improvement from the 1.9 percent GDP recorded in the same period in the previous year.
Among East Asia's largest economies, the Philippines' economic growth rate comes second after China, which maintained a 6.9-percent GDP in the second quarter.
Related story: GDP Growth in Duterte's 1st Year Highest Among Past 5 Presidents
*****
Pauline Macaraeg is Entrepreneur PH's data journalist. Follow her at @paulinemacaraeg