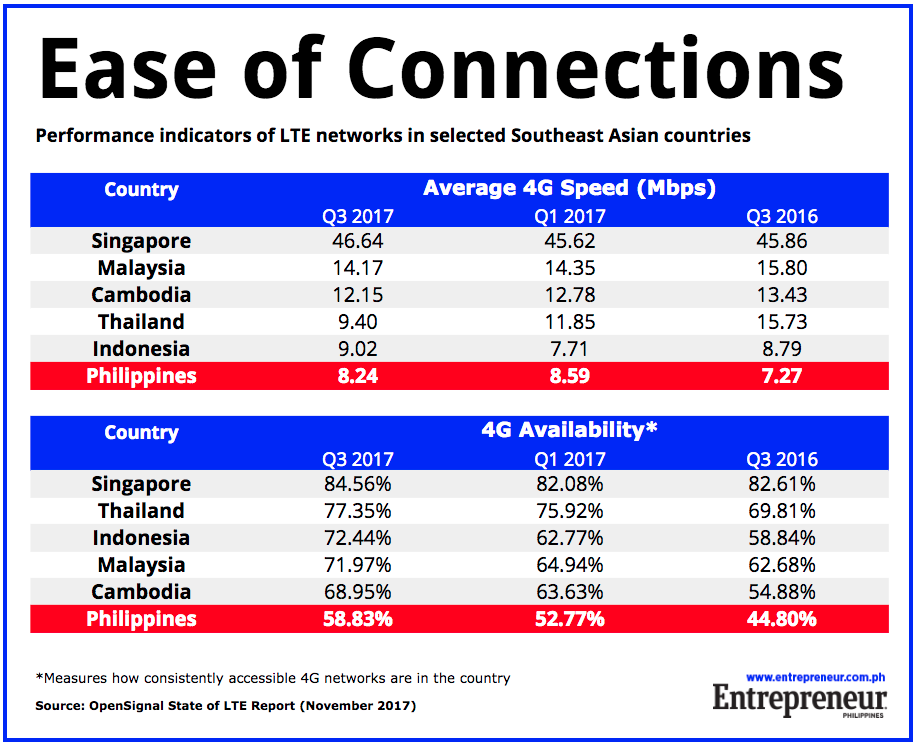 The Philippines' 4G mobile broadband connection speed averaged 8.24 Mbps in the third quarter of 2017, according to the newest State of LTE report released by mobile operator analyst OpenSignal. That is slower than the country's average 4G speed in the first quarter of 2017, which stood at 8.59 Mbps.
The drop in average mobile connection speed makes the Philippines' 4G connection the slowest in Southeast Asia once again, a designation that went to Indonesia in the previous OpenSignal report. Among the 77 countries OpenSignal surveyed, the Philippines ranked the fourth slowest in terms of average 4G speed, and its 8.24 Mbps is still way below the global average speed of 16.6 Mbps.
ADVERTISEMENT - CONTINUE READING BELOW
However, the country's 4G availability, or the measure of "how consistently accessible 4G networks are in each country," improved over the same period. OpenSignal pegged 4G availability in the Philippines at 58.33 percent for Q3 2017, jumping from 52.77 percent in Q1 2017.
Related story: 4G Speed in PH Improves But Still Least Available in ASEAN
Due to its low placement in both metrics, OpenSignal dubbed the Philippines as one of the countries "that are still in their 4G infancy," alongside Algeria, Costa Rica, Pakistan and Sri Lanka.
Singapore once again topped the list in terms of 4G speed in the report with an average speed of 46.64 Mbps, a slight improvement from the 45.62 Mbps reported two quarters ago. Similarly, South Korea still has the most accessible 4G networks out of all the countries surveyed, which stood at 96.69 percent for Q3 2017.
For the latest State of LTE report, OpenSignal took over 50 billion measurements across 3.8 million mobile devices around the world from July 1 to October 1. The company frequently publishes reports breaking down mobile connectivity statistics on both a global and country level.
ADVERTISEMENT - CONTINUE READING BELOW
OpenSignal's numbers are consistent with the results of another report on global internet connectivity prepared by Akamai Technologies. In its State of the Internet report for the first quarter of 2017, it put the Philippines' average internet speed at 5.5 Mbps, making it the slowest among the 15 Asian countries surveyed.
Related story: Is Change Really Coming? 100 Mbps Internet Available to 90% of PH by Next Year, Vows PLDT
*****
Lorenzo Kyle Subido is a staff writer of Entrepreneur PH