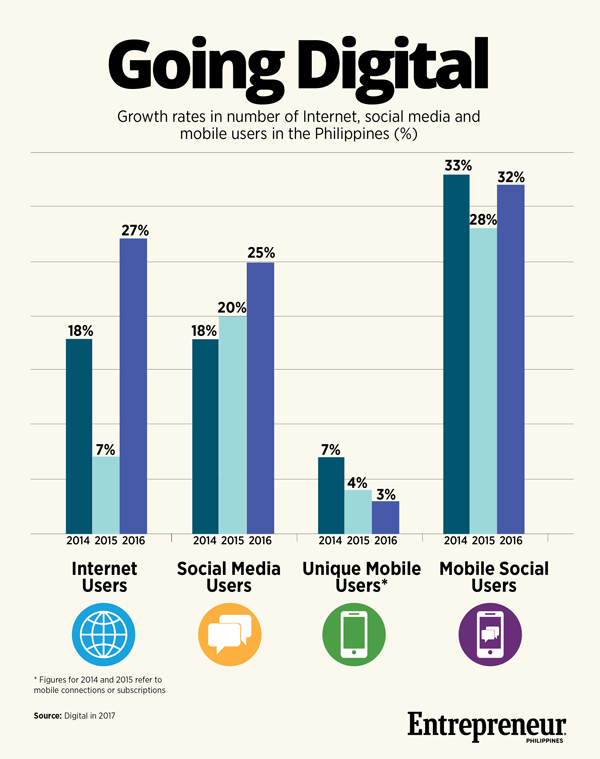 The number of internet users in the Philippines increased by 13 million or 27 percent from January 2016 to January 2017, according to a report by social media agency We Are Social and social media management platform Hootsuite. That's four times the seven percent growth rate in the previous 12-month period.
The figures imply that Philippine internet users have reached about 60 million as of January 2017, or about 60 percent of the population, based on Entrepreneur Philippines' calculations. That's sharply higher than the global internet penetration rate of only 50 percent.
ADVERTISEMENT - CONTINUE READING BELOW
In the report, Digital in 2017, We Are Social and Hootsuite also said that social media users in the Philippines grew by 12 million or 25 percent while the number of mobile social users increased by 13 million or 32 percent. Those growth figures are still higher compared to the previous year.
Filipinos also increased the average time they spent on social media, from 3.7 hours the year ending January 2016 to 4.3 hours in the year to January 2017, according to the report. Like last year, the Philippines was No. 1 in the world in time spent on social media.
The number of unique mobile users grew by only two million or three percent. This suggests that the growth in internet and mobile social users is being driven by rising consumer adoption of smartphones compared to feature phones.
Published annually since 2012, the report encompassed 238 countries and analyzed data regarding internet penetration, social media use and other digital trends.
*****
Lorenzo Kyle Subido is a staff writer of Entrepreneur PH 
ADVERTISEMENT - CONTINUE READING BELOW