The Philippines, with its fast-growing internet market, is set to hit US$ 19 billion or Php 920 billion by 2025—and majority of it will be on mobile.
These were some of the findings detailed in a joint study done by Google and Temasek, a Singaporean state-owned investment company. The focus on the Philippine is part of their report detailing the US$ 200 billion digital opportunity to be found in Southeast Asia.
ADVERTISEMENT - CONTINUE READING BELOW
"With all of the advantages that the internet brings with it, there's never been a better time to start a business in the Philippines," said Google Philippines' country manager Ken Lingan during their recent presentation of the report at the Shangri-La at the Fort.
"And the opportunity for Pinoys to fully embrace digital is enormous: US$ 19 billion," Lingan said.
Online numbers
Lingan explained that the Philippines' online population is growing rapidly: 55 million as of 2015 and moving up to 60 million. This is up from 45 million in 2014 and seven million in 2004. As of 2015, the Philippine population is already 100.7 million.
"If you do the math, that's close to half a million people going online every single month in the Philippines," Lingan said.
"So if you're a business, I think that sixty million mark is important because it proves already [that] digital is not a niche, [nor] perhaps something that's [just] an option. It's a must," he added.
ADVERTISEMENT - CONTINUE READING BELOW
Likewise, most of the Filipinos online are mobile, as 61 percent use smartphones as compared to 39 percent who use computers.
"For many Filipinos, they don't have a laptop or a desktop. Their main access point would be a smartphone," Lingan said, reiterating that many of these Filipinos are actually "mobile-only" internet users.
With this growing online population, he said the local online market can grow by 34 percent within the next ten years—or US $19 billion by 2025. This will mainly be driven by e-commerce.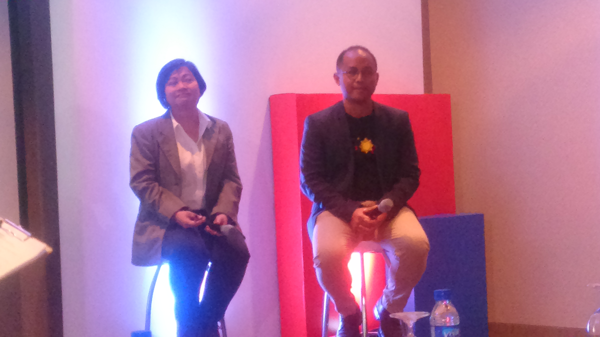 ADVERTISEMENT - CONTINUE READING BELOW
Major growth drivers
Lingan cited three growth drivers of the local online market: e-commerce, online travel and online media.
As of 2015, there were eight million online buyers. This is expected to increase to 42 million by 2025, or 18 percent annually.
"If you think about our country's population, we have the youngest population in Asia—more than 25 percent are under 40. And this is the kind of demographic which are more open to e-commerce, are more tech-savvy, more open to technology, and certainly, more socially-engaged," Lingan said.
He further said the key reasons for Filipinos' change of behaviour about buying online include easier and faster ways of shopping, cheaper prices and getting exclusive online content. 
Because of this, e-commerce—which amounts to US$ 5 billion or Php 242.5 billion as of 2015—is expected to increase to US$ 9.5 billion (or Php 460.7 billion) in 2025. Meanwhile, e-commerce penetration is expected to grow by 0.5 percent in 2015 to 4.7 percent within that same time frame.
ADVERTISEMENT - CONTINUE READING BELOW
Lingan noted that this market would address brand new items, and not pertaining to the second-hand market.
With regard to the online travel market, the Google country chief said that the main drivers for this would be the growing middle class with their increasing income, and low-cost carriers.
Lingan explained that the internet now makes it easier for people to do research and booking for their travels.
From US$ 1 billion or Php 48.5 billion in 2015, the online travel market is expected to grow by $6 billion or Php 291 billion in ten years. These include expenses for airlines, hotels, and the like. 
Challenges facing the country
In terms of challenges, Lingan pointed out the obvious issues with the country's internet infrastructure.
He noted the Philippines' slow internet speed and high cost of data, which is the highest in Southeast Asia.  This, he said, makes Filipinos become "conscious of transacting online."
The Google Philippines chief also listed a number of issues that need to be addressed: the complexity of payments, market readiness, fraud and cybersecurity, and internet connectivity and logistics.
ADVERTISEMENT - CONTINUE READING BELOW
On the other hand, Lingan said there are a lot of opportunities and challenges facing startup businesses in the country.
There are around 7,000 startup companies in Asia and majority of them are in Indonesia, Singapore and Vietnam. However, there are only 400 startups in the Philippines as of 2016.
In terms of startup funding, Lingan said that "majority of the funding [for startups] is only at the seed stage" of the funding process.
Meanwhile, Minette Navarette, president of Kickstart Ventures, said that a lot of policies need to be changed.
For example, Navarette said that different guidelines in different local governments make it hard for startup companies to set up shop.
On the other hand, she said that startups companies have to adapt to the current internet infrastructure, for example, working in a bandwidth-challenged country.
"You work with the environment you've got," she said.
*****
Joseph Nacino is an editor and communications consultant who has worked for the Department of Budget and Management, Philstar.com and various corporate clients. A Neil Gaiman Graphic Fiction awardee, he writes short stories and has been anthologized in the Philippine Speculative Fiction series, and co-edited Diaspora Ad Astra and Demons of the New Year.
ADVERTISEMENT - CONTINUE READING BELOW