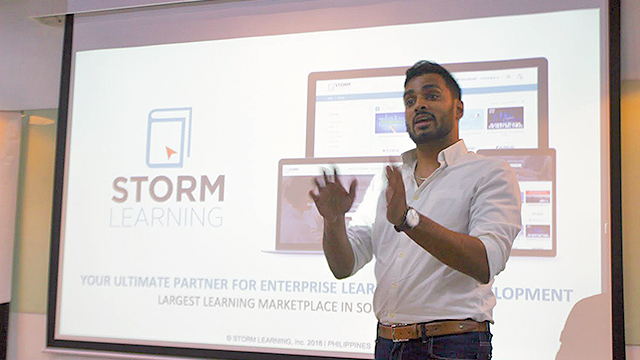 DM Varun, CEO of STORM Learning, pitches his startup at the local Techsauce event last May
"Employees are a company's greatest asset," according to Anne Mulcahy, the former CEO of tech developer and Fortune 500 company Xerox Corp. And much like any other asset, it is important for a company to maximize their workforce by constantly investing in them.
ADVERTISEMENT - CONTINUE READING BELOW
However, unlike other investments, it is difficult for companies to measure how much return they make from investing in their workforce. While they may be spending a large amount of capital in trainings and seminars, employers do not get a fixed or easily quantifiable return from these investments. They have to find a way to ensure that they are not only investing in their employees, but are doing so in a smart and efficient way.
One local startup that strives to help companies make better investments in their workforce is STORM Learning, a platform that gives employers an easier way to access online courses for their employees. Claiming to be "Southeast Asia's biggest comprehensive training marketplace," STORM Learning offers over 2,000 online courses sourced from training providers around the world.
"STORM Learning was born from the consistent feedback from organizations and the executives of the need for the services," wrote the company on its website. "With a limited network of training programs combined with a growing need for ongoing skills development, STORM Learning was formed to bridge that gap."
ADVERTISEMENT - CONTINUE READING BELOW
These courses cover a variety of topics and industries such as marketing, financial services and entrepreneurship. In a press release, STORM Learning revealed that for the offerings in its marketplace, it "aggregates all types of learning materials such as events, certifications, classroom instructor-led [lessons], e-learning and blended learning to ensure that all types of learners can benefit from the system."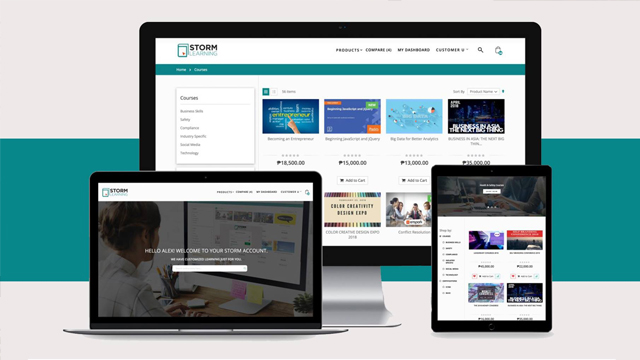 ADVERTISEMENT - CONTINUE READING BELOW
STORM Learning offers over 2,000 online courses sourced from training providers around the world
On top of its numerous course offerings, STORM Learning also provides clients with a Training Management System (TMS) that allows companies to manage how they train and upskill their workforce. Through the TMS, employers will be able to monitor each employee's activities and customize learning modules according to their needs.
"Through the marketplace and TMS, STORM Learning aims to empower the workforce by personalizing learning experience through technology," said the company in a statement.
Established in 2017, STORM Learning is headed by DM Varun, who has several years of experience in marketing. He previously worked as a marketing consultant in human resources firm John Clements Consultants as well as a marketing director in local events platform Yuneoh.
Varun's company is one of the 20 startups selected to pitch in the upcoming Techtonic Summit 2018, the country's largest gathering of tech startups happening on June 22 to 23. It is vying for a chance to win $10,000, exclusive mentorship and various networking and market opportunities across Southeast Asia.
ADVERTISEMENT - CONTINUE READING BELOW
Related story: 20 Startups Make It to Pitching Contest During PH's Biggest Tech Summit
As well, it is an associate company of STORM Technologies, a human resources startup providing innovative solutions to company benefits and incentives. Established in 2013, STORM Technologies was the country's representative to the Startup World Cup this year, a global pitching competition with a $1-million grand prize. Its founder, Peter Cauton, was also inducted into the exclusive Endeavor network last December.
Related story: STORM Technologies Founder Joins Exclusive Endeavor Global Network of High-Impact Entrepreneurs
*****
Lorenzo Kyle Subido is a staff writer of Entrepreneur PH