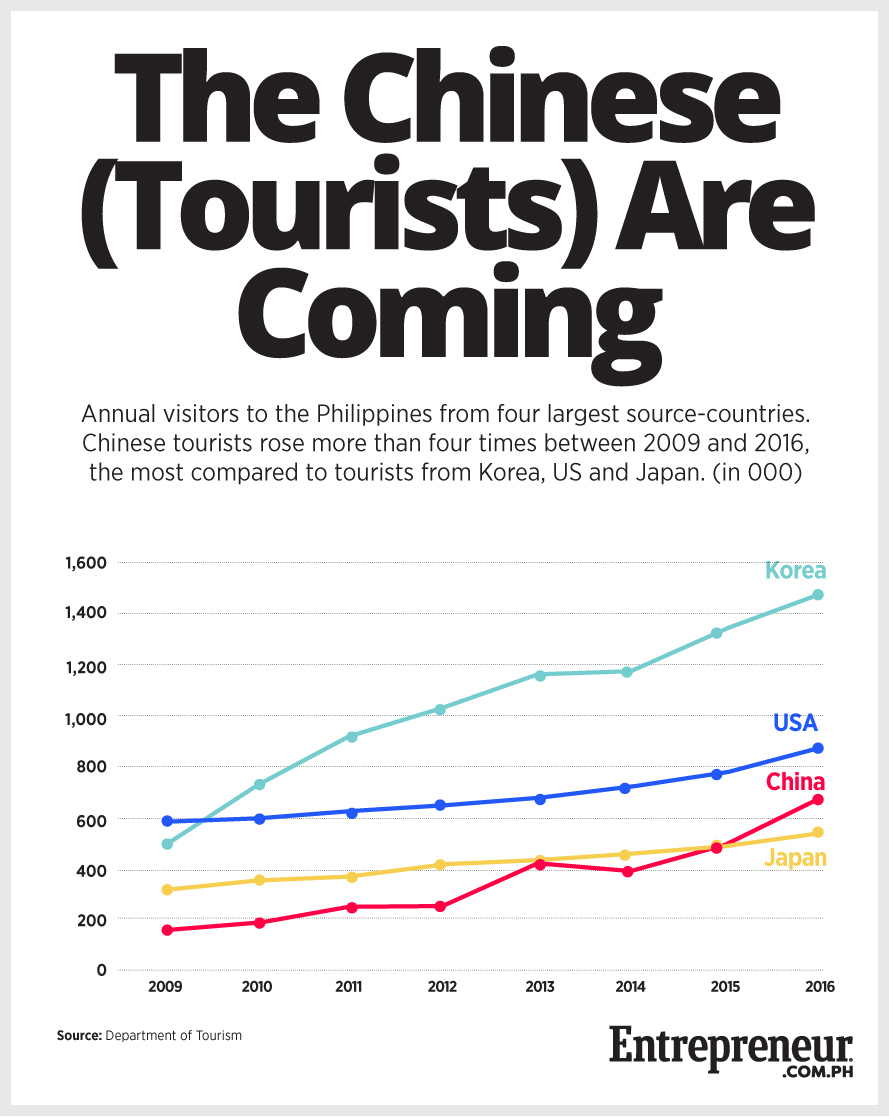 Philippine commercial bank Asia United Bank (AUB) has signed a licensing agreement with Chinese technology giant Tencent to bring the latter's mobile payments system WeChat Pay to the Philippines, allowing Chinese tourists to use the app in purchase items from Philippine stores and retailers.
The partnership will allow visitors from China who have the WeChat app to make cashless payments for purchases in the Philippines, eliminating the need for them to convert their money into Philippine pesos.
ADVERTISEMENT - CONTINUE READING BELOW
"This partnership harnesses the natural ecosystem of retail in today's tech-driven world and pushes the innovation and flexibility that AUB has always been known for," said Manuel Gomez, executive vice president of AUB.
WeChat is among the world's largest messaging apps, having over 980 million active users every month. It has since expanded by offering a variety of services, including a mobile wallet through WeChat Pay. In terms of market share in its home country, it is second only to Alipay, the mobile payments arm of e-commerce giant Alibaba, and the two are often cited as the main reasons why mobile is slowly becoming the dominant payment method in China.
Related story: Jack Ma is Poised to Disrupt PH's Trade and Payments System and Why That's a Good Thing
Philippine retailers who want to add WeChat Pay into their payment options must open an account with AUB and sign up to become a merchant partner. They will then be asked to download the AUB PayMate app, which will allow them to accept payments made over WeChat Pay. This allows merchants to tap into the market of Chinese tourists in the Philippines, who are increasingly accepting mobile apps as the norm for payments and transactions.
ADVERTISEMENT - CONTINUE READING BELOW
"WeChat Pay levels the playing field for small and big merchants, accommodating nearly every type of purchase and services for Chinese tourists," added Gomez.
The partnership between AUB and WeChat Pay is seen to not only give wider opportunities for local merchants but also to appeal to the growing number of Chinese tourists visiting the Philippines. Data from the Department of Tourism (DOT) show that for the first half of 2017, China was the third biggest visitor market for the Philippines, with 14.35 percent of all tourists (or over 640,000 arrivals) coming from China in that period. The DOT also highlighted that among the 10 biggest visitor markets for the first half of the year, China saw the biggest jump in terms of number of arrivals year-on-year.
Such a trend in the Chinese visitor market has been observed since 2009. Between the four biggest visitor markets of the country, China saw the largest increase in tourist arrivals from 2009 to 2016, more than quadrupling in number. (See infographic)
ADVERTISEMENT - CONTINUE READING BELOW
"We cannot underscore enough the opportunities and tight engagement in this medium," said Jacob Ng, AUB's chief transformation officer. "It is imperative for a technologically savvy institution like AUB to help make life easier for its massive and thriving Chinese user base."
The entry of WeChat Pay into the Philippines underscores the growing industry of mobile payments in the country, which has seen traction from both local and international players. Alipay has already established a presence in the Philippines through its acquisition of helloPay, the payment arm of Southeast Asian e-commerce platform Lazada, and it is currently one of the payment options available to Lazada customers.
As well, PayMaya and GCash, the country's biggest telco-backed mobile wallets, launched QR code-powered scan-to-pay features in their respective apps last October, which are similar to Alipay's and WeChat Pay's technology. Ant Financial, the payments arm of Alibaba and the parent company of Alipay, has also invested in GCash parent company Mynt, and GCash has said that its scan-to-pay technology was supported by Ant Financial.
ADVERTISEMENT - CONTINUE READING BELOW
Related story: GCash, PayMaya Move Closer to Emulating Jack Ma's Cashless Payment System for PH
AUB has begun rolling out WeChat Pay and will continue to do so in the coming weeks. The bank revealed in a statement that it is "currently conducting merchant orientations and accreditation" for the program.
*****
Lorenzo Kyle Subido is a staff writer of Entrepreneur PH