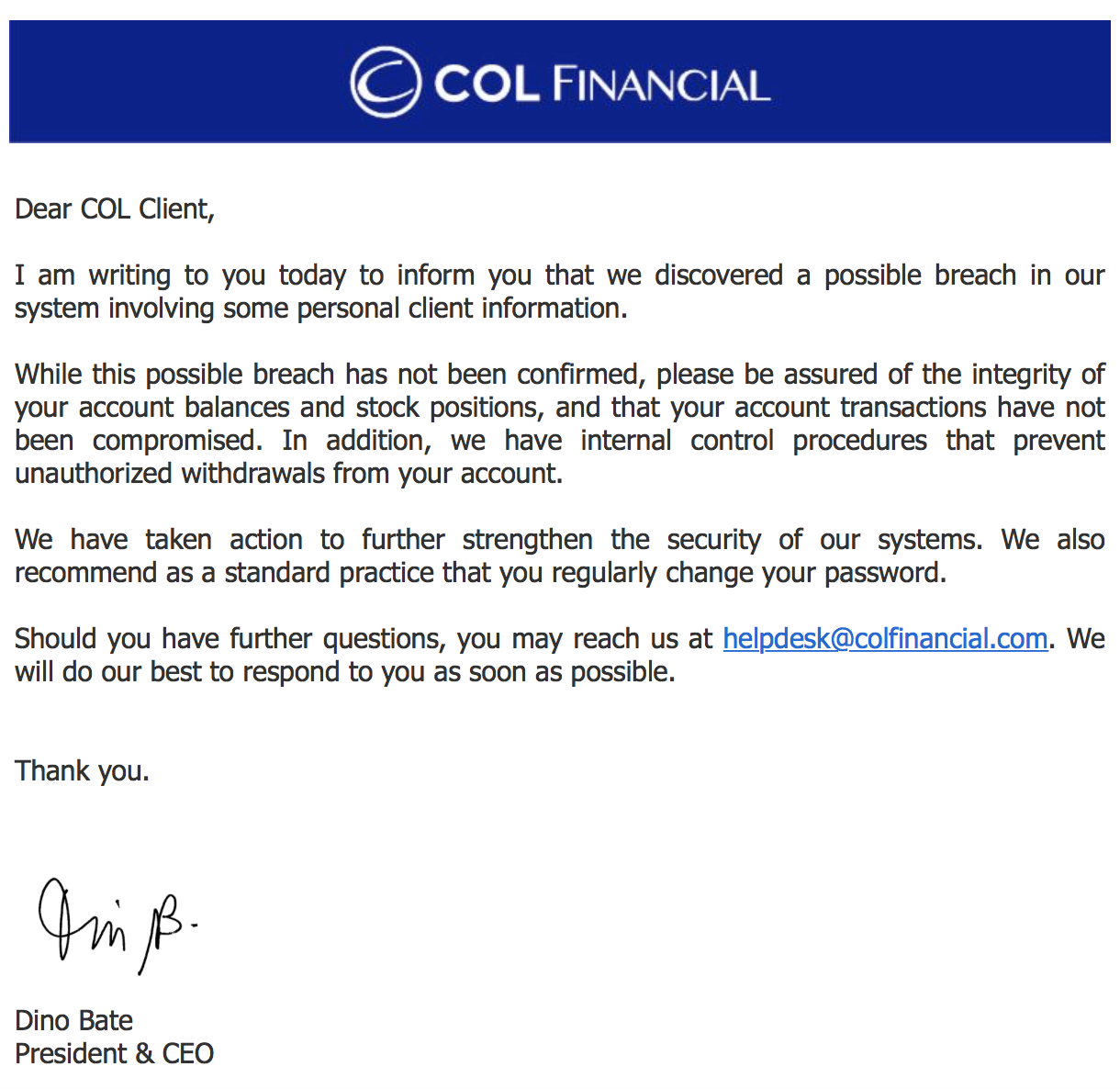 COL Financial, the country's largest stock broker that pioneered the growth of online stock market investing in the Philippines, advised its clients late Friday afternoon about the possible breach of its computer and information systems that may have compromised clients' personal information.
"I am writing to you today to inform you that we discovered a possible breach in our system involving some personal client information," said COL President and CEO Dino Bate in an email sent around 4 pm on Friday, October 20, 2017.
ADVERTISEMENT - CONTINUE READING BELOW
Bate immediately reassured COL Financial's clients that their account balances and stock positions remain intact and have not been affected.
"While this possible breach has not been confirmed, please be assured of the integrity of your account balances and stock positions, and that your account transactions have not been compromised. In addition, we have internal control procedures that prevent unauthorized withdrawals from your account," he said.
Bate also assured clients that COL Financial is addressing possible weaknesses in its systems, and advised clients to change their passwords.  "We have taken action to further strengthen the security of our systems. We also recommend as a standard practice that you regularly change your password," he said.
It's not immediately clear from Bate's letter what is the exact nature of client data that may have been affected by the information system breach. He spoke of "personal information" but did not specify what that covered exactly. As an online trading platform, COL Financial allows clients to fund their stock market investments from their online banking accounts. It remains to be clarified if clients' banking details were also possibly compromised.
ADVERTISEMENT - CONTINUE READING BELOW
Bate has yet to respond to a request for further clarification sent via email and SMS. Similarly, questions sent to COL Financial's helpdesk email address remained unanswered at least a couple of hours after a client emailed them Saturday morning.
Apart from being the largest stock brokerage, COL Financial has also done the most to promote online investing in the Philippines, posting testimonials and success stories from scores of its clients who made good on their stock market investments. It also holds weekend seminars in different cities throughout the country to introduce stock market investing to a wide variety of audiences. 
It has signed up more than 200,000 individual as clients, which makes up about a fourth of the more than 773,000 individual stock market accounts in the Philippines, based on numbers compiled by the Philippine Stock Exchange (PSE). It was established in 1999 with the aim to make stock market investing affordable and accessible to the broader public.
ADVERTISEMENT - CONTINUE READING BELOW
*****