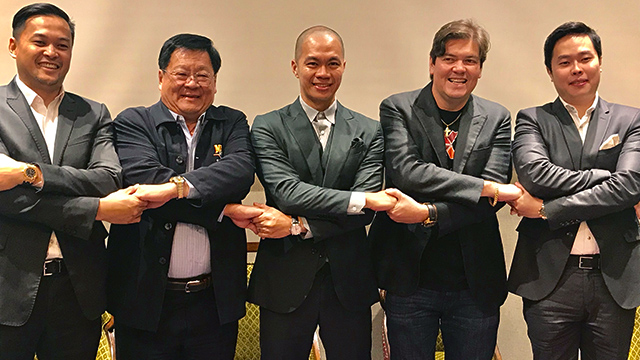 (from left) Rep. Mikee Romero; Mega Global Corp. CEO William Tiu-Lim; The Final Pitch Producer and Host John Aguilar; QuadX CEO Dino Araneta and brokerage and consultancy firm founder Jet Yu
"Excite us and we will be there."
This was the challenge posed by the four new judges and mentors in the country's first business reality show, The Final Pitch, to aspiring contestants out to win funding and mentorship from the seasoned entrepreneurs. The show's second season will air on CNN Philippines starting in June 2018.
ADVERTISEMENT - CONTINUE READING BELOW
Mega Global Corp. CEO William Tiu-Lim; Rep. Michael "Mikee" Romero, co-founder and vice chairman of Air Asia Philippines; brokerage and consultancy firm founder Jet Yu; and digital logistics company QuadX CEO Dino Araneta were named as the show's judges and investors for the show's second season.
Related story: Mega Global's William Tiu-Lim Topbills New Judges for Season 2 of Final Pitch
The four judges, who are also expected to mentor and invest in the winning startups, have different criteria on what kind of business they are hoping to invest in and the company founders they are looking for. But all agreed that technology startups are some of the most interesting prospects for the show.
"I believe that's [tech startups] what's exciting now and that's what everyone is looking for. I would also like a business that can somehow help our business as well," Araneta, who operates a digital logistics company, said. "Of course, the business has to be something sustainable, and they've got to be something special." 
ADVERTISEMENT - CONTINUE READING BELOW
The Final Pitch's new judges are looking forward to funding tech startups, enterprises that may complement their line of businesses and entrepreneurs with innovative business models
However, only Romero, the country's richest congressman with a net worth of Php7 billion as of end-2016, gave a definite answer when asked how much the judges are prepared to invest if they found a startup they liked.
ADVERTISEMENT - CONTINUE READING BELOW
"For me, if it's an SME (small and medium enterprise), maybe Php5 million and above. If it's a good deal, Php100 million to Php200 million," he shared. "I want to see new business plans, not traditional. I want to see new businesses that have never been done in the Philippines and the potential for that is the moon and the stars. Those are the things that will excite me."
Romero heads 1-Pacman Party, a political party that represents athletes in Congress. He is also the founder and chairman of publicly listed Globalport 900 Inc., which runs Metro Manila's third largest port. Trading in the stock has been suspended since May 2014 owing to the company's failure to comply with reportorial requirements of the Philippine Stock Exchange (PSE).
Related story: Business-owning Families Top List of Richest Congress Members
Aside from Romero, the Bank of the Philippine Islands (BPI), a show sponsor, also pledged Php500,000 in funding for a worthy social enterprise that would join the show.
ADVERTISEMENT - CONTINUE READING BELOW
In the show's first season last year, four out of the five startups that won funding from the investors were tech startups, including health insurance platform Maria Health, office space solutions provider FlySpaces, online grocery service Pushkart.ph and online platform for "glamping" Gleep.
Still, for 27-year-old Yu, the youngest among all the judges, the character of the founder may be more important when assessing what kind of business to invest in.
"I'd be willing to invest 60 percent on character and 40 percent on the business. When I started my business, no one really believed me that I can make it especially as I came from the millennial generation so all I had was my character," he shared. "I think the future tycoons and taipans will definitely be from the provinces. So, I'd be looking closely at them."
Aspiring entrepreneurs who have at least a minimum viable product or prototype, and are looking for seed stage to later stage funding may still send their applications to join the second season of the Final Pitch until April 12.  
ADVERTISEMENT - CONTINUE READING BELOW
*****
Elyssa Christine Lopez is a staff writer of Entrepreneur PH. Follow her on Twitter @elyssalopz