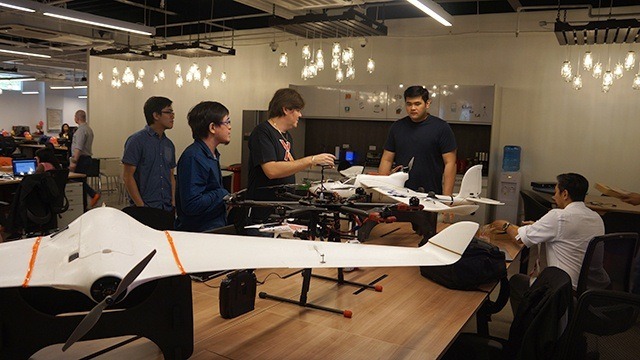 Determining the exact value of a piece of land used to be a long and difficult process. Just auditing it can be tasking and consumes the time and energy of landowners and investors. But where some people see challenges, others see opportunities.
This is where Matthew Cua comes in. His company SkyEye offers SkyProspecting, which is an end-to-end service that utilizes drones, survey equipment and their own IT technology that makes it possible for people to easily determine the value of a piece of land and be able to plan and audit it accordingly.
ADVERTISEMENT - CONTINUE READING BELOW
"Before, drones were only used in the military," Cua said. "SkyEye aims to use drones to benefit everyday people, consumers, businesses and government."
SkyEye was actually part of Cua's Master's thesis at the Ateneo de Manila Univesity in 2009. He decided to pursue it full-time after realizing the opportunities it presented.
Currently, SkyEye offers a wide range of services. Aerial videography rates start at Php15,000 per day while aerial surveying starts at Php150,000 for the first 50 hectares. 
"Right now we have a wide range of clients and markets. We do trade marketing, online marketing and a lot of cold calling to reach our market," Cua added.
Impact Hub and fellowship program
Cua and his team got their break when they joined the Impact Hub Fellowship program with LBC, which focused on addressing issues related to mobility or logistics in the Philippines through innovative business solutions.
Over 45 applicants sent their proposals but only three finalists were selected to go through the Cohort stage and receive training and mentorship. These were SkyEye, Food Planner and RideWave. In the end, SkyEye proved victorious and won the grand prize worth Php750,000, which includes seed funding of Php320,000.
ADVERTISEMENT - CONTINUE READING BELOW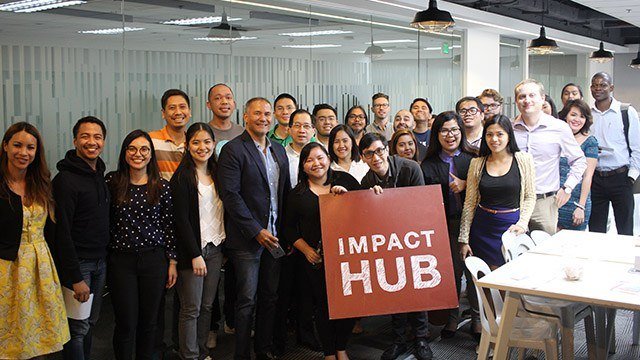 "We learned a lot with Impact Hub especially in professionalizing our company as we grow from a garage company into a more professional company," Cua told Entrepreneur Philippines about their experience.
In his victory speech during the awarding ceremony, Cua emphasized the domino effect that the Fellowship award has started for SkyEye.
ADVERTISEMENT - CONTINUE READING BELOW
"We found ourselves trying to catch our breaths," he said. "Before the Fellowship, there was no mention of us at all. After the Fellowship, the momentum was really fast."
Business growth and impact in society
Cua said his company was able to make a bigger impact in society through the support of the Fellowship program. He also shared that last year was their biggest year in terms of overall growth of the business.
"Drones are not just for building a city but also a country," he said. "We are the first country in the world to use drones for land titling. And that's a major milestone and completion for us when we won.
According to Ces Rondario, co-founder of Impact Hub Manila, the Fellowship was launched with the goal of matching corporations with start-ups and entrepreneurs who can can shine a light on innovation and create solutions for pressing problems in the country.
ADVERTISEMENT - CONTINUE READING BELOW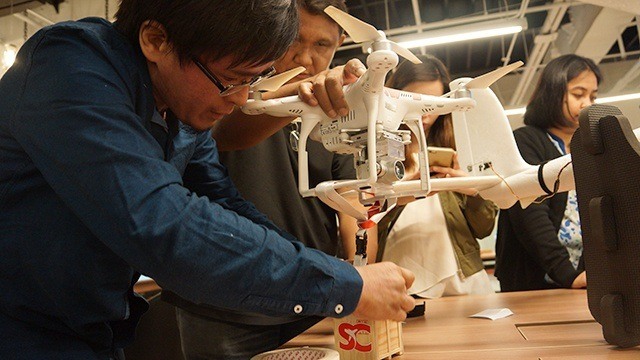 Dino Araneta, Chief Strategy and Innovation Officer of LBC was also ecstatic that the program helped everyone with their projects.
"It has been a productive year filled with innovative solutions for the better development of the country," Araneta said.
For Cua and his team, the goal for the coming years is to spread awareness about the potential of drones in business, as well as growing faster as a unit and expanding their market share.
ADVERTISEMENT - CONTINUE READING BELOW
When asked about his advice for aspiring technopreneurs such as himself, Cua was very practical. His response was anchored on his experience with Impact Hub Manila and the seasoned experts who were guiding them.
"Work for another technopreneur maybe for the first five years so you don't have to make expensive mistakes on your wallet."
*****
Nicai is the marketing head of Rising Tide, a technology solutions company. She is also the Manila Bureau Manager of Probe Media Foundation's Mulat Pinoy-Kabataan News Network and a regular contributor for SPOT.ph. Follow her on Twitter, @nicaideguzman, and LinkedIn, https://www.linkedin.com/in/nicaideguzman.