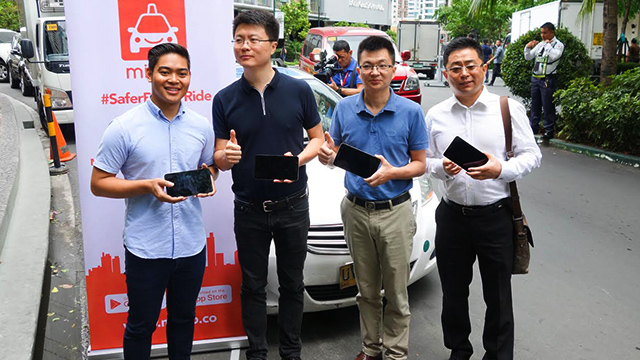 (L-R) Micab Co-founder and CEO Eddie Ybanez, Huawei Tablet & PC Global GTM Director Andy Zhao, Huawei Tablet General Manager Gavin Mingang Yi and Huawei Device Marketing and Service Account Manager Henry Hsiao pose in front of a Micab taxi after announcing their partnership on June 8
The launch of a partnership between Cebu-based taxi-hailing startup Micab Systems Inc. and the Philippine unit of Huawei Technologies Inc. on June 8 provided a rare glimpse into why the Chinese smartphone maker continues to enjoy rising tablet PC sales even as the industry as a whole is suffering a decline.
ADVERTISEMENT - CONTINUE READING BELOW
While global tablet shipments fell 11.7 percent in the first quarter of 2018 from the same period in 2017, Huawei saw a 13-percent increase in sales, making it the third biggest maker of the device, according to the International Data Corp.
Under the partnership agreement with Micab, Huawei Technologies will customize its tablets to withstand prolonged use, exposure to sunlight and bumpy roads while in use inside moving cabs. Micab, in turn, has placed an order for some 12,000 units of the device, with 6,000 for immediate delivery.
One of the country's earliest taxi-hailing startups—it began in Cebu in 2014—Micab recently won accreditation as an online transport network company (TNC) on April 30. That allowed it to expand from Cebu to Metro Manila and other Philippine cities such as Iloilo, Bacolod and Baguio.
Related story: New TNC Micab's Cebuano Founder is Making a Big Bet Manila taxi Drivers Can Change for the Better
So far, Micab has signed up only 6,000 taxis nationwide according to co-founder and CEO Eddie F. Ybañez. Of these, 4,000 are in Cebu and only 1,600 are in Metro Manila, which is grossly inadequate to meet the 25,000 bookings in the national capital region the company receives every day. Ybañez admits the acceptance rate is very low but promises this will improve soon. He expects the number of partner taxis in Metro Manila to reach 5,000 in July.
ADVERTISEMENT - CONTINUE READING BELOW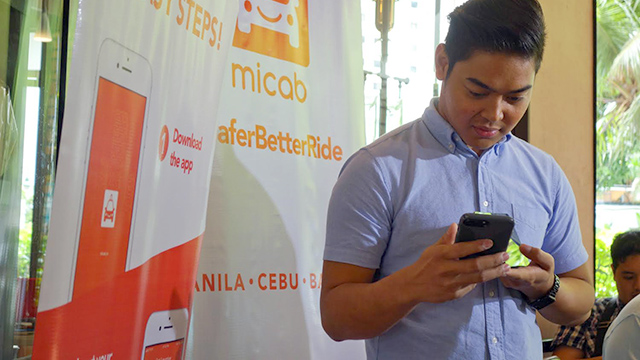 Micab co-founder Eddie Ybañez says the company worked with Chinese giant Huawei to find a solution to the problem of contastantly replacing worn-out or defective tablets for the taxi drivers using the app
When it began, Micab gave out ordinary consumer tablets to drivers of its partner taxi operators. However, it found the devices could not cope with the challenges of extended usage, exposure to sunlight and rough roads, and was constantly replacing damaged or worn-out units.
ADVERTISEMENT - CONTINUE READING BELOW
In part, that could also be due to Micab using the devices not just to run its booking app and help drivers navigate but also to display advertising that can be viewed by passengers seated at the back of the car.
The ability to display advertising on the tablets used by its drivers lies at the heart of Micab's business model, which sets it apart from other ride-hailing startups. Unlike most, it doesn't take a cut from the fare revenues of the taxi operators or drivers, and neither does it charge a booking fee to passengers. To make money, Micab relies solely on revenues from advertising displayed on the tablets.
That suggests that Micab uses the devices more actively and intensely compared to other ride-hailing services that rely on them mainly for booking and navigation. Indeed, most other ride-hailing companies use only smartphones; Micab uses tablets, which are a few inches bigger, so backseat passengers can see the ads being displayed.
ADVERTISEMENT - CONTINUE READING BELOW
To find a solution to the problem, Ybañez approached its mobile broadband service provider, Smart Communications, which, in turn, referred the matter to a major supplier, Huawei Technologies.
Fortunately, Huawei Technologies agreed to take a closer look at the problem, working closely with Micab on finding solutions to the issue.
Henry Hsiao, Huawei's device marketing and service account manager, said the company sent engineers from its headquarters in Shenzen to the Philippines around March 2017 to study how taxi drivers were using the devices.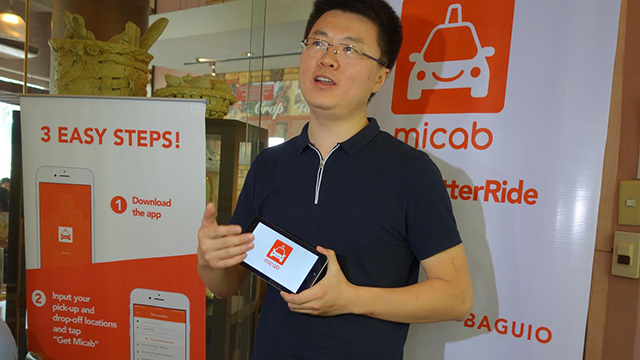 ADVERTISEMENT - CONTINUE READING BELOW
Huawei Tablet & PC Global GTM Director Andy Zhao explains the features of the 7-inch LTE Huawei tablet customized for Micab taxis in the Philippines
As a result of its collaboration with Micab, Huawei developed a customized seven-inch LTE table equipped with global positioning system (GPS). It runs on batteries that can last for 16 hours a day and can withstand heat and vibrations when mounted on the taxi's dashboard. It comes with custom software that disables installations of all apps except Micab's and allows for centralized control for all tablets.
"Micab is the first in the Philippine market (to partner with Huawei) for the taxi industry," said Hsiao. "It's a project with a huge potential."
Andy Zhao, Huawei's tablet and PC global GTM director, said the company's tablets are already being used in taxis in China and other countries as devices to deliver backseat entertainment for passengers. Micab is the first taxi-hailing company to install it on the car's dashboard for use by the driver while displaying advertising to backseat passengers, and it's something that Huawei is keen to see in other markets.
ADVERTISEMENT - CONTINUE READING BELOW
"It's a good industry for us to approach," said Zhao. "The global tablet business in the past three years has shrunk a lot (so it's important for us) to find a new opportunity to (boost) this industry," he said.
He added: "From this project we learn a lot and provide similar solutions not only for Philippines but other countries as well."
*****
Roel Landingin is the editor-in-chief of Entrepreneur PH