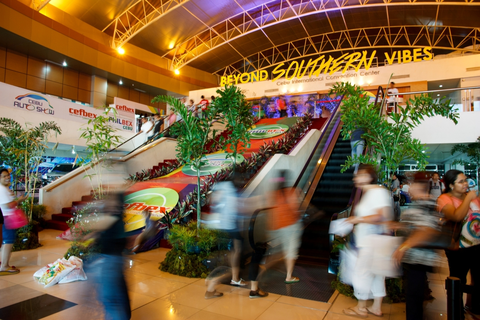 <>Fueled by the desire to boost the country's economic development, Worldbex Services International (WSI), the country's biggest events and expositions organizer reaches out to Cebu, the Queen City of the South, to discover and utilize the region's widely colorful trade sector.
This season, WSI presents the annual convergence of three powerhouse expositions aiming to stimulate economic movement in the region. Headlining the theme 'Unfolding Cebu's Colorful Trade,' PHILBEX Cebu, CEFBEX, and Cebu Auto Show are set to happen simultaneously on October 9 to 12 at the SM City Cebu Trade Hall from 10 a.m. to 8 p.m. with all three events offering free admission.
Given the magnitude of this year's presentation, visitors are expected to double last year's whopping 40,000 attendees. Certainly, PHILBEX Cebu, CEFBEX, and the Cebu Auto Show 2014 are poised to be the biggest trade expositions to happen in the region – integrating three of its biggest industries to pave the way for unrestricted economic activity.
Vibrant resiliency, a mark of Cebu's construction industry
Occupying a total of 2,000 square meters of exhibition space, 90 companies and 150 booths, visitors can expect an abundant product profile including building materials, interior design and renovation, security and fire equipment, mechanical and electrical engineering, information technology and telecommunications, architectural services, government/private institutions/associations, interior designer's services, construction promotion, and more. All of which were made possible through the support of the Cebu Chamber of Commerce and Industry and the Philippine Institute of Interior Designers (Cebu chapter).
Among a diverse range of exhibitors, highlighting the expo are the Contemporary Pavillion by Murillo Furniture, Accessories and Artworks, as well as the Architect's Gallery featuring WTA Architecture + Design Studio, Espeleta – Demiar Architect Solution, NEB Architecture design and Engineering Works, Derecho Architects, SMC-Cebu, and FMK3 Architects. These and more amid booths as presented by ABC Innovative Building Materials, Apo Floors, Puyat Steel, Apo Roofs, Archi-Line Inc., Atlanta Industries Inc., Boysen, Colorsteel, Concept Specialist Inc., Cypress Bomanite, Davies, DSL Gam Enterprises, Emerald, GIDCI, Granite Industrial Corporation, Haffle, Rising Sun, Moldex Products Inc., JEA, Premiere Interiors, Wilcon Depot, and so much more.
Fast, flashy, and all that jazz
Gathering the most ambitious and imaginative concepts of local car makers and parking all of it side by side with the most coveted line up of foreign automotive giants, the 8th Cebu Auto Show will bedazzle and impress everyone with the bright and flashy spectrum of the region's auto industry.
A stark reflection of the region's colorful trade potential, CAS 2014 will showcase just how colorful and multifaceted the Visayan auto industry is with the many different car models, make, and everything car-related in between, that will be outshining and besting it out at the biggest auto trade show to drive by the region.
Almost 100 exhibitors and over 60 car displays await visitors, along with an extensive presentation of car accessories, auto car care, and car brands all to augment auto sales and rev up the interest of die-hard auto enthusiasts.
Occupying 3000 square meters of exhibition area, this year's Cebu Auto Show is ready for another round of speeding up the local auto industry's market promotions and business transactions growth.
CAS will be hosting pocket events and activities including the Custom and Classic Car Competition with interesting categories such as the Best in 2 Door, Best in 4x4, Best in Engine, Best in European, Best in Ice, Best in Exterior, Best in JDM, Best in Lighting, Best in Vintage, and more. Meanwhile, some of the companies who will be presenting are California Eco Bike, Ford, Hyundai, Isuzu, Mazda, and Meguiars, among others.

Fill up your plate

Cebu is known for a lot of things and one of which that attracts a plenty to the region is its food and good ole Southern hospitality. With 120 booths and over 85 companies that will be giving a taste of what is to come from the region, the 6th Cebu Food and Beverages Expo or CEFBEX is sure to entice the region's food industry – occupying no less than 3,000 square meters of exhibition area.
While Cebu's food culture is filled with a rich culinary history, CEFBEX believes in the importance of tasting new flavors to better enrich the region's palate. At the four-day food extravaganza, visitors can expect a hodgepodge of the latest products and food trends to hit the market including food service items, snacks, franchising companies, food picks, cookware, beverages, food packaging materials, food machines, food service equipment, breads and pastries, and so much more – establishing CEFBEX's reputation as the most comprehensive, all-inclusive food show of Visayas and Mindanao.
Some of the notable companies to participate include the Bar Specialist, Crystal Clear, and Monde Nissin Corporation, among others, with hotel partners such as the Bayfront Hotel, Best Buy, Golden Prince Hotel and Suites, and in partnership with the University of Cebu.
Apart from a wide array of exhibitors, visitors also look forward to the pocket events and competitions that are held during CEFBEX such as the Flair Bartending Competition, Fruit and vegetable Carving, Food styling competition, Bar chef competition, Pasta Live Cookery, and the Awarding Ceremony.
Free for all but nonetheless the biggest and grandest trio of expositions to happen in the region, WSI's PHILBEX Cebu, CEFBEX, and the Cebu Auto Show is a unique and rare opportunity not to be missed.  Go ahead and elevate your industry know-how and expand your network by heading to PHILBEX Cebu, CEFBEX, and the Cebu Auto Show on October 9 to 12, from 10am to 8pm at the SM City Cebu Trade Hall. For more information, contact (+632) 6569239 and go to
www.worldbex.com
or email
info.worldbex@gmail.com
.
ADVERTISEMENT - CONTINUE READING BELOW