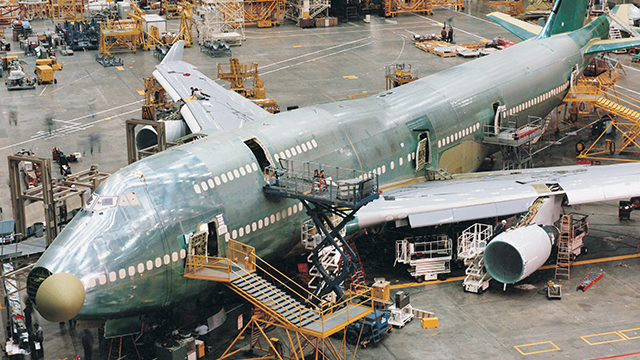 The Philippine aerospace industry, projecting to export an estimated US$ 2.57 billion worth of aerospace parts and components by 2022 under a national aerospace roadmap, will be training qualified local aerospace companies to earn the coveted AS9100 certification.
According to a report by the Department of Trade and Industry, the training will assist the companies in implementing Aerospace Quality Management System (AQMS) in their firms, which leads to the AS9100 certifications.
ADVERTISEMENT - CONTINUE READING BELOW
Major aerospace manufacturers and suppliers worldwide require accreditation to AS9100 as a condition of doing business with them.
Aerospace sector targets
"The next two decades could see the Philippines becoming a hub for manufacturing and aftermarket services in the aerospace and aviation industries in the ASEAN region," said trade undersecretary and DTI board of investments' managing head Ceferino Rodolfo.
"As the country's participation in the global value chain is increasing, the capability-training programs suits well as these will further enhance the competitiveness of our local aerospace industry. This means more quality jobs for Filipinos and more export earnings for the country," Rodolfo added. Under the aerospace roadmap, the industry targets to employ around 15,000 personnel by 2022. 
The training program will be implemented this year. The Board of Investments (BOI) of the DTI will provide funding, coordination and administrative support. The Metal Industry Research and Development Center (MIRDC) of the Department of Science and Technology will implement the program in coordination with the Aerospace Industries Association of the Philippines (AIAP), for assistance on pre-screening and selection of prospective participating companies. 
ADVERTISEMENT - CONTINUE READING BELOW
The Aerospace Industry Roadmap
The training program is an initiative under the Aerospace Industry Roadmap which envisions the Philippines to be a hub in aerospace parts manufacturing and allied services in Asia.  AIAP, with the guidance of the BOI and other government industry stakeholders, authored the roadmap.
The roadmap identifies technological constraints in the integration of process capabilities in the country.  Aside from the challenge of building a pool of suppliers with AS9100 and NADCAP certifications, the industry is also challenged in the areas of small supply base that cater to the requirements of tier 1 aerospace parts manufacturers in the Philippines.
Investments must also be made in critical supply chain gaps, such as surface treatment, heat treatment, plating and anodizing for aerospace application to reduce costs for local manufacturers to 19 percent. 
The full Technical Working Group implementing the roadmap consists of several government agencies and private sector representatives, namely: the Civil Aviation Authority of the Philippines; Philippine Aerospace Development Corporation; MIRDC; Commission on Higher Education; Technical Education and Skills Development Authority; Philippine International Trading Corp.; AIAP; the maintenance, repair and overhaul industry; and the Aviation Schools Association of the Philippines.
ADVERTISEMENT - CONTINUE READING BELOW