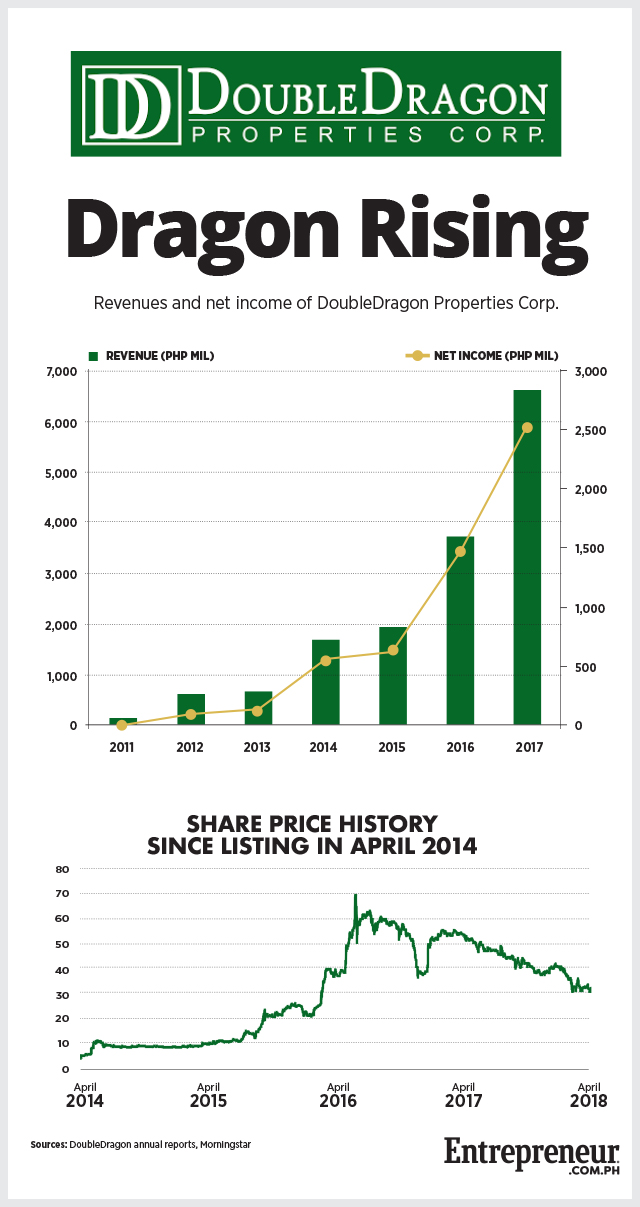 The Philippine Stock Exchange (PSE) has approved on May 29 the application of listed real estate firm DoubleDragon Properties to launch a follow-on offering, allowing the company to sell up to 150 million new shares at a price ranging from Php30 to Php40 a share, the company announced in a press statement.
ADVERTISEMENT - CONTINUE READING BELOW
In a previous release on April 20 after securing approval from the Securities and Exchange Commission (SEC), the company said the new shares will be priced at a maximum of Php50 per share, which represents a premium of 58 percent above DoubleDragon's closing price of Php31.55 per share that day.
The company said it would announce the final price closer to the start of the offering.
The minimum number of shares that investors can buy was set at 100 shares. Additional stocks can be bought in increments of 100 shares.
Established in 2010, DoubleDragon is headed by billionaire Edgar "Injap" Sia II, who co-founded the company with Jollibee Foods Corp. founder Tony Tan Caktiong. Its property developments span four sectors—retail, office, hospitality and industrial—with its most established brand being its CityMall chain of provincial malls.
According to Sia, DoubleDragon's chairman and CEO, the company's follow-on offering is targeting investors who weren't able to participate in its initial public offering (IPO) in 2014. A follow-on offering is a share issuance done after a company has already listed on a stock exchange—that is, after a company has already launched its IPO.
ADVERTISEMENT - CONTINUE READING BELOW
"During our IPO in April 2014, there was limited opportunity for large institutional investors to participate," said Sia in a statement. "As we approach the completion of our 2020 targeted portfolio comprising of 1.2 million square meters or 120 hectares of prime leasable space, this is a great opportunity for key investors to take part in the hyper growth years of the company."
According to its prospectus, up to 80 percent of the newly issued shares will be offered to institutional investors based outside the Philippines, a market Sia hopes to tap with this follow-on offer.
DoubleDragon will use the funds raised from the offer to finance its property investments in its new hospitality and industrial arms. In a disclosure to the Philippine Stock Exchange (PSE) last April 20, it specified that most of the capital from the offer will be used to "fully fund the roll-out of 100,000 square meters of leasable industrial warehouse space" as well as to "achieve its goal of reaching 5,000 hotel rooms by 2020."
ADVERTISEMENT - CONTINUE READING BELOW
The property developer is launching its follow-on offering after experiencing high growth in 2017. DoubleDragon's revenues last year reached Php6.6 billion, a 78-percent increase from the year before. Its net income also grew 71 percent to Php2.5 billion in the same period. (See infographic)
Related story: How Injap Sia Grew DoubleDragon's Profits by 71.8% to Php2.5 Billion in 2017
The final share price and timetable will be announced by the company at a later date. Interested investors are urged to read the offer's prospectus for more information on the company and the follow-on offering.
The offer's international bookrunners and lead managers are Credit Suisse (Singapore) Ltd., Maybank Kim Eng Securities Pte. Ltd. and UBS AG (Singapore Branch). Its domestic lead underwriters and bookrunners are BPI Capital Corp. and Maybank ATR Kim Eng Capital Partners Inc.
*****
Lorenzo Kyle Subido is a staff writer of Entrepreneur PH