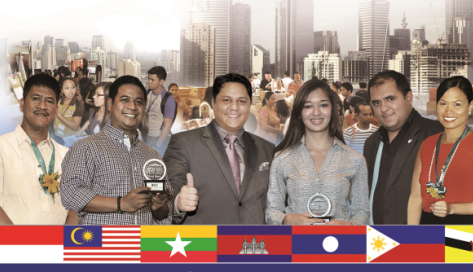 <>The Philippines has emerged as one of the fastest growing economies in the world, impressively rivaling the growth rates of fellow Asian countries. From being referred to as the 'sick man of Asia' in headlines, it has turned around to be the 'new breakout nation.'
Integral to the economic development and growth of the Philippines are the small and medium enterprises (SMEs), as those outnumber large enterprises in both quantity of establishments and share of employed labor force. To provide industry market intelligence to boost the business of SMEs, MEDIACOM Solution Inc. is staging the 2nd Philippine Small & Medium Enterprise Business Expo 2014 (PhilSME) with the tagline
'
Boost Your Business
.' PhilSME 2014 is the largest trade show dedicated to the ASEAN SME Community in the Philippines with
238 exhibiting businesses
from
18 business sectors
and
20,000 expected visitors
. This is set to be the focal point in the business community this year as it happens on
November 21-23, 2014
at the S
MX Convention Center Manila
, Pasay City.
"We aim to put together under one roof SME business owners, senior level executives, professionals, government agencies, and trade associations from the Philippines and the ASEAN region to synergize their efforts in order to boost their businesses and the Philippine economy at large. The ASEAN economic community will become the 7th largest economy in the world with a combined consumer market of over 600 million people," said David Abrenilla, Founder and Managing Director of PhilSME 2014 and CEO of MEDIACOM Solutions, Inc.
Philippine Trade Undersecretary for Regional Operations Group Zenaida C. Maglaya recognized the pivotal role SMEs play in fuelling the economy as they account for 99.6% of total registered enterprises, according to recent trade department data.

In response to this, Abrenilla added, "We would like to provide the gateway for this new market brought about by the ASEAN integration. The
PhilSME 2014
will be their one-stop shop for all their business needs from seeking advice from qualified experts, to networking with key decision makers, to gathering market intelligence."
Philippine Chamber of Commerce and Industry (PCCI) President Alfredo M. Yao, in his speech at a recent event listed factors challenging the private sector's readiness and competitiveness under the economic integration in 2015 and cited the need for initiatives, such as workshops, to prepare SMEs for the upcoming ASEAN integration.
Yao listed the challenges such as: high cost of power and logistics, inadequate transport infrastructure, and access of SMEs to financing and technology.
With PhilSME 2014, the agenda is to
help SMEs to be competitive with large corporations
, especially with the rising global competition. It shall be the venue for small and medium sized businesses from the Philippines and the ASEAN region to build new relationships; help network with local and international decision makers, business owners, and senior level executives; and do business amongst SMEs and its supporters.
To BOOST YOUR BUSINESS towards success in an economically integrated world, register at www.philsme.com or call +63.509.4792.
ADVERTISEMENT - CONTINUE READING BELOW