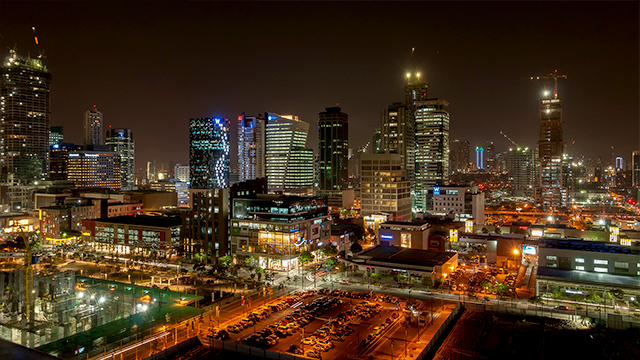 Expect more offices to come up in Bonifacio Global City (BGC) in Taguig, as almost two million square meters of rental space are projected for the city in the next three years.
British real estate services firm KMC Savills said in its first half year real estate report that the BGC area is now the largest Grade A office space market (1.98M sqm), edging out the financial district of Makati which has 1.16M sqm.
ADVERTISEMENT - CONTINUE READING BELOW
"The BPO (business process outsourcing) industry remains as the main driver of the office rental market, with the entrance of more firms and expansions of existing ones," Michael McCullough, co-founder and managing director of KMC Savills said in a press conference on Wednesday, August 24.
Even with BGC's rising market, office spaces in Makati remain as the most expensive location in Metro Manila with an average of Php 1,004.7 per sqm a month. The former only has a net average of Php 881.7 per sqm a month.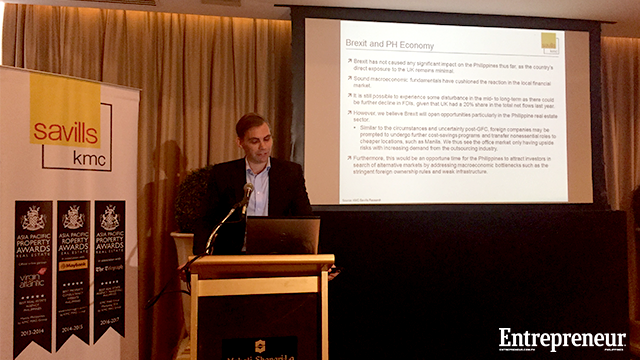 ADVERTISEMENT - CONTINUE READING BELOW
At least 291,000 sqm of rental space have been taken up so far for the first half of the year which is expected to hit around 500,000 to 550,000 by year-end. This is a 4.6 percent year-on-year growth with vacancy rates seen to average around 2 to 5 percent by year-end with the supply peak.
Still, KMC Savills head of research Antton Nordberg is positive. "That figure is still healthy, just well below 10 percent," he said. 
Landlords will also be more likely to get creative in rental packages to keep its assets attractive.
Another emerging location for offices is the Bay Area near the Mall of Asia complex which is expected to bring 745,988 sqm of office space. Quezon City follows suit for those in the north with 649,427 sqm.
Alabang, C5 Corridor, Makati fringes and Mckinley complete the list of top 10 cities with optimistic real estate forecast for rental space.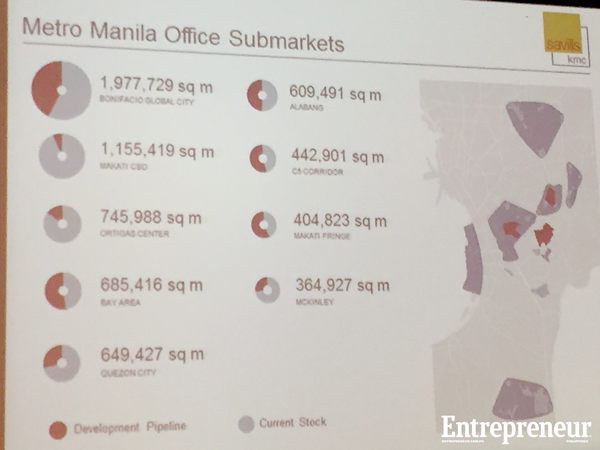 ADVERTISEMENT - CONTINUE READING BELOW
Attractive yields
The positive sentiment is expected to continue with the rental space sector's attractive yields, coupled with the government's economic plans and the volatile world market.
"The Philippine market is offering exceptional yields now compared to the rest of the region even to the rest of the world," Nordberg said.
The country, which has an office rental space yield of 7 percent is only second to Vietnam's with 9 to 10 percent. More mature markets like Singapore and Hong Kong are on a lower end at 2 to 5 percent.
This is despite the rental rates' forecasted increase at 2.5 to 4 percent. Currently, average rental rates in Metro Manila is at 863.9 per sqm a month.
"Brexit will actually open opportunities in the Philippines as British companies may undergo cost-saving programs and opt for cheaper locations," Nordberg said.
The real estate researcher also said the country's plans to loosen up the land ownership policy for foreigners from 40 to 70 percent will boost the country's attractiveness in the region.
ADVERTISEMENT - CONTINUE READING BELOW
"The Philippines needs to open up for more investments and this will ultimately make investors more confident," Nordberg added.