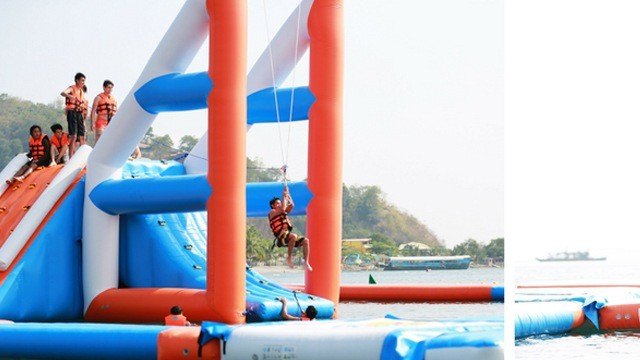 Inflatable Island will feature slides, beams and even a trampoline  
For most of us, the phrase "a kid at heart" is just that and nothing more. For Katrina Kay Lacap and three of her friends, the idea is so compelling they bet Php20 million of their hard-earned money into a business designed to let that kid out in each of us.
ADVERTISEMENT - CONTINUE READING BELOW
"There's a reason there's that saying 'a kid at heart'," says the general manager of Inflatable Island, a floating theme park set to open in April in Subic. "We feel that there's always a part of us, no matter how old we get, that is and always will be a kid."
As the name suggests, Inflatable Island is a giant floating activity center built on shallow waters just off Samba Bluewater Resort inside the Subic special economic zone. Occupying an area of 3,400 square meters (equivalent to eight basketball courts), the floating island offers slides, bridges, towers, balance beams and even a trampoline just a few meters from the beach.
For Lacap, providing fun opportunities for the "kids at heart" is serious business. She's one of the founders of adult-only playground Ball Pit Manila, the first and biggest adult ball pen in the country. It boasts of 80,000 balls that adults can jump around in and play with for hours on end. She also co-founded Jungle Environment Survival Training (JEST) Camp in Subic, which claims to be the country's only survival school.
ADVERTISEMENT - CONTINUE READING BELOW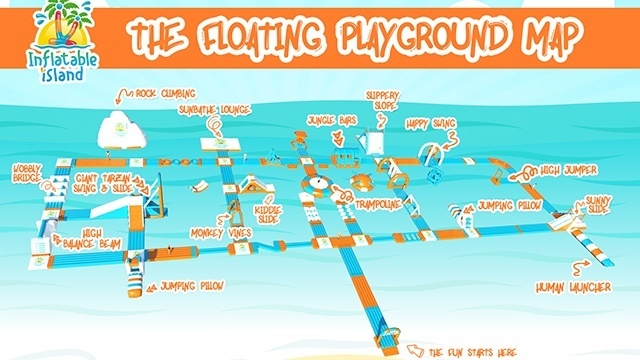 The whole theme park will be as large as eight basketball courts and claims to be the biggest in Asia
Lacap and her partners—Tasha Marie Reyes (Ball Pit Manila co-owner); Gem Myka Sy (Honey Crème Philippines owner); Dakota Lin (PurePharma Philippines owner) and Regine Tecson (banker)—believe there must be more than one way to enjoy the country's beautiful beaches. All four co-founded Beach Bosses Inc., the company behind Inflatable Island.
ADVERTISEMENT - CONTINUE READING BELOW
"We all have been friends for years. Before deciding to band together, we looked at each other's backgrounds first. Most of us have already started businesses before so we already knew how we handle things professionally, and what our expertise was," Lacap said.
While the park sounds like a lot of fun, the young entrepreneurs have a serious business plan to recover their Php20 million investment within a year.
The team expects to attract around 2,000 guests daily by the time they open this summer. According to Lacap, Olongapo attracted around 1.6 million visitors from April to May 2016, peak months of the summer season. "We expect to conservatively attract five to 10 percent of the crowds there to Inflatable Island," she explained the assumptions behind the company's targets.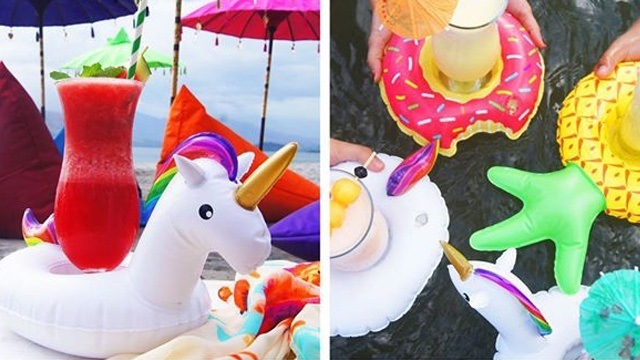 ADVERTISEMENT - CONTINUE READING BELOW
The theme park partnered with Samba Bluewater Resort to offer off-water activities and accommodations for guests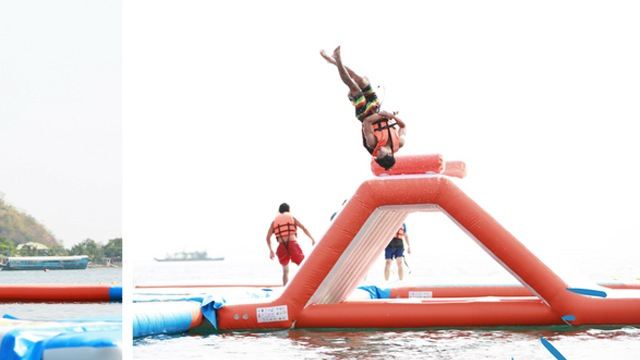 Park-goers will be required to use life vests to ensure safety
The team is also betting on the steady influx of guests even during the typhoon season, made possible by Subic's unique geography—a bay surrounded by mountains that help keep the waters still even during inclement weather.
ADVERTISEMENT - CONTINUE READING BELOW
Inflatable Island has yet to open but the co-owners are already thinking of setting up similar facilities in different parts of the country. "We would like to extend to more locations such as Cebu and Davao. We are actually already in talks with possible partners in those areas so that we can reach more people," Lacap said.
Behind the ambition to bring Inflatable Island to other beach destinations in the country is the realization they're offering something new. "As a country known for its summer spots, we knew we had something of a 'gold' when we found a way to re-imagine beach play," Lacap said.
*****
Elyssa Christine Lopez is a staff writer of Entrepreneur PH. Follow her on Twitter @elyssalopz