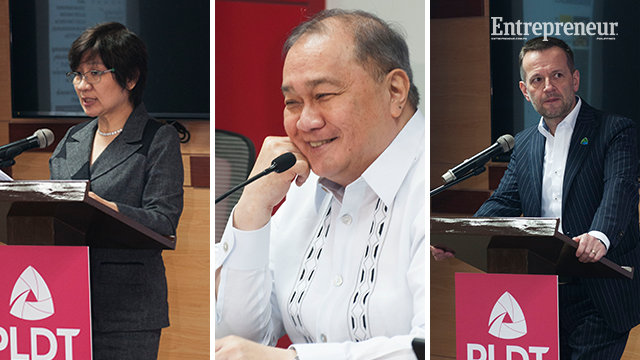 To take advantage of current consumer trends in the Philippines, PLDT Inc., one of the largest telecommunications companies in the country, reported that it will continue an ongoing upgrade of its internet services and coverage.
ADVERTISEMENT - CONTINUE READING BELOW
This, at least, was among the announcements made by the firm last Monday when it the released reports documenting its financial and operating performance for the first three quarters of 2016.
Speaking before the press at the Ramon Cojuangco Building in Makati, Manuel V. Pangilian, CEO and chairman of PLDT and Smart Communications, said that the company's recently released results reflect a continuing shift that sees customers preferring data provision over voice and SMS services. With the results adversely impacting the company's wireless revenues, Pangilinan stated that they are now focused on plans that seek to leverage the ongoing trend.
"Our digital transformation remains on track," Pangilinan said. "We remain focused on the critical initiatives that will definitely shape our businesses to the new direction where growth is driven by data and digital innovation."
In a report published by the company, it was revealed that the first three quarters of 2016 saw PLDT's consolidated revenues reaching Php 125.4 billion, a 2 percent decline compared to the same period last year. It also showed changes to the company's service revenue mix; data, broadband and digital services and platforms set the pace for growth during the period by posting service revenues at Php 44.6 billion. This is a 19 percent increase compared to the previous year. These results also raised its share of total service revenues to 40 percent (up from 33 percent last year). Meanwhile, the share of SMS, domestic voice and others declined to 50 from 56 percent last year.
ADVERTISEMENT - CONTINUE READING BELOW
In light of these results, the company is currently gearing up to maximize the growing demand for data. It already started doing so during the recent quarter by rolling out enhanced network infrastructure. For instance, Smart completed a great deal of its network improvement activities in Metro Davao. This boosted the coverage as well as the capacity of its mobile network (which covers 3G and LTE or 4G wireless data services).
According to the company's report, this was done through projects like the installation of more base station facilities within the integrated networks of Smart and Sun. The company also deployed low-band radio frequencies for use in LTE and 3G. Due to this, Metro Davao saw substantial improvements in the coverage and capacity of the Smart network.
Continuing the pace set by these upgrades, PLDT is now implementing Smart network improvement programs in Metro Manila and Metro Cebu. These projects are part of a three-year network deployment plan which PLDT submitted to the National Telecommunications Commission earlier this year.
ADVERTISEMENT - CONTINUE READING BELOW
"We continue to pursue our network improvement program for both mobile and fixed services, for which we have set aside Php 48 billion this year," Pangilinan said. "This initiative has produced encouraging results and is laying a solid foundation for our efforts to build our data and digital businesses moving forward."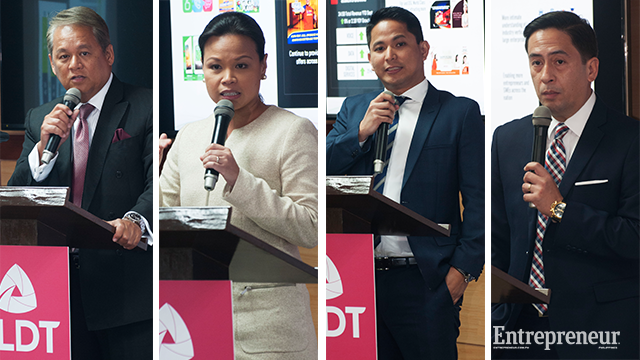 ADVERTISEMENT - CONTINUE READING BELOW
The company didn't stop there, however. Complementing these efforts to improve its capabilities, PLDT has decided to advance initiatives that would help consumers acquire web-capable devices and leverage service improvements. Through its mobile business, for instance, Smart has signed on partnerships with a number of local and foreign manufacturers to be able to offer a wide variety of LTE smartphones including the recently released iPhone 7.
Meanwhile, PLDT Home is moving to enhance its suite data plans through the introduction of affordable "yet powerful" packages; these include Plan 1899 for the Home Fibr service which promises speeds of up to 50 Mbps.  There's also the PLDT Enterprise Business Group which recently debuted new services including the SmartBus (which help public transport companies track the movement of their bus units).
"Our Home and Enterprise business Groups are pressing their advantage in their respective markets," Pangilinan said, "[They] will maintain their growth momentum through further innovation, particularly in the area of digital services and solutions."
ADVERTISEMENT - CONTINUE READING BELOW
Summarizing the company's performance during the first three quarters of 2016, Pangilinan admitted that PLDT has been through a "particularly challenging year" citing intense price competition, as well as the continuing shift from voice and SMS services, as some of the reasons behind the results.
"We are adjusting our full year EBITDA to Php 60 billion," he said, which is Php 4 billion lower than the company's previously released guidance. "We are making this adjustment anticipating that while data and broadband will keep posting steady growth, toll, cellular voice and SMS revenues will, however, continue to wane."
This said, Pangilinan stressed the importance of making their "digital" plans a reality.
"As we close 2016 and look to next year and beyond," he said, "I believe it is critical that PLDT establish a baseline position from which we could pivot to a higher plane in the coming years."
*****
Angelo Cantera is a journalist who has been covering the lifestyle, travel and business-lifestyle beats for some of the country's major newspapers and magazines. He has worked for The Manila Times and has served as associate editor of asianTraveler Magazine. Also a lensman, he occasionally does photography for his own travel assignments.
ADVERTISEMENT - CONTINUE READING BELOW