The PLDT Group is committing a record Php58-billion capital spending budget for 2018, as it strengthens its fixed-line and wireless services, PLDT Inc. Chairman Manuel V. Pangilinan said in a press conference on Tuesday, March 8.
"It's gone up to Php58 billion because it's a big push partly on the fixed line side…. We're already in four million homes passed with fiber and that will rise to more than five million by the end of 2018. And that will continue to rise until we're able to look at around 10 million homes passed in the next few years," Pangilinan said.
ADVERTISEMENT - CONTINUE READING BELOW
The company is aiming to double its fiber and hybrid fiber broadband capacity to over 2.2 million ports nationwide by yearend. According to PLDT Senior Vice President Oscar Reyes, around half of the company's existing DSL subscribers may be able to enjoy "fiber-speed" internet connection. This means that even without a fiber internet service, DSL subscribers may be able to experience 50mbps to 100mbps internet speed.
The provinces of Cavite, Tarlac, Zambales, Bataan and Nueva Ecija are bound to have added fiber speed internet-enabled locations this 2018, Reyes said.
Moreover, the company is also looking at having 6,800 LTE-equipped cell sites and 8,000 3G-equipped cell sites by 2019.
To meet its targets, the PLDT Group expects to spend around Php177 billion from 2018 to 2020. That's about 40 percent more than the capital expenditure (CAPEX) in the previous three-year period from 2015 to 2017 when the company embarked on a strategic shift to catch up with rival Globe Telecom's digital headway.
ADVERTISEMENT - CONTINUE READING BELOW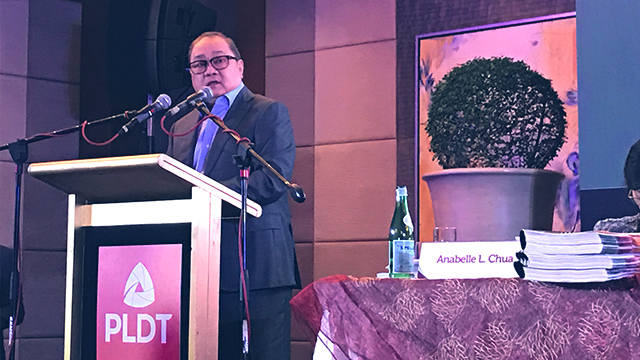 PLDT Chairman Manuel V. Pangilinan says the company expects to boost consolidated service revenue by four percent in 2018
The company has been taking a hit from the changing consumer habits of Filipinos as they start to prefer data services over cellular calls and texts. In 2017, consolidated service revenue, net of interconnection costs, was down four percent to Php143.5 billion, from Php147.6 billion in 2016. This is the third year in a row the company suffered from service revenue decline.
ADVERTISEMENT - CONTINUE READING BELOW
And yet, Pangilinan said the company expects to boost consolidated service revenue by four percent in 2018 as PLDT anticipates an upward trend for its fixed line and enterprise businesses.
"I believe things are already looking up for the group. I'm not saying we're completely out of the woods but it seems we're getting there," Pangilinan added.
The company's massive expansion spending comes amid the government's moves to attract a third telecommunications player to compete with PLDT and Globe Telecom. Late last year, President Rodrigo Duterte told the Department of Information and Communications Technology that a new cellular and data service provider must be up and running by March 2018.
However, Pangilinan said the company's three-year budget is not necessarily driven by the potential entry of a third telecom.
"This came as a result of frankly two years of painful effort of analyzing where our networks were weak and where we could be strong. I must say the CAPEX plans for 2018 are more precise. They are better planned than any I have ever seen in my years for both PLDT and Smart," he added.
ADVERTISEMENT - CONTINUE READING BELOW
Often criticized as a "duopoly," PLDT Inc. and Globe Telecoms have come under widespread criticism for their slow internet services in the country. In the latest State of LTE report of OpenSignal, the country's mobile Internet connection speed averaged 9.49 Mbps in the last quarter of 2017, far below the global average of 16.9 Mbps. Still, it is 15 percent higher than the third quarter's average speed of 8.20 Mbps.
*****
Elyssa Christine Lopez is a staff writer of Entrepreneur PH. Follow her on Twitter @elyssalopz