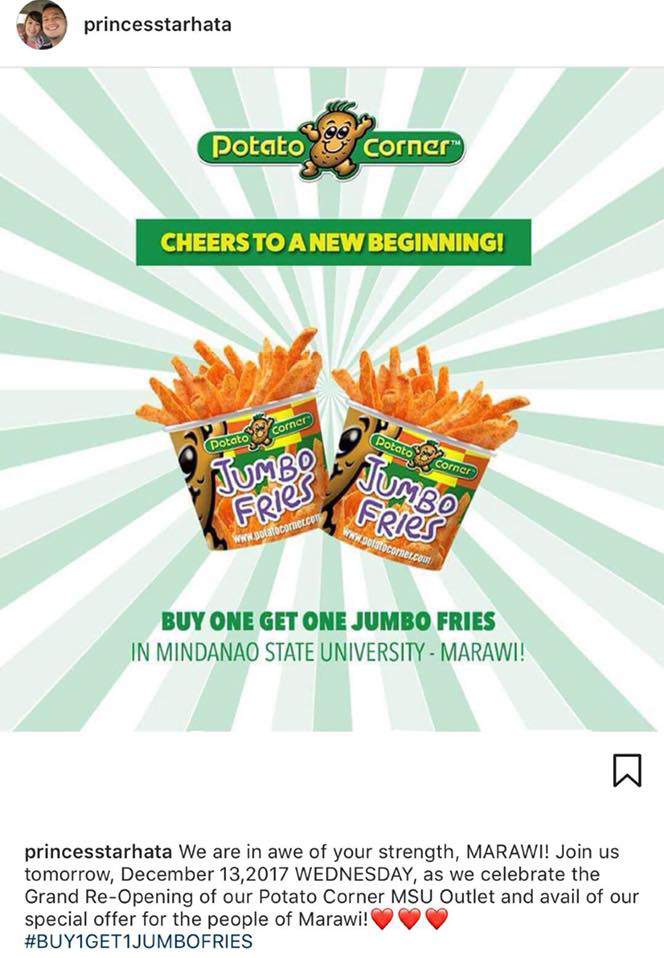 Almost two months have passed since the Battle of Marawi came to an end last October 23. The conflict displaced more than 300,000 people and killed at least 1,132 militants, government troops, policemen and civilians.
The city capital of Lanao del Sur became a war zone for five months as Philippine government security forces fought with militant Muslim separatist groups, particularly members of the Maute and Abu Sayyaf.
ADVERTISEMENT - CONTINUE READING BELOW
In terms of rehabilitation, Marawi City still has a long way to go considering the amount of damage it went through. But recent events in the city suggest a gradual revival of socioeconomic activities in the area.
Related story: How Local Businesses Are Coping with Martial Law in Mindanao 
As Marawi City starts to rebuild from the damages of war, Cinco Corp. CEO Jose Magsaysay Jr. announced the reopening of its branch in the city on Thursday, Dec. 14.  Cinco Corp. is the company behind Potato Corner.
"[It opened] five years ago, [then] closed when the Marawi war started," Magsaysay shared. The branch is located in Mindanao State University (MSU), one of the establishments occupied by the Maute group during the siege.
"Everyone is thankful that we opened," Magsaysay said. "Its like we gifted everyone there with something special. They appreciate our help in re-starting business there."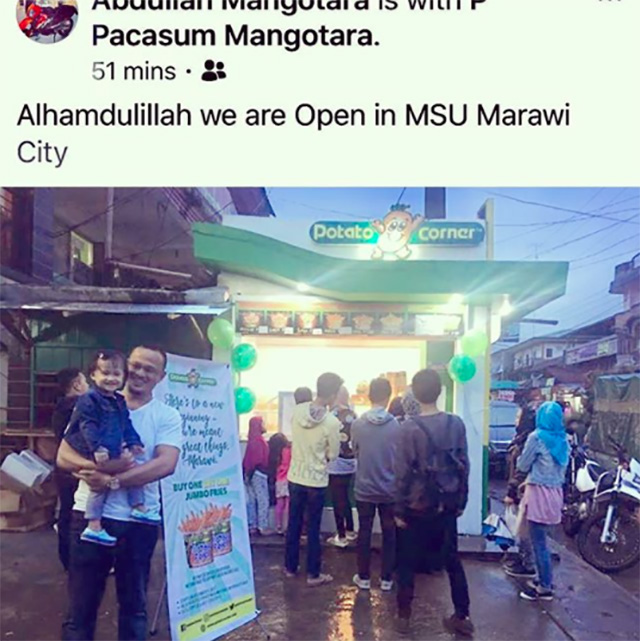 ADVERTISEMENT - CONTINUE READING BELOW
Cinco Corp. does not own the branch in MSU, but rather is a franchise of a Marawi resident who didn't leave the area despite losing the business amid the clashes, Magsaysay said.
Prior to the war, there were two Potato Corner branches in the city. "This time we will also bring in our other brands and create food strips to add other brands who wish to join our development of Marawi and the greater Marawi area," Magsaysay added.
The Potato Corner MSU branch is just one of the more than 1,000 existing stalls in Potato Corner's portfolio. According to Magsaysay, they are gearing to expand their network to 5,000 stores within the next five years.
To prepare for this, Magsaysay revealed in a separate interview last September that they have hired at least 30 percent more employees in the company's head office. He also appointed new executives to manage different departments for its internal operations, in the goal of being able to work like a multinational.
ADVERTISEMENT - CONTINUE READING BELOW
Related story: Potato Corner Targets 5,000 Branches in Next 5 Years 
In October, Potato Corner celebrated its 25th anniversary. The company recorded Php131.7 million in revenues in 2015 and Php794 million in profits.
*****
Pauline Macaraeg is Entrepreneur PH's data journalist. Follow her on Twitter @paulinemacaraeg