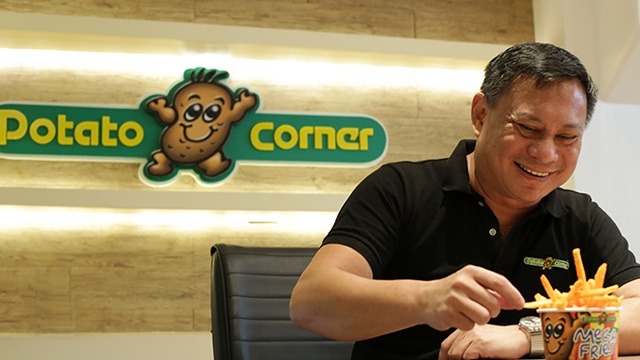 Jose Magsaysay is CEO of Cinco Corp, the company behind Potato Corner
As a young girl, Eana Cubacub would buy a small tub of Potato Corner fries after shopping for groceries with her family. She would do this weekly, becoming a sort of ritual for the young kid, like many who grew up in the 90s. Now 27 years old, Cubacub is bringing her childhood favorite closer to the new generation as a franchisee of Potato Corner.
ADVERTISEMENT - CONTINUE READING BELOW
"Potato Corner was my first franchise and business. I chose it simply because I'm a fan of its products and I believe in the brand," Cubacub said. "I'm happy to say that my first outlet in the Ninoy Aquino International Airport Terminal 3 has earned enough to finance the investment in the Pampanga branch (her second one)."
Cubacub is one of the many franchise partners of Potato Corner who helped the company increase its locations to 1,025 branches worldwide, 60 percent more than its store network of 640 in 2013. Cinco Corp. CEO Jose Magsaysay Jr., or fondly called JoMag by most people, calls the past decade a "phenomenon" for the brand.
"The phenomenon happened because our customers who were toddlers, less than teenagers then, became our business partners now both for international and local franchises," Magsaysay told Entrepreneur Philippines. "That was so flattering."
The 56-year-old executive was at Cinco Corp.'s head office—the company behind the famous food cart—all morning when he sat down for an interview in late September. The firm has been busy preparing for its 25th anniversary, an achievement that still astounds Magsaysay until today.
ADVERTISEMENT - CONTINUE READING BELOW
Magsaysay was an employee for a burger chain for a decade when he was invited by some friends to invest in a small kiosk specializing in flavored French fries in 1993. On October 16 that year, the first Potato Corner stall opened in SM Megamall. 
"My personal agenda then was so I can have enough money to buy a cellphone, enough money to buy my own car, enough money to send my children to a good school," Magsaysay shared. "Now my goal is to make Potato Corner the most loved snack brand in the world."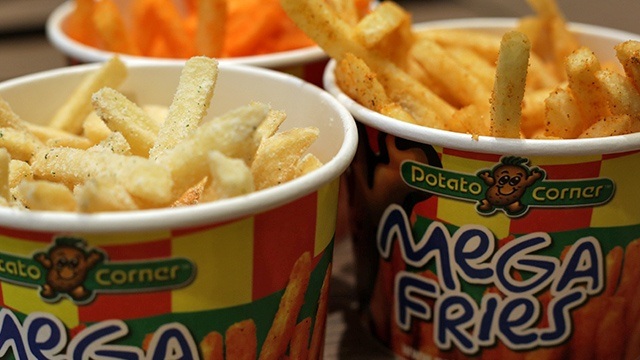 ADVERTISEMENT - CONTINUE READING BELOW
Potato Corner now has over 1,000 stores nationwide and overseas
The company is preparing for hyper growth, as it aims for the stars in the next five years. By 2022, the Filipino favorite hopes to have 5,000 kiosks worldwide or around four times larger than its current store network of 1,025 stalls.
To build up its legs, the company has hired at least 30 percent more employees, most of whom are millennials, at its headquarters. Magsaysay also brought in new department heads to streamline the company's internal operations and to build a team more capable of working like a multinational.
"The key thing we're trying to do is to involve a lot more employees," Human Resources head Paulo Ian Perez said. "We want to engage them to vision of the company, everyone has to be on the same page."
Magsaysay estimates that at least 80 percent of the company's branches is run by its partners. While they helped the company surpass the 1,000 store network mark, the executive believes there's still more room for growth and improvement.
ADVERTISEMENT - CONTINUE READING BELOW
For starters, now that the company has reached skyrocketing numbers, the challenge is on how to maintain them. Like the role he plays on the entrepreneurial reality TV show, The Final Pitch, Magsaysay hopes to be a mentor to his franchisees too.
"Our next phase [in Potato Corner] is to help our existing franchisees be better entrepreneurs. They keep the company strong, and [yet] we haven't been focusing on them much," he said. "Our business is our franchises so we have to take care of them."
The company recently formed two teams that will focus solely on franchisees: franchise development and franchise operation departments. The former will lead seminars, trainings and other developmental programs that will help entrepreneurs become more innovative in doing business, while the latter will focus on giving technical help in handling the food cart.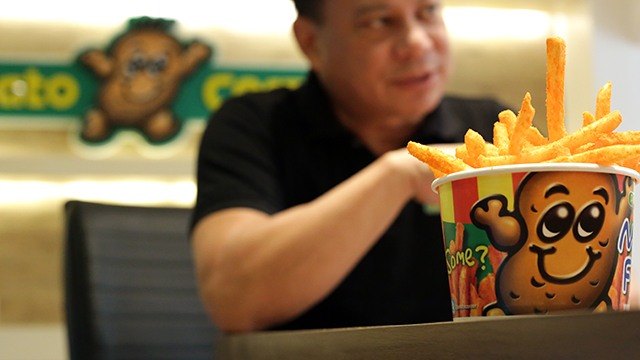 ADVERTISEMENT - CONTINUE READING BELOW
Potato Corner's strategy is to cater to people from all walks of life, not just Filipinos
The new International Operations General Manager Kathryna Manalo echoes the same vision for the company's expansion overseas.
"For the longest time Potato Corner was reactive to the international community but this time, we're keen on becoming more proactive," she said. "So the goal is to become more visible as an international food cart. We're joining more expos and more international trade fairs."
Still, even when it hasn't been actively seeking franchisees abroad, the company has been successful in choosing the right international partners. For example, its partners in Thailand have successfully set up 20 Potato Corner stalls on its first year of operations alone. While Indonesia now has 100 Potato Corner food carts.
Manalo said the partners' decision to emulate the local operations of Potato Corner—having a large team handling different roles—certainly helped the business grow abroad. Moreover, selling flavored French fries, a globally recognized and loved snack, isn't entirely difficult.
ADVERTISEMENT - CONTINUE READING BELOW
"So what we do is not to locate the store in a Filipino community [abroad] because it's limiting the target market," she said. "We want to go somewhere where we can cater to all. It's for all walks of life."
The strategy is unlike what any other Filipino food company similarly hoping to go overseas has done. Usually, Filipino fast-food or casual chains target OFWs abroad, like what Jollibee Foods Corp. and Max's Group are doing. In recent years however, Yellow Cab, also from the Max's Group, has been trying to gain traction in neighboring ASEAN countries. But unlike the aforementioned food brands that specialize in dine-in customers, Potato Corner is the lone Filipino food kiosk aiming to go global.
"I think what made Potato Corner a success in and outside the Philippines is how simple the concept is. It's very scalable, not as complicated as operating a full dining restaurant," Manalo added.
ADVERTISEMENT - CONTINUE READING BELOW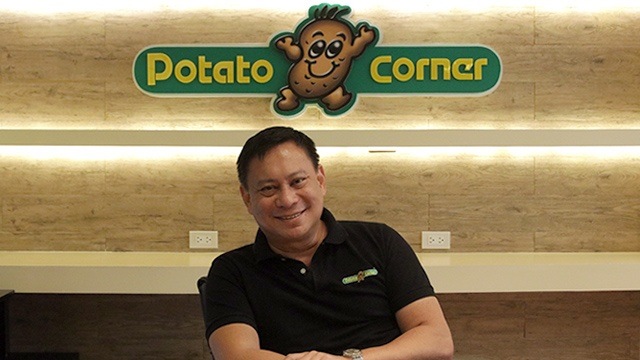 JoMag says Potato Corner "doesn't follow the rules. What we try to do is to create our own rules"
By 2018, the company expects to have Potato Corner stalls in Malaysia, Vietnam, Myanmar and Singapore to solidify its presence in the ASEAN before looking at the rest of the world.
Anyone may operate a stall specializing on flavored French fries, but what Potato Corner has that most stalls still haven't mastered is its agility and boldness to act like a startup even with its huge size. It's a business practice that has been doing wonders for the company. Potato Corner saw its revenues triple from Php39.8 million in 2011 to Php131.7 million in 2015.
ADVERTISEMENT - CONTINUE READING BELOW
"I'll tell you our little secret—we don't follow rules. Because if you follow the rules like a lot of other entrepreneurs do, then you'll just be competing against each other. What we try to do is to create our own rules that will bring us into another game, na kami lang naglalaro ng game na yon," Magsaysay said.
Keeping true to his rule-bending ways, Magsaysay introduced the Potato Corner + Nacho Bimby stall in October 2015, to tap different markets while helping startup brands gain recognition.
Nacho Bimby, as the name suggests, offers nachos with various toppings that may be paired alongside Potato Corner's flavored fries. The tandem brand has since expanded to eight other locations all over Metro Manila and is now offering franchising packages.
"We didn't know it would be such a hit, now we can marry other food concepts, like fries with soft serve or with drinks. Before the year ends, there would be a Potato Corner + Johann Coffee stall opening in Metro Manila," Magsaysay said.
ADVERTISEMENT - CONTINUE READING BELOW
While not intentionally, the company's new strategy still keeps true to what it has always championed in the past two decades: to create new entrepreneurs. Magsaysay admits that his tenure in Potato Corner has instilled in him a desire to become more generous of his business wisdom, a way of paying forward every opportunity passed on to him.
"My life is about being given a chance by so many people," he said. "Sometimes, it's not even about the business, it's about the person. If a hardworking person gets a break, he will likely succeed. That's what I want to give now, a chance for others."
*****
Elyssa Christine Lopez is a staff writer of Entrepreneur PH. Follow her on Twitter @elyssalopz