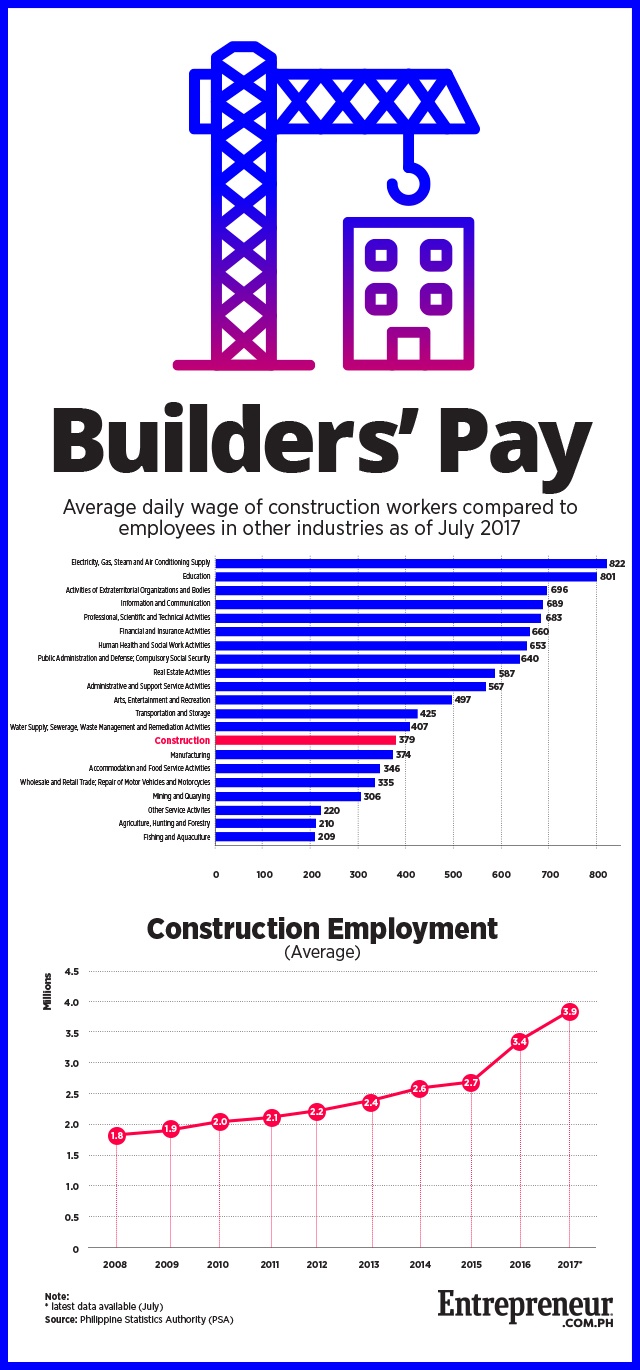 Calls for higher wages are rather commonplace, especially from the country's leftist labor unions.
But a proposal to increase the daily pay of construction workers by Php200-300 is not coming from the usual quarters but from the head of one of the country's biggest property companies, DMCI Holdings, the eighth most valuable holding company listed at the Philippine Stock Exchange.
In an interview with ABS-CBN News Channel aired on October 16, DMCI Holdings Chairman and President Isidro A. Consunji said a wage hike may be needed to address shortages of labor in the construction industry. He said construction companies are having a difficult time looking for labor amid the government's Build Build Build (BBB) program particularly in Metro Manila because of the everyday traffic and high housing costs in the city.
"If you add the cost of the salary they get and the cost of temporary housing very little's left for take-home pay," Consunji explained. "So I think there will be certain adjustments in the salaries of construction workers that may be required." He said an increase of Php200-300 in the daily wages of construction workers may help attract more workers to the industry.
ADVERTISEMENT - CONTINUE READING BELOW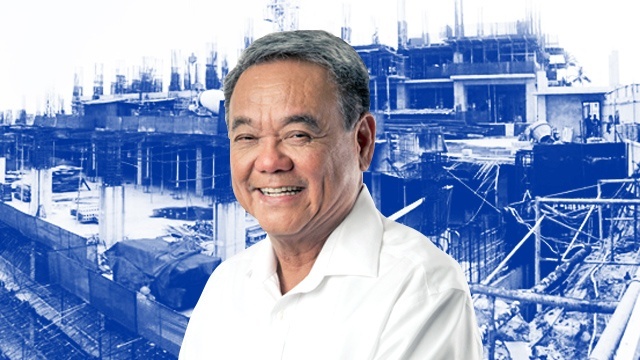 The DMCI chairman said the salary adjustments for construction workers are necessary compared to workers in other industries like manufacturing or service. "They're exposed to the elements—sunshine, rain. They work in a high-risk environment. It's a lot more heavier work and a lot riskier," he explained.
The number of construction workers more than doubled to 3.9 million as of July 2017 in the last 10 years amid the construction and infrastructure boom since the late 2000s. Total employment, in comparison, rose by only 17.8 percent. Despite the surge in demand for construction workers, the industry's average daily wage was the eighth lowest among 21 industries.
The government estimates that the Duterte administration's massive infrastructure drive, worth around Php8 trillion to Php9 trillion, will require an estimated 2.5 million more construction workers between 2017 and 2022.
Department of Trade and Industry (DTI) Undersecretary Ruth B. Castelo said in the same interview that the government is looking to bring back construction workers among Overseas Filipino Workers to fulfill this target.
ADVERTISEMENT - CONTINUE READING BELOW
"We're doing massive training, we're also encouraging Filipino workers to come home and join the construction industry that will benefit not only themselves, but also their families," she said.
DMCI is the country's eighth biggest listed holding firm by market capitalization. The company reported a net income of Php17.5 billion from revenues of Php64.9 billion in 2016. Its net income grew four percent from the previous year, while its revenues increased by 13 percent.
*****
Pauline Macaraeg is Entrepreneur PH's data journalist. Follow her on Twitter @paulinemacaraeg