<>
MANILA, Philippines – For the first time since Jobstreet.com started its Fresh Graduate Survey in 2014, the Polytechnic University of the Philippines (PUP) topped the list of schools that most local employers prefer to hire fresh graduates from.
ADVERTISEMENT - CONTINUE READING BELOW
The latest findings was based on a survey with 551 companies as respondents, conducted from February 22 to March 7 this year. The same list was topped by the University of the Philippines (UP) in 2015, when PUP only ranked No. 5.
Jobstreet.com Philippines country manager Philip A. Gioca said on Tuesday, March 15 that based on the survey's findings, a greater number of respondent-employers think that PUP graduates possess the most traits that they are looking for in fresh graduate applicants.
"The companies state that PUP graduates are generally very hard-working and often go the extra mile in their job," said Gioca. Additionally, those respondent-employers also observed that PUP graduates generally do not complain about tasks, do not easily give up on assignments, and are genuinely having the drive to learn and uplift their lives, which in turn tend to make them work harder.
The Jobstreet.com surveyed showed further that employers surveyed prefer to hire graduates from those institutions:
ADVERTISEMENT - CONTINUE READING BELOW
Polytechnic University of the Philippines (45%)
University of Santo Tomas (31%)
University of the Philippines and Ateneo de Manila University (29%)
Pamantasan ng Lungsod ng Maynila (27%)
Far Eastern University (26%)
De La Salle University (25%)
Technological Institute of the Philippines (24%)
Mapua Institute of Technology (22%)
University of the East (20%)
Adamson University (17%)
The same survey also found that 60% of local companies consider the school where applicants earned their degrees when hiring fresh graduates as new employees. However, most companies still give a bigger consideration to applicants' behavior as well as the position they want to fill in. Up to 80% of respondent-companies prefer to hire fresh graduates to fill in vacancies.
Highest-paying industries for fresh graduates
Fresh graduates should apply for IT-related jobs if they want to enjoy the best entry-level salaries, the same Jobstreet.com Philippines annual survey showed.
Based on actual salaries of all Jobstreet.com job postings from October to December 2015, graduates of IT courses receive an average monthly salary of P22,500 ($480.64), which rose 0.3% from the average in 2014.
Actuarial degree holders receive an average entry-level monthly salary of P21,391 ($456.95), while those holding legal services degrees get an average of P21,132 ($451.40) monthly wage. Here is the complete list of the top 10 highest-paying entry-level jobs based on the Jobstreet.com survey:
ADVERTISEMENT - CONTINUE READING BELOW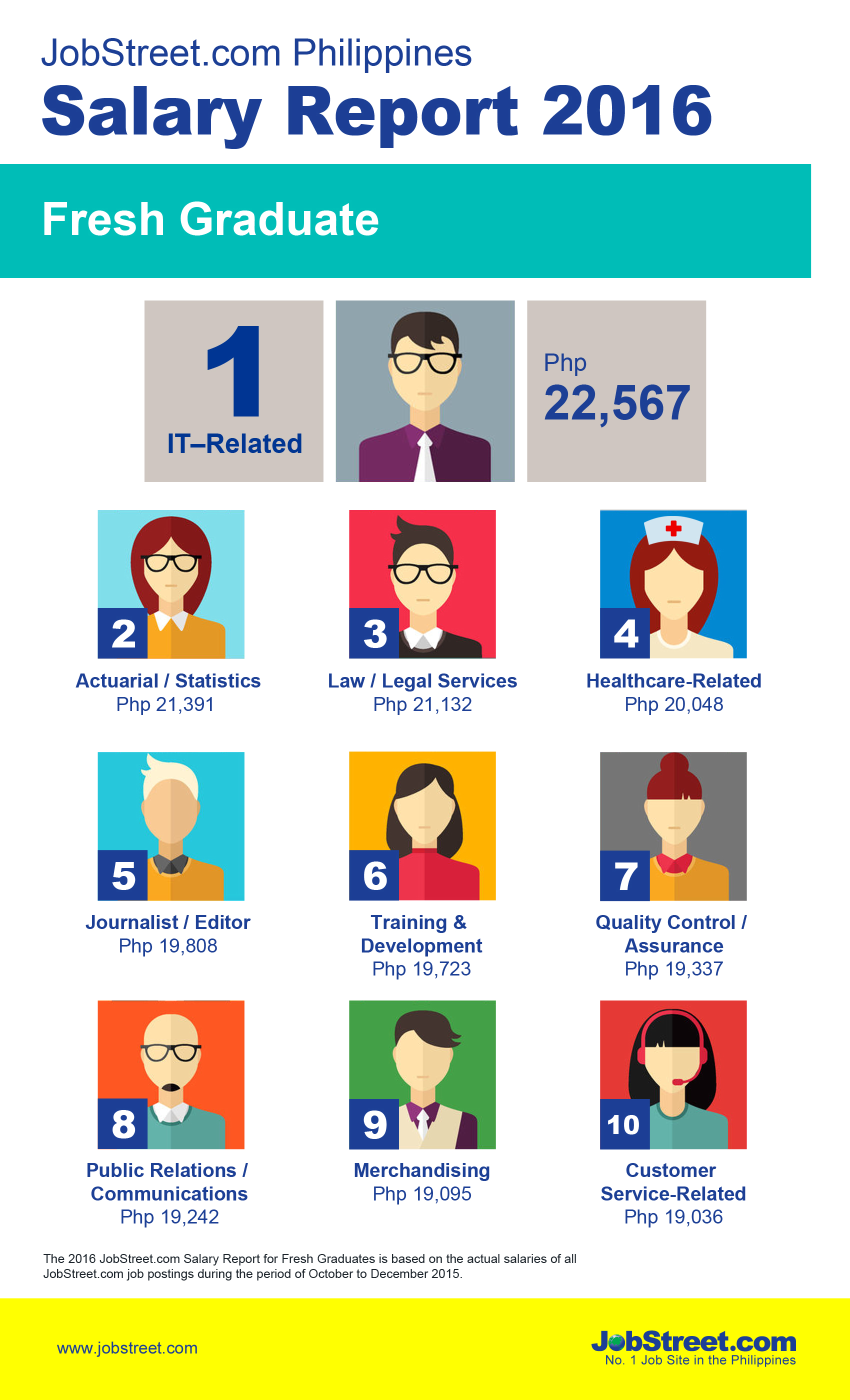 Meanwhile, the call center or BPO (business process outsourcing) industry is still the biggest in terms of hiring fresh graduates. Up to 57% of BPO jobs are filled in by entry-level employees. The industry provides about a third of overall jobs advertised in Jobstreet.com Philippines that are targeting fresh graduates, as it posted 149,753 new job posts in the website in 2015, which was higher by 19% compared to the new jobs it posted in 2014.
ADVERTISEMENT - CONTINUE READING BELOW
Yolanda Buyco, regional marketing operations manager of Seek Asia (the parent company of Jobstreet.com), said there are around 1,000 BPO firms that are currently operating in the country; about 300 of those post job advertisements on Jobstreet.com.
Here are the top 10 industries with the most number of new jobs for fresh graduates as advertised in Jobstreet.com Philippines in 2015: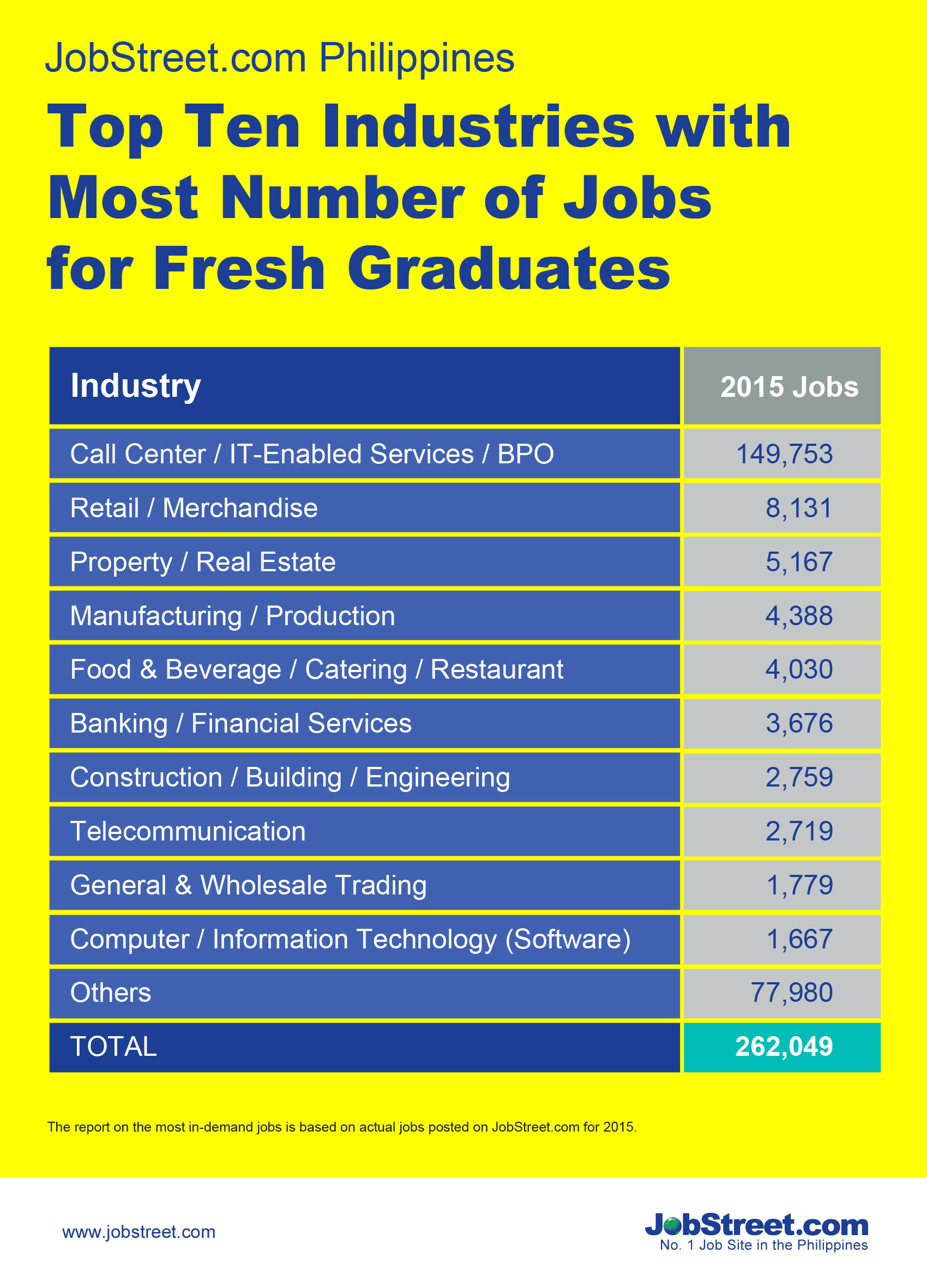 ADVERTISEMENT - CONTINUE READING BELOW
This year, about 600,000 to 700,000 fresh graduates are expected to join the growing number of new entrants into the country's labor force (based on estimates from the public and private education system). "This hiring season, between 6,000 and 10,000 active job advertisements are expected on our site," said Buyco.
Buyco said from a usual job posting slump in December, job posts in the website starts to increase from the second half of January until June. "That is because companies allocate during this time new budget for additional manpower or for replacements of attritions." This period also coincides with the graduation season in most universities nationwide.
*****
James is the managing editor of entrepreneur.com.ph. Follow him on Twitter, @james_humarang.