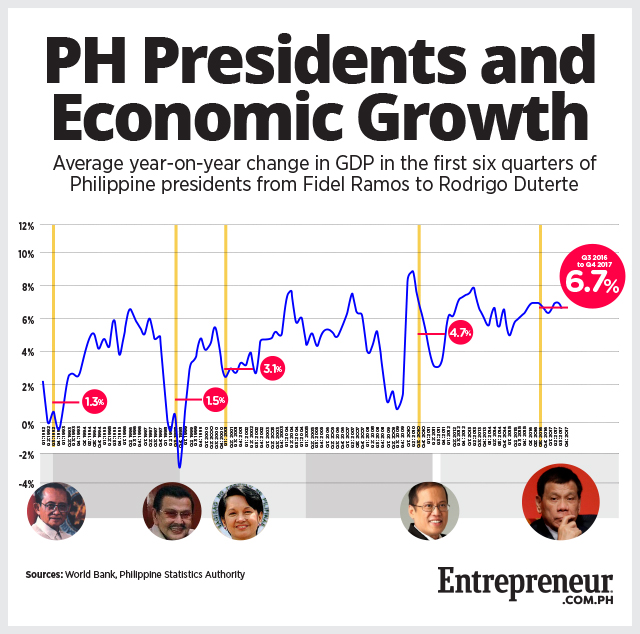 The Philippines posted an economic growth rate of 6.6 percent in the last three months of last year, bringing full-year growth in 2017 to 6.7 percent. While that was slightly lower than the 6.9 percent in 2016, it was still one of the highest measures of economic performance in the past decade or so.
Socioeconomic Planning Secretary Ernesto M. Pernia explained the decline is "normal" for post-election years, citing the steeper decline during Benigno "Noynoy" Aquino III's term. Then, GDP growth fell to 3.7 percent in 2011 after surging by 7.6 percent in 2010, the year Aquino started his term.
ADVERTISEMENT - CONTINUE READING BELOW
Related story: PH GDP Growth Falls Slightly in 2017 But is Still Second Fastest in Southeast Asia 
Positive growth of a country's economic output as measured by the GDP is often seen as an achievement of any administration. Of course, fluctuations in GDP growth do not solely reflect the capabilities of the administration as other external factors may come into play. For example, as the graph above shows, the country's economic performance suffered two times: once in 1998 following the Asian financial crisis, and again in 2008 shortly after the 2007 global financial crisis.
Still, Duterte's average 6.7-percent GDP growth during the first six quarters of his term is far higher than those of the four most recent presidents'. Aquino trails behind, with the GDP growing an average of 4.7 percent during the first six quarters of his term. That is followed by Gloria Arroyo's average of 3.1 percent, Estrada's 1.5 percent and Ramos' 1.3 percent.
ADVERTISEMENT - CONTINUE READING BELOW
Apart from faster GDP growth so far under Duterte's leadership, it also looks like that the pace of economic expansion has become more stable. A cursory look at the infographic on this page, shows that economic growth since the middle of 2016 has proceeded within a narrower range that is unlike the wilder swings in the past.
For 2018, the government set the goal at 7 to 8 percent GDP growth, mainly banking on the ramping up of infrastructure spending.
*****
Pauline Macaraeg is a staff writer of Entrepreneur PH. Follow her on Twitter @paulinemacaraeg