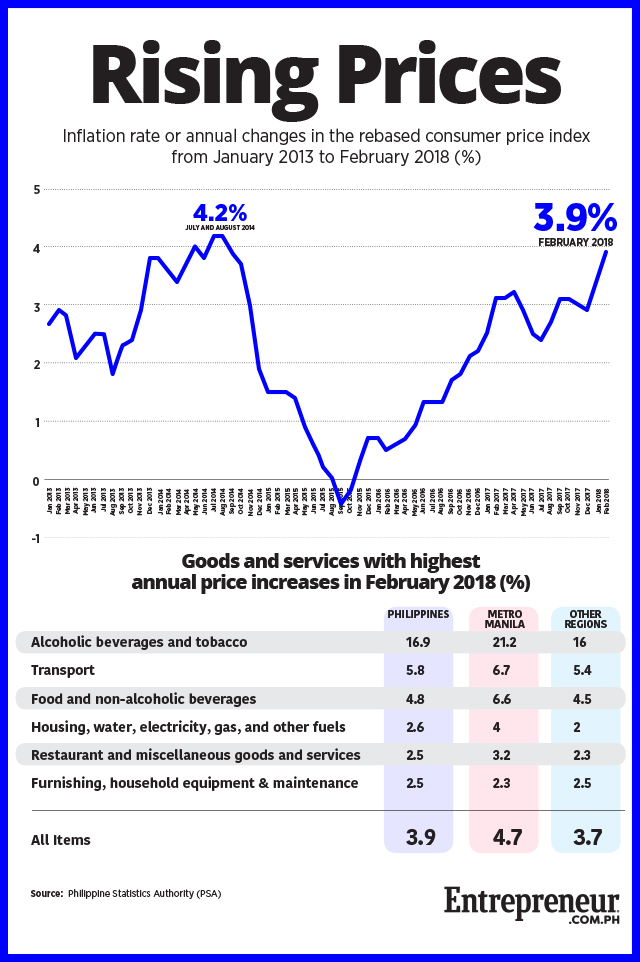 The Philippines' newly rebased headline inflation rate soared to a 41-month high of 3.9 percent in February from 3.4 percent the previous month and 3.1 percent in February last year, according to the Philippine Statistics Authority (PSA).
The inflation surge came in the wake of unprecedented increases in the prices of food and non-alcoholic drinks as well as alcoholic beverages and tobacco products. The country has not seen this level of the inflation rate, a measure of how fast consumer prices have risen in a year, since September 2014.
ADVERTISEMENT - CONTINUE READING BELOW
The PSA said the biggest contributors to the surge in the rebased inflation rate are alcoholic beverages, tobacco, food and non-alcoholic beverages. Prices of alcoholic beverages and tobacco increased annually the most at 16.9 percent owing to higher tax payments by one of the country's major cigarette manufacturers.
The food sector alone recorded a 4.8-percent annual markup in prices in February. Corn and meat products posted the highest increases in annual rates, at 10.4 percent and 6.7 percent, respectively. Prices of fruits, rice, cereals, flour, bread, pasta, milk, cheese and eggs likewise surged.
Other sectors that recorded higher annual prices are the sectors of restaurant and miscellaneous goods and services (3.7 percent), transport (3.2 percent), health (2.6 percent) and furnishing and household equipment and routine maintenance of the house (2 percent).
The rise in consumer prices is even sharper in Metro Manila which recorded an inflation rate of 4.7 percent in February. This was driven by higher prices of alcoholic beverages and tobacco, which went up by 21.2 percent from a year ago. Food and non-alcoholic drinks also climbed by 6.6 percent in the metropolis.
ADVERTISEMENT - CONTINUE READING BELOW
Related story: Why the Surge in Inflation Rate to a 39-Month High of 4% in January is Bad News for Your Savings
Until last month, the PSA had been estimating inflation rates using 2006 as the base year. Starting February, however, the agency will use 2012 instead to reflect the current consumption patterns and preferences of the general public.
"Rebasing is necessary when the basket of the reference year no longer represents what is commonly purchased by the households. The CPI then becomes irrelevant and would tend to give wrong market signals. The CPI is an indicator that derives its usefulness from its representation of how much a typical market basket behaves over a specific period of time," the PSA explained in a statement.
The PSA said it will continue to make available inflation numbers based on the 2006 base year until June 2018. Using the old base year, the inflation rate in February is 4.5 percent compared to 4.0 percent in January. That's still within the central bank's old inflation rate target of 4 percent to 4.8 percent
ADVERTISEMENT - CONTINUE READING BELOW
*****
Pauline Macaraeg is Entrepreneur PH's data journalist. Follow her on Twitter @paulinemacaraeg