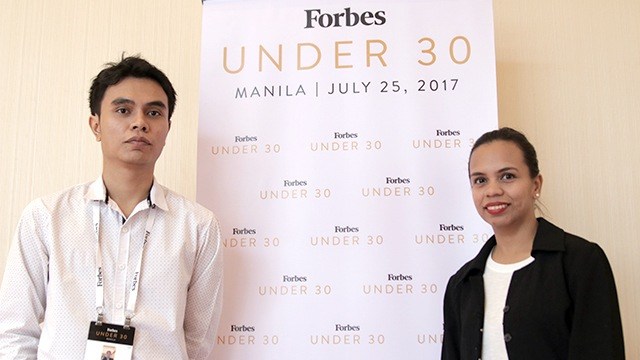 Raphael and Aisa Mijeno attended this year's Forbes 30 Under 30 Conference held at Solaire Resort and Casino
Fifteen minutes of fame may be all it takes to launch a career in the entertainment industry but it's definitely not enough to ensure the success of a technology startup.
When Aisa Mijeno, who developed a new type of battery-powered lamp that uses saltwater solution as a component, appeared on the stage with then-US President Barack Obama and Alibaba founder Jack Ma during the Asia Pacific Economic Cooperation (APEC) summit in Manila in November 2015, many people thought that spelled inevitable success for the venture.
ADVERTISEMENT - CONTINUE READING BELOW
What could go wrong after no less than the president of the most powerful nation in the world praised Mijeno and her innovative product? "I think Aisa is a perfect example of what we're seeing in a lot of countries—young entrepreneurs coming up with leap-frog technology," Obama said.
Yet, a year and a half since Obama said those words, Mijeno's startup, Sustainable Alternative Lighting (SALt), has yet to begin large-scale production.
Part of the problem is the public's unexpectedly high expectations about the project after Obama's endorsement, coupled with the challenges of product development and fundraising.
"There's a lot of misconception during the APEC season that the lantern has already been out in the market. We were in product development at that time, still," Mijeno told Entrepreneur Philippines at the sidelines of the Forbes 30 Under 30 Summit Asia in Pasay City last July. "And it took us a while because product development—aside from it being capital extensive—it's really hard to do. We need to have a lot of resources for that."
ADVERTISEMENT - CONTINUE READING BELOW
In the last few years, Mijeno and her brother Raphael, who is SALt's chief financial officer, have been busy sending out prototypes to rural coastal areas for feedback. She said they wanted to try the product on the target market so they can improve the SALt lamp's design.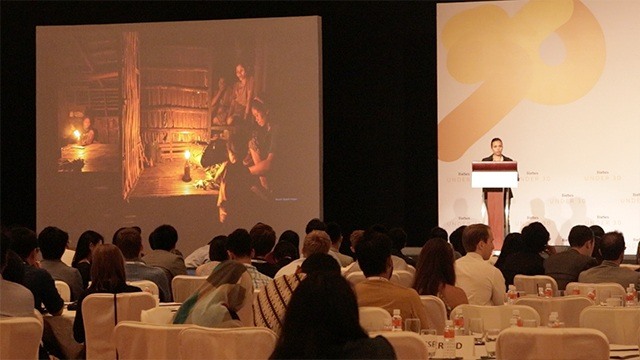 ADVERTISEMENT - CONTINUE READING BELOW
Aisa Mijeno said mass production and deliveries of their groundbreaking SALt lamps may start by the last quarter of 2017
"We produce around five to ten units every week. Since 2016, we've probably sent out around 500 units," said Raphael. "And that's all handmade."
The device has undergone eight upgrades since the duo started SALt in 2014. The Mijenos said they have finalized the design and are firming up a deal with a large corporation to pursue mass production. So far, SALt has shelled out around Php4 million to keep product development going, according to Raphael.
Fundraising has been a challenge because many of the would-be investors insist on gaining majority control of the company.
"We're shooting for 500 units a day or 15,000 units a month. If the deal pushes through, we won't need to have any investors since they'll take care of manufacturing and they won't even take equity share," Raphael explained.
ADVERTISEMENT - CONTINUE READING BELOW
The siblings refused to name the potential partner, but hinted that the manufacturer is a "large Filipino corporation." Once the deal has been signed, deliveries may start by the last quarter of 2017 and the latest by the second quarter next year.
But like good startups, the Mijenos have a Plan B to remain on track if the production deal unravels.
"We can tap into those who have expressed their interest in either buying our product or investing in the company. So far, we have 45,000 pre-orders," Raphael said. "So it would work like bridge financing."
Mijeno has come under criticism from experts for overplaying the saltwater component of the device while underplaying the fact that the lamp basically runs on a metal-air battery. She is faulted when the media and admirers such as Obama himself say, rather inaccurately, that the lamps "run on nothing more than saltwater."
To be sure, SALt's website explicitly mentions that the lamp needs an anode or electrode that needs to be replaced every six months. She has also explained that the lamp is an innovation rather than an invention.
ADVERTISEMENT - CONTINUE READING BELOW
"With the naysayers, we don't really get affected. We don't do it for them, the purpose is to really help," Raphael said.
*****
Elyssa Christine Lopez is a staff writer of Entrepreneur PH. Follow her on Twitter @elyssalopz