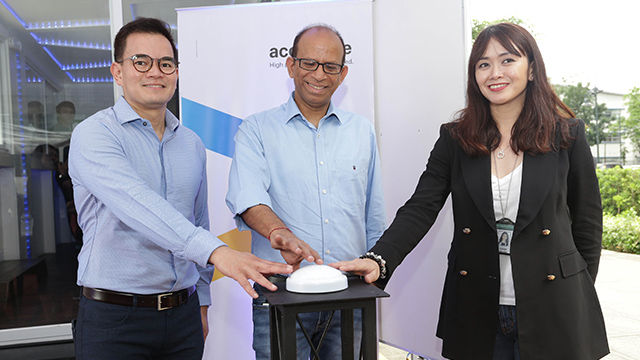 Accenture executives at the launch of Accenture Intelligent Operations Trailer. From left: Benedict Hernandez, managing director and Accenture Operations lead in the Philippines; Manish Sharma, group operating officer of Accenture Operations; and Louise Sabariaga, managing director, marketing and communications of Accenture in the Philippines
Last September, the Department of Trade and Industry (DTI) warned that the advent of artificial intelligence (AI) and automation may wipe out the jobs of half of the 1.3 million workers in the country's $25-billion business process outsourcing (BPO) sector. To cope with the threat, DTI Secretary Ramon Lopez urged employers to "retool and reposition the nature of the current jobs in the industry."
ADVERTISEMENT - CONTINUE READING BELOW
It's a message that Accenture, the country's largest service provider by revenue that employs over 45,000 people across its 23 offices nationwide, had taken to heart much earlier. In BusinessWorld's latest list of the "Top 1,000 Corporations in the Philippines" by gross revenue, it ranked 36th, making it the highest-ranking BPO firm.
The company has already implemented AI, automation, analytics and other innovative technology it calls "Intelligent Operations" over the past three years—and claims to have not let go of any of its employees in the process.
"One number that's clear is [that] employees that were let go because they didn't have anything else to do for us is zero," said Benedict Hernandez, the head of Accenture Operations in the Philippines, in a media briefing held last June 14. "There is nobody who's been let go because the process became AI-enabled or robotics-enabled. Everybody has been able to pick up and do something different."
ADVERTISEMENT - CONTINUE READING BELOW
According to Manish Sharma, group operating officer of Accenture Operations, the company was able to retain its employee base by upskilling them and giving them higher-value jobs. He believes that automation and AI should not be seen as a threat to Accenture employees' jobs, but rather as an enabler of job opportunities.
"For us, AI and automation have created more jobs than ever before," said Sharma. "For us, the biggest lesson has been [that] AI and automation [have shown] places where we were not even doing work."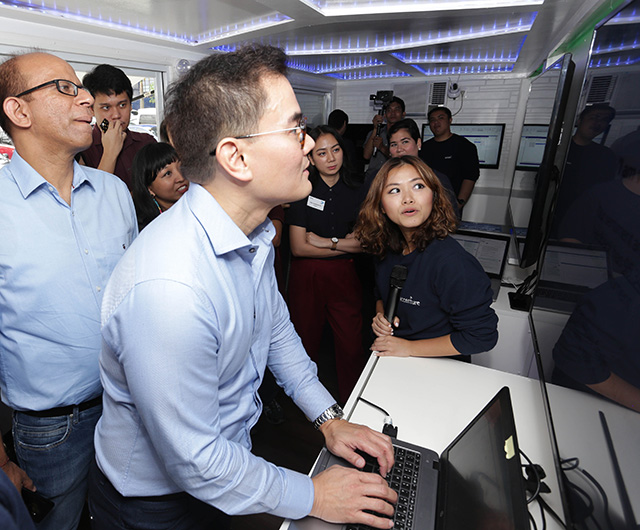 ADVERTISEMENT - CONTINUE READING BELOW
At the Accenture Intelligent Operations Trailer, visitors can try out several products developed by Accenture employees that deal with AI, automation and analytics
Sharma also asserted that because of these new technologies, Accenture is able to upgrade its employees' jobs by replacing mundane tasks with higher-value work. He shared how some employees have become "robo-managers", wherein one person handles up to 13 robots as their new job. He also said that employees are encourage to find ways to automate their previous jobs, and anyone who does so is rewarded with a promotion.
"We took a pledge that our people will not do jobs that are measurable, repeatable, predictable and transactional in nature," said Sharma. "Our people are so smart, so good, so brilliant that they will not do these kinds of jobs, [and that] we will get robots to do these kinds of jobs."
To give the public and prospective recruits an idea of how Accenture combines AI with human employees, it built the Accenture Intelligent Operations Trailer, which will tour around major business districts in Metro Manila such as Makati, Bonifacio Global City and Ortigas.
ADVERTISEMENT - CONTINUE READING BELOW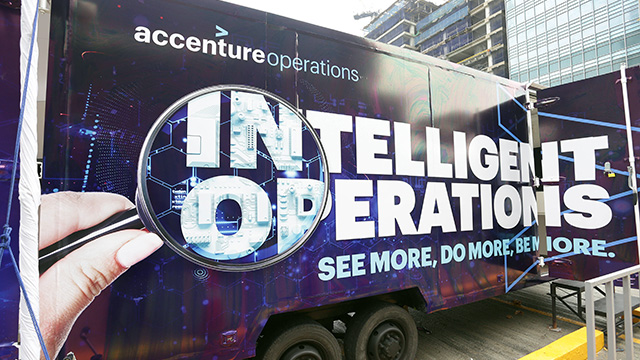 Exterior of the Accenture Intelligent Operations Trailer
Visitors will be able to see and test out employee-created projects such as an AI-enabled natural language processor that is able to translate close to 40 languages; a program using robotic process automation for cataloging invoices; and a "mood meter" that analyzes whether a statement's sentiment is positive, negative or neutral.
ADVERTISEMENT - CONTINUE READING BELOW
"We want to demystify to some extent what AI and robotics [are]," said Hernandez about the trailer. "I think the world is fascinated with automation, robotics and AI, and we want to give some real examples of things that are already happening today."
*****
Lorenzo Kyle Subido is a staff writer of Entrepreneur PH