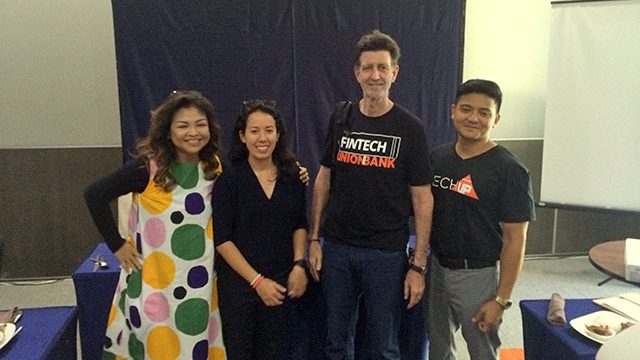 Last May 22, UnionBank officially launched Project i2i in a press conference in Davao City. Heading the event were (from left): Amor Maclang, co-founder of GeiserMaclang; Tanya Hotchkiss, executive vice president of Cantilan Bank; Justo Ortiz, chairman of UnionBank; and Ramon Vicente "Arvie" De Vera II, head of the fintech business group at UnionBank
ADVERTISEMENT - CONTINUE READING BELOW
For city dwellers, going to the bank also means being able to access convenient financial services such as ATM withdrawal and deposit, check encashment, bills payment, domestic fund transfer, international remittance and the like.
Not so with those living in towns and cities served mainly by rural banks, many of which are not equipped to easily provide several financial services that universal banks and even some fintech startups are able to offer with ease.
Majority of rural banks are disconnected from each other, which means that funds transfer between two rural banks takes much longer and is more expensive than transferring money across universal banks or through a fintech's mobile app. For interbank fund transfer between rural banks, the money has to go through an intermediary universal bank, which lengthens the process to around three to five days.
It turns out that most rural banks are not members of financial networks such as BancNet, the Philippine Clearing House and the Society for Worldwide Interbank Financial Telecommunication or SWIFT. This means that a majority of these banks don't belong to the ATM network, cannot issue checks and are unable to process international funds transfers without going through an intermediary bank. And applying to be a member of these networks entails several requirements that many rural banks find very difficult to meet.
ADVERTISEMENT - CONTINUE READING BELOW
"The rural banks themselves are financially excluded, and that in itself is a great injustice, where the rural banks cannot financially connect to one another," said Ramon Vicente "Arvie" De Vera II, first vice president and head of the fintech business group at UnionBank of the Philippines.
The bank, which is part of the Aboitiz Group that includes several subsidiaries doing business in rural communities, believes it can help end the rural banks' financial isolation by integrating them into a platform enabled by blockchain technology.
Though popularly associated with Bitcoin and other cryptocurrencies, blockchains and the underlying distributed ledger technology have far wider uses not only in finance but also in commercial and government transactions.
Called Project i2i, which stands for "individual-to-individual" and "island-to-island", the UnionBank platform will allow rural banks to process interbank fund transfers in real-time and offer the service at a much lower cost. This is done by taking the process to the blockchain, which not only connects different rural banks onto one platform but also makes the process of transferring funds between them as seamless and secure as possible.
ADVERTISEMENT - CONTINUE READING BELOW
"I think [connecting] the rural banks is not the new idea. We've tried that many times before, but the issue of trust and centrality was always the problem. Now the technology has arrived that allows precisely for that to happen," said De Vera in a press conference last May 22, which coincided with the 65th Annual National Convention and General Membership Meeting of the Rural Bankers Association of the Philippines (RBAP) in Davao City where UnionBank was a sponsor.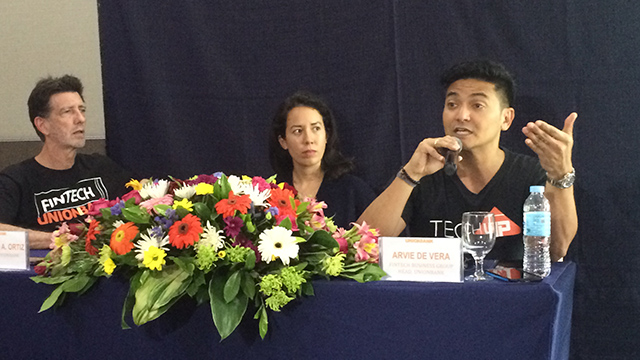 ADVERTISEMENT - CONTINUE READING BELOW
Project i2i will allow rural banks to process interbank fund transfers in real-time and offer the service at a much lower cost
Project i2i will enable rural banks to offer universal banking products to their customers such as a BancNet-enabled card, a mobile banking app with a QR code payments system and international remittance services. And as the platform rolls out, De Vera also says that rural banks will be able to offer their own systems and services on the Project i2i platform, calling it a "co-creative platform".
Project i2i is currently on a pilot run, having signed up six rural banks so far. One of these is Cantilan Bank, a Surigao del Sur-based rural bank that operates 43 branches across 12 provinces, most of which are in Mindanao. For Tanya Hotchkiss, executive vice president of Cantilan Bank, integrating with UnionBank's blockchain platform epitomizes the overall vision of financial inclusion.
ADVERTISEMENT - CONTINUE READING BELOW
"The theme of financial inclusion permeates through the way this is structured from a business operations perspective," said Hotchkiss. "It aims to be inclusive. Not a single rural bank is excluded from joining because they don't have a core banking (system), because they don't have the IT personnel. And that is exactly what was interesting about this type of technology—even the way blockchain is created as a decentralized system fosters inclusion."
De Vera estimated that UnionBank will roll out a pilot within the next one or two months, and after fine-tuning the service, the bank will launch the Project i2i platform commercially by the first quarter of next year.
On UnionBank's side, Chairman Justo A. Ortiz sees Project i2i as part of the bank's new approach to corporate social responsibility. While it remains to be seen if the platform will be profitable, he sees it as an important step forward in contributing to the overall development of the country.
ADVERTISEMENT - CONTINUE READING BELOW
"I don't know if we'll make money out of it," said Ortiz. "From our perspective, it's part of our overall sustainability mandate of making sure that the country where we [do] business in also progresses. And as a banker, if the Philippines does well, we will do well."
No stranger to blockchain technology, Ortiz is the chairman of the newly formed Blockchain Association of the Philippines (BAP), the country's first official organization focused on the innovative technology. The BAP was officially launched in the Blockchain Applications and Economics Forum 2018, a three-day event held from May 28 to 30 that focused on how blockchain technology will impact businesses belonging to various industries.
Ortiz is leading UnionBank's major projects in positioning itself as the Philippines' first blockchain-enabled bank. Aside from Project i2i, the universal bank also announced last April that it will be integrating blockchain technology into several internal processes to improve how information is stored and distributed.
ADVERTISEMENT - CONTINUE READING BELOW
Related story: How UnionBank is Pioneering the Blockchain Revolution in PH Banking 
Project i2i could potentially help advance the Bangko Sentral ng Pilipinas (BSP)'s massive push for financial inclusion as it tries to redress a situation where 86 percent of Filipino households are unbanked and 35 percent of towns and cities do not have a formal banking presence.
Unable to compete with branches of better-capitalized universal banks, the ranks of rural banks have steadily dwindled over the years from over 3,000 to under 500 today. Through integration with each other and the broader banking network, rural banks may have a fighting chance to compete and offer valuable services to their clients in rural areas. With over 28,000 branches in many of the country's less developed communities, the BSP is looking at rural banks as an essential component in the drive towards financial inclusion.
"The industry is strategically positioned to be a catalyst for greater financial inclusion," said BSP Governor Nestor Espenilla Jr. in his speech at the RBAP conference in Davao City. "Your close ties and familiarity with the rural companies you serve make you effective providers of rural financing and other corollary microfinance products and services."
ADVERTISEMENT - CONTINUE READING BELOW
*****
Lorenzo Kyle Subido is a staff writer of Entrepreneur PH. The writer was a guest of UnionBank in Davao City.