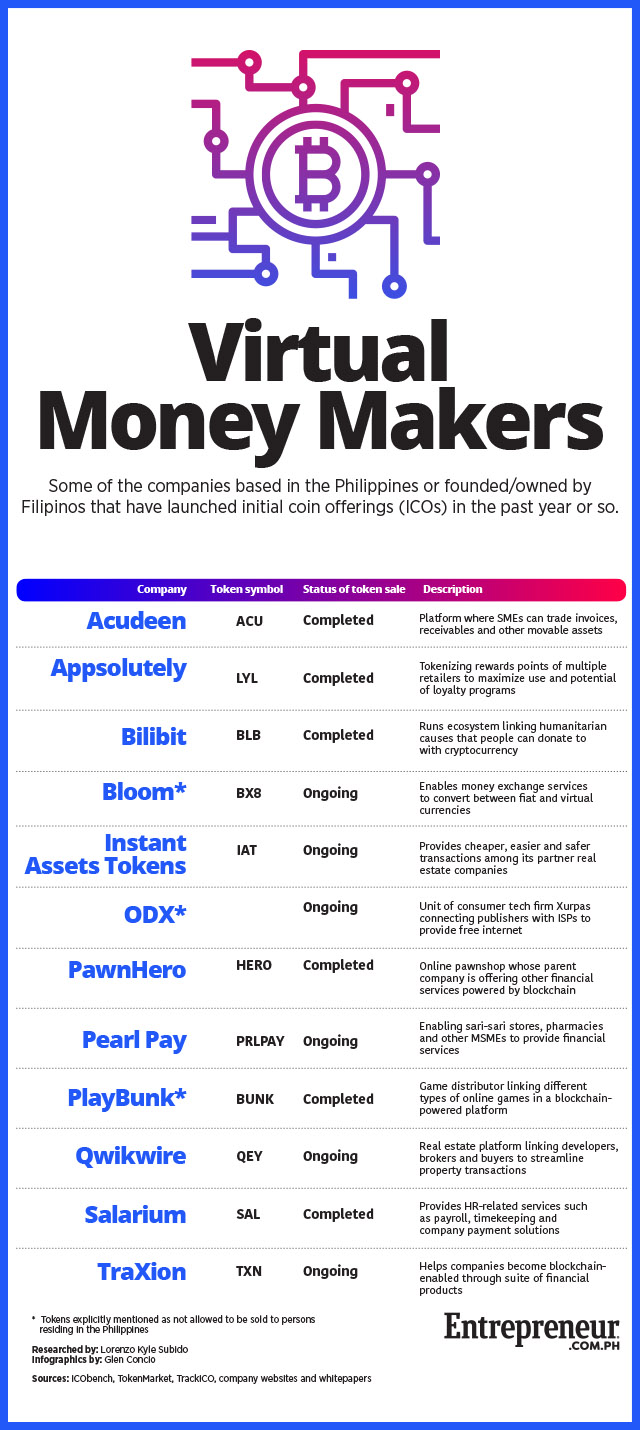 The Securities and Exchange Commission (SEC) has released a memorandum circular detailing its proposed rules on initial coin offerings (ICOs) of Philippine companies or targeted at Filipinos.
In the circular titled "Rules on Initial Coin Offerings," the SEC defines ICOs as "distributed ledger technology fundraising operations involving the issuance of tokens in return for cash, other cryptocurrencies or other assets. They involve coins (or 'tokens') being issued in order to raise money from the general public."
ADVERTISEMENT - CONTINUE READING BELOW
ICOs have gained popularity in recent years as an innovative way of fundraising, with a Business Insider UK report claiming that companies raised $5.6 billion in 2017 from conducting 430 successful ICOs.
Most notable among SEC's proposed rules is its requirement for all companies that will conduct an ICO, as well as those in the process of or has finished conducing a token sale, to submit an initial assessment request with the SEC. This request, which will include documents of the ICO, the company, the team and its advisors, is what the SEC will use to determine whether or not a company's cryptocurrency needs to be registered with the regulatory body.
As a rule, only tokens classified as a security token are to be registered with the SEC but the agency may decide that other kinds of tokens such as asset, utility or payments tokens are also security tokens based on their characteristics.
ADVERTISEMENT - CONTINUE READING BELOW
The SEC defines a security token as any token that "satisfies the definition of securities under the SRC," referring to the Securities Regulation Code. Most companies dealing with cryptocurrency distinguish security tokens from utility tokens, which are assets that grant tokenholders access to a company's services rather than ownership of stock. However, while the SEC has separate definitions for security and utility tokens, it does mention that a utility token can be classified as a security token should it satisfy the basic elements of being a security.
This is consistent with earlier comments made by SEC Commissioner Ephyro Amatong, who spoke in a blockchain and cryptocurrency-focused conference held by the Shareholders Association of the Philippines last March.
"If you are offering investments to Filipinos or residents of the Philippines and haven't registered, you violated the Securities Regulation Code," Amatong told Entrepreneur Philippines in the sidelines of the event. "If it acts like a security, it is a security and it must comply with the law."
ADVERTISEMENT - CONTINUE READING BELOW
Related story: SEC on Initial Coin Offerings: If It Acts Like a Security, It Must be a Security and Must be Registered
Companies that are deemed to be offering security tokens are then required to submit a registration statement, which consists of extensive requirements that include a company's financial position. The draft rules also allow the SEC to conduct an ocular inspection and system walkthrough of an applicant's Philippine office and operating system respectively.
Registered companies will also have reportorial requirements such as annual and quarterly financial statements and interim reports detailing the status of the company and the ICO. The proposed rules also mention how companies should advertise their ICOs to the public, detailing what types of content are allowed and not allowed in advertising.   
Related story: Meet the Fintech Startups Ushering in Cryptocurrency and Blockchain Technology in PH
The draft rules end several months of speculation regarding the SEC's position on ICOs, which have gained traction in the Philippines over the past year. In the circular's preamble, the SEC recognizes that ICOs "will help raise capital and resources for small and local businesses" and that they "will provide alternative investment opportunities for the investing public."
ADVERTISEMENT - CONTINUE READING BELOW
While the SEC has yet to approve an ICO, it has issued several advisories warning the public to be vigilant in recognizing whether or not an ICO is legitimate. In the same month, it issued a cease and desist order against the Hong Kong-based issuer of the KROPS token, barring the company to sell any tokens to Filipino investors.
Related story: Don't be a Victim of Get-Rich-Quick Scams Using Bitcoin and Other Virtual Currencies: Tips from the BSP and SEC 
Related story: Why is the SEC Blocking Joseph Calata From Selling Tokens for his HK-Based Cryptocurrency Startup to PH Investors? 
It also reaffirms the position already held by the Bangko Sentral ng Pilipinas (BSP) regarding cryptocurrency in the Philippines, which has shifted from a cautionary to a constructive approach in dealing with the innovative technology. Since publishing a circular in January 2017 that detailed rules on virtual currency exchanges (VCEs), or companies that exchange fiat currency with cryptocurrency, the BSP has granted VCE licenses to five fintech startups.
ADVERTISEMENT - CONTINUE READING BELOW
Related story: Buying or Selling Bitcoins? BSP Approves 2 More Virtual Currency Exchanges
The SEC is accepting comments and suggestions for its proposed rules until August 31. Should the regulations be implemented, all companies that are currently holding ICOs or have finished their token sales will be given three months to submit initial assessment requests. Companies that are planning to hold ICOs will be required to submit their requests at least 90 days before the start of their token pre-sales.
*****
Lorenzo Kyle Subido is a staff writer of Entrepreneur PH