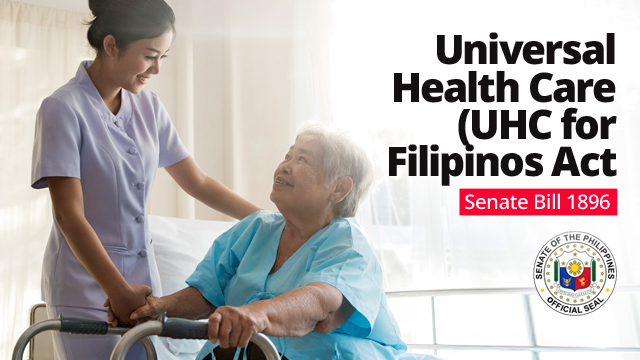 Less than an hour after President Rodrigo Duterte certified it as urgent, Senate Bill 1896 or the "Universal Health Care (UHC) for Filipinos Act" was passed on third and final reading by the Senate on Wednesday, October 10.
The landmark bill, approved by 14 senators on Wednesday, seeks to grant every Filipino, even non-contributors to the Philippine Health Insurance Corp. (PhilHealth), access to "quality and affordable health goods and services."
ADVERTISEMENT - CONTINUE READING BELOW
"This bill will ensure that financial issues will no longer be a burden to our countrymen when it comes to healthcare," Senator Joseph Victor "JV" Ejercito said in his sponsorship speech.
To provide funding for expanded health services for all Filipinos, especially the poor, the Senate bill will pool contributions from state-owned gaming companies such as Philippine Charity Sweepstakes Office (PCSO) and the Philippine Amusement and Gaming Corp. (PAGCOR). As well, collections of sin taxes and the sugary drinks tax, which were imposed partly to curb unhealthy consumption habits, will be tapped for the expanded health coverage.
"There is no greater winning combination than using casino income for cure. It is better for our health institutions to direct where funds must go than for state gaming bodies to triage who will receive help or not," said Senator Ralph Recto in a statement.
The bill seeks the automatic inclusion of every Filipino citizen in the National Health Insurance Program (NHIP). Ejercito said the bill, once passed into law, would allow all Filipinos to get free consultation services and laboratory tests on top of the services currently covered by the PhilHealth in both private and public health facilities.
ADVERTISEMENT - CONTINUE READING BELOW
Any Filipino citizen may secure these benefits anytime as there is no minimum period of premium payments required for the entitlement of these services. This also means that with or without PhilHealth cards, Filipino citizens may avail of primary health care services in any public or private health facility.
Under current laws, PhilHealth members and their dependents will only be entitled to in-patient and out-patient medical care provided that they have made premium payments at least three months within the six months prior to the day of their availment of the services.


With this provision, the UHC Act also seeks to categorize PhilHealth's members into two types: direct contributors or those who can pay health premiums and indirect contributors or those who have no capacity to do so.
The distinct definitions matter as direct contributors would have to pay higher premium rates, which could reach a ceiling of five percent of their respective basic salaries or income, to help fund the NHIP. At present, direct contributors come from employees in the public and private sectors to household help, who were mandated by law to be enrolled in the insurance program. Subsidies for indirect contributors would also be funneled from the country's annual budget.
ADVERTISEMENT - CONTINUE READING BELOW
With such an ambitious goal, the bill has also listed several provisions that will ensure the services promised would be properly delivered. One of its most important mandates is the three-year minimum service requirement of health professional graduates from state universities and colleges or government-funded scholarship programs in public health facilities.
The Department of Health (DOH) and the Department of Budget would work to increase the salaries of health professionals in the public sector to attract the necessary workforce to deliver the bill's promised services.
According to the DOH, the doctor-to-patient ratio in the Philippines is at one is to 33,000. In an interview with CNN Philippines in 2017, former DOH Secretary Paulyn Rosell-Ubial said the country still lacks 15,000 doctors.
The House of Representatives' version of the bill had already been passed on third and final reading in 2017. A bicameral committee will be formed to reconcile differences in the House and Senate versions of the proposed law. After that, the reconciled measure will go through ratification by both the House and Senate. Only then can President Rodrigo Duterte sign it into law.
ADVERTISEMENT - CONTINUE READING BELOW
*****
Elyssa Christine Lopez is Entrepreneur.com.ph's staff writer.