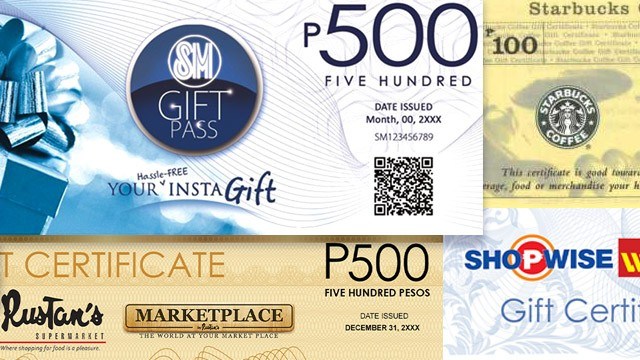 The Senate Committee on Trade, Commerce and Entrepreneurship has approved a proposed bill that seeks to impose fines ranging from Php50,000 to Php1 million on issuers of gift certificates or checks with expiration dates.
Called the "Gift Check Act of 2017," Senate Bill No. 1466 was sponsored by Senator Juan Miguel F. Zubiri last May 23 for Senate plenary debates after a series of public hearings, technical working group meetings and consultations with public and private sector stakeholders.
ADVERTISEMENT - CONTINUE READING BELOW
The bill seeks to add teeth and broaden a Department of Trade and Industry order issued back in 2010 that "prohibits suppliers, issuers, distributors and sellers from issuing and selling gift certificates, checks or cards with an expiry date." The issuance, Administrative Order No. 10-04, was released in accordance with Republic Act No. 7394 or the "Consumer Act of the Philippines," enacted in 1992, which sets standards of conduct for business and industry towards protecting the interests and welfare of consumers.
The Senate bill will cover gift certificates, checks or cards that are distributed to consumers under awards, loyalty and promotional programs, which were previously exempted under the DTI order. It also sets fines and penalties for violators of the proposed law, which were not specified in the DTI order.
"This policy stems from the general idea that, since gift checks are bought with cash, and cash has no expiration date, then it should follow that the same value stored inside the instrument, be it a certificate/check/card, should likewise not expire," Zubiri said in his sponsorship speech.
ADVERTISEMENT - CONTINUE READING BELOW
However, the proposed bill is being opposed by the Philippine Retailer Association (PRA), which wants gift certificates to last for only three years. In a statement, PRA President Paul Santos warned that "the imposition of the no-expiry clause will disrupt the virtuous cycle and increase the regulatory compliance burden of the affected merchant," Santos added.
"Holders of such articles, whether unused or partially consumed, should be given the option of presenting these credentials to the issuing merchant for revalidation—that is, to ascertain the integrity of these items," the statement read. 
PRA represents retailers, mall and shopping center operators, traders, suppliers, manufacturers, distributors, and wholesalers, among others. Members include SM Retail Inc., Mercury Drug Corp., San Miguel Foods Avenue and SEAOIL.
*****
Elyssa Christine Lopez is a staff writer of Entrepreneur PH. Follow her on Twitter @elyssalopz