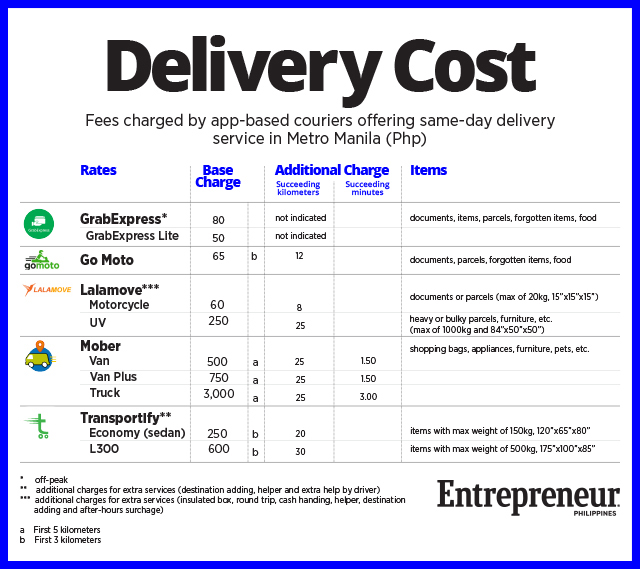 Whether it's flowers, chocolates or jewelry, nothing beats personally handing over your precious Valentine's Day gift to your object of affection.
But if personal delivery is not an option, why not consider these app-based couriers that specialize in same-day delivery within Metro Manila?
Many of these logistics startups were founded in response to the rapid growth of ecommerce in the Philippines, which is projected to grow by 17 percent each year until 2021, according to Statista, an online statistics portal. Online stores sell goods and get paid through the internet. But they still need real drivers and delivery men on trucks, vans or motorcycles to bring the items to the buyers.
ADVERTISEMENT - CONTINUE READING BELOW
These app-based logistics services could be a big help for business owners fulfilling a deluge of orders on special occasions such as Valentine's Day. But ordinary people can also tap some of them to deliver parcels such as flowers and gifts.
Unlike traditional package forwarders, which take from one to three business days to deliver, these app-based couriers can do the job within a day.
Much like Uber or Grab, these internet-based couriers work through a mobile app that allows users to choose the pick-up and drop-off locations, get matched with the nearest available courier and track the delivery process in real time. Unlike traditional delivery companies, these startups charge by distance travelled and not by the weight of the package.
Below is a list of these app-based delivery startups and a brief description of their services. See table for more details on pricing.
1. GrabExpress 
MyTaxi.ph/Founded June 2015
Two years after the launch of GrabTaxi in the Philippines, MyTaxi.ph unveiled this "premium delivery service" using the same business model and app. Just like GrabTaxi and GrabCar, surge rates apply during peak hours (weekdays, 10 a.m. to 4 p.m.). A user can choose between the standard GrabExpress, which delivers door-to-door, or GrabExpress Lite, which only delivers curb-to-curb, so both the sender and the recipient would have to meet the rider outside. The fees include insurance of up to Php2,000 in case the parcel is damaged or lost.
ADVERTISEMENT - CONTINUE READING BELOW
Area coverage: Metro Manila
What's different: Through Grab's real-time tracking system, the sender of the package can share with the recipient the exact location of the delivery man or woman.
2. GoMoto 
Inspiretech Innovations Inc./Founded November 2015
Ninety minutes is all that GoMoto needs to pick up and deliver a package within Metro Manila. Since speed is their utmost priority, their fleet consists only of motorcycles, which is ideal for rush orders, documents left at home or food delivery. The fee also includes loss or damage insurance of up to Php2,000.
Area coverage: pick-ups in Quezon City, Makati, Taguig and Pasig, deliveries to anywhere in Metro Manila
What's different: GoMoto's pricing is relatively lower compared to the other couriers in this list, because it is dependent on distance traveled and does not add "per minute" charges. GoMoto also now offers GoTrip, a bike-hailing transportation service for people and not just goods.
ADVERTISEMENT - CONTINUE READING BELOW
3. Lalamove 
Lalamove Philippines Inc./Founded November 2016
Lalamove began in Hong Kong and has spread to other Asian countries such as Singapore, Bangkok, Taiwan and Thailand before reaching the Philippines. It is the last to enter the Philippine market among all the startups in this list but it promises to provide the fastest delivery service in the metro. In under an hour, Lalamove says its delivery persons can pick up goods and transport them through a motorcycle or a utility van. Customers can also ask for an assistant or helper for heavy lifting.
Area coverage: Metro Manila
What's different: Service time takes 55 minutes only, from pick-up to delivery. Lalamove is also the only startup in this list that gives users the option to choose the driver or rider to make the delivery.  
4. Mober 
Mober Technology Pte Ltd/Founded July 2015
Mober prides itself as "the first app with delivery vans in the Philippines". Because it uses larger vehicles such as trucks and vans instead of the traditional motorcycles, Mober has the capacity to deliver larger packages or other parcels in bulk.
ADVERTISEMENT - CONTINUE READING BELOW
Area coverage: Metro Manila
What's different: Mober also accepts moving jobs for furniture, as well as pet shuttling. A helper can also be booked for the job if the user opts for a truck or a "Van Plus".
5. Transportify 
Deliveree Technology Philippines, Inc./Founded June 2016
Apart from its mobile app, Transportify also allows users to book delivery through its website. Its fleet consists of L300s and sedan vehicles because it aims to transport huge packages or in bulk. Nevertheless, there is no minimum number of parcels required for a single booking.
Area coverage: Metro Manila and some parts of Bulacan, Rizal, Laguna, Cavite
What's different: Online sellers and other users can preschedule pick-ups up to two weeks in advance.
*****
Pauline Macaraeg is Entrepreneur PH's data journalist. FOllow her on Twitter @paulinemacaraeg