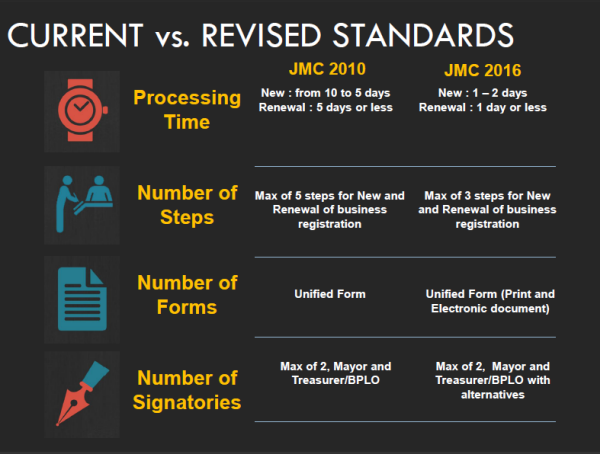 Entrepreneurs will soon be able to acquire a business permit in less than two days, in a bid to address the administration's heed to streamline business processes.
The Departments of Trade and Industry (DTI), Interior and Local Government (DILG) and Information and Communication Technology (DICT) signed a joint memorandum circular (JMC) on Tuesday, August 30, mandating all local government units (LGUs) nationwide to cut business permit and licensing system processes to a maximum of three steps in two days.
ADVERTISEMENT - CONTINUE READING BELOW
The circular is effective immediately.
"If investors find difficulty [in] starting a business, then they'll be discouraged to come to the Philippines. With the shortened business processing, I hope more will come here," interior secretary Ismael Sueno said. 
The JMC will introduce a unified two-page business application form for all LGUs, which will also be available online for download. Once the form is filed, the entrepreneur may proceed to the one-time assessment of taxes and fees then immediately pay for them after. New businesses are only required to have five documents for filing, while renewals only require two (basis for computing taxes, barangay permit).
All these steps will be undertaken in a BOSS (Business One-Stop Shop) facility that will be made available in every LGU. According to the circular, other local clearances such as agricultural and environmental clearances and sanitary permits must be issued together with the business permit.
ADVERTISEMENT - CONTINUE READING BELOW
Once done, the entrepreneur may just wait for the issuance which will most likely take a day or two of waiting time.
"The execution [of LGUs] will hopefully be done in 30 days. They'll be adjusting their systems, templates, even the layout of the office is part of the circular," DTI Secretary Ramon Lopez told reporters.
Sueno said the DILG only adapted what has already been practiced by other cities in the country, citing Valuenzuela, Davao and Cebu for their streamlined processes.
"What can be done in one municipality or cities can also be done in other cities," Sueno added.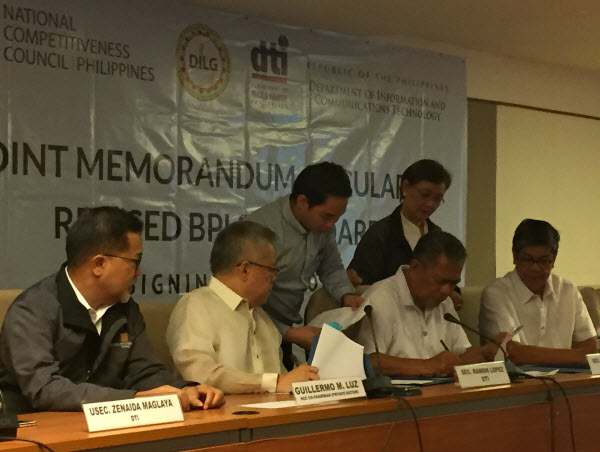 ADVERTISEMENT - CONTINUE READING BELOW
Automated processes in a year?
In 2010, a similar JMC was also signed then cutting business permit processing time from 10 days to five. At least 75 percent of LGUs have already adapted the circular.
"The hard part was before. Cutting the days from 10 to five was difficult. But now, they've gotten used to it so it's just constant improvement," National Competitiveness Council Co-Chairman for the Private Sector Guillermo Luz added.
Once processes have streamlined on the ground, the DICT will also introduce a web-based computer application called the electronic business permit and licensing system which will automate the "filing, assessment and issuance of business permits."
"In the improvement of the regulatory processes, the Philippines will prepare the LGUs to the global competition with the ASEAN economic integration with us today," DICT Secretary Rodolfo Salalima said in his speech.
The program, designed by the DICT, is still at the pilot stage and is yet to have a specific timeline on its availability.
ADVERTISEMENT - CONTINUE READING BELOW
However, the government agencies are aware that there are still much to be done for better and faster services like the inclusion of the barangay permit issuance in the BOSS facility and the relaxed terms of the Bureau of Fire and Protection for the fire safety and inspection certificate (FSIC) procedures.
*****
Elyssa Christine Lopez is Entrepreneur.com.ph's staff writer. Follow her on Twitter @elyssalopz.