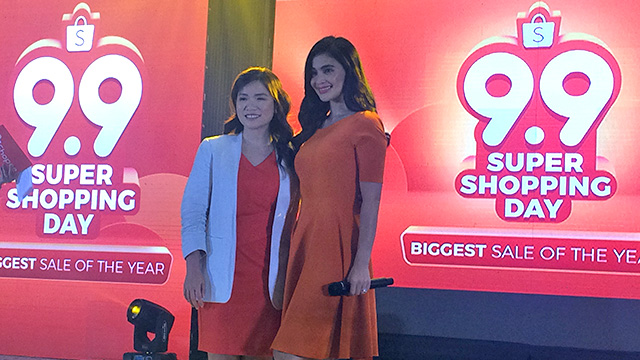 Shopee Philippines director Jane Lim poses with endorser Anne Curtis at the launch of the Shopee 9.9 Super Shopping Day
The Philippine unit of Southeast Asian e-commerce platform Shopee has launched the Shopee 9.9 Super Shopping Day, an 11-day shopping event where users can buy various products and deals for as low as Php99 and secure discounts as large as 99 percent.
ADVERTISEMENT - CONTINUE READING BELOW
The event, which runs from August 30 to September 9, will span 11 days with different themes based on product categories and Shopee's various features. Among these themed days is Shopee's Super Brand Festival event, which will feature exclusive deals from over a hundred of Shopee's partner brands such as Samsung, Colgate-Palmolive and Maybelline.
"We have packed Shopee 9.9 Super Shopping Day with a comprehensive suite of deals and promotions tailored to our users' varying needs and preferences," said Terrence Pang, COO of Shopee, in a statement. "With the strong support of our sellers, brands and partners, we are confident that shoppers will enjoy an unmatched online shopping experience at our largest annual regional shopping event."
The sale comes after Shopee experienced massive growth in the past year both in the Philippines and across the region, particularly Singapore, Malaysia, Thailand, Indonesia, Vietnam and Taiwan. The platform currently has 160 million users across all of its markets, 16 million of which are in the Philippines. That's almost triple the six million Filipino users it had as of November 2017.
ADVERTISEMENT - CONTINUE READING BELOW
Related story: How Shopee is Battling Its Way to Becoming the Top E-Commerce Platform in PH 
Jane Lim, director of Shopee Philippines, added that since the start of the year, the company has seen over one million new users every month. She sees Shopee's large-scale events such as the 9.9 Super Shopping Day as a way for the platform to onboard more new users.
"Every time we launch major campaigns such as the 5.5 Shopee Super Sale or the Shopee 9.9 Super Shopping Day, we see a major spike in new user acquisition," Lim told Entrepreneur Philippines. "And that's because during these periods, we also have quite a bit effort behind it in terms of marketing investment. Of course, that really grows brand awareness, [so] these campaigns are great avenues for us to increase our user base."
ADVERTISEMENT - CONTINUE READING BELOW
The event will run from August 30 to September 9, and it will feature exclusive deals, sales and discounts
Shopee is also seeing growth on the merchants side, as the platform now carries products from over 500,000 sellers, more than tripling from 150,000 only a year ago. While most of them are individual and small-scale merchants, Lim also highlighted that Shopee now carries over 800 large brands, solidifying its position as a go-to platform for tapping online consumers.
"We are in a position right now, because we're not some struggling upstart, [that] if you want to sell online, Shopee has to be one of your channels," said Lim. "We are actually finding brands knocking on our door instead of the other way around."
Related story: PH Online Sellers Earn As Much As Php1-M A Month on This E-Commerce Platform 
Shopee is a subsidiary of Sea Ltd., a Singapore-based technology company that also runs online gaming distributor Garena and fintech platform AirPay. Last October 2017, Sea listed on the New York Stock Exchange, and it currently has a market capitalization of $5 billion.
ADVERTISEMENT - CONTINUE READING BELOW
*****
Lorenzo Kyle Subido is a staff writer of Entrepreneur PH