Although the pili tree is native to many areas in Southeast Asia, only the Philippines produces and processes pili nuts commercially, mainly in the Bicol region. The flavor of the nuts is described as rich and buttery, with some saying that it is superior to almonds in taste. At the same time, it offers many health benefits, with its high levels of Vitamin E, heart-healthy omegas, essential amino acids, magnesium, and other bio-available minerals.

With proper market promotion, pili nuts have a potentially huge market in the global culinary market, thus meriting its very own Pili Nuts Pavilion at the SikatPinoy National Food Fair, from March 26 to 30, 2014, at SM Megatrade Halls 1-3, SM Megamall, Mandaluyong City.

Seafood and coffee
Seafood products are also another area where the Philippines has a competitive advantage. Our seas are rich in marine and aquatic resources, and the fisheries industry makes up almost 20% of the agriculture sector. In 2011, total fish production from aquaculture, municipal fisheries, and commercial fisheries amounted to almost 5-billion metric tons, with a value of almost Php 225 billion. Fishery exports were Php 37 billion while fishery imports reached Php 9 billion in 2011, for a positive trade balance of Php 28 billion in this sector. In cooperation with the Bureau of Fisheries and Aquatic Resources (BFAR), the Seafood Pavilion will showcase the seafood products of MSMEs (micro, small, and medium enterprises) to help them reach a wider domestic and global market.

Coffee has been a consistent bestseller at trade fairs and is one of the products included in DTI's big push for SME development. The Philippines is one of the few countries that produce four commercially viable coffee varieties, namely: Arabica, Excelsa, Robusta, and Liberica or barako. Last year, the DTI established a Shared Service Facility (SSF) for coffee growers in the Cordilleras to help upgrade their production capacity.

Selected exhibitors
ADVERTISEMENT - CONTINUE READING BELOW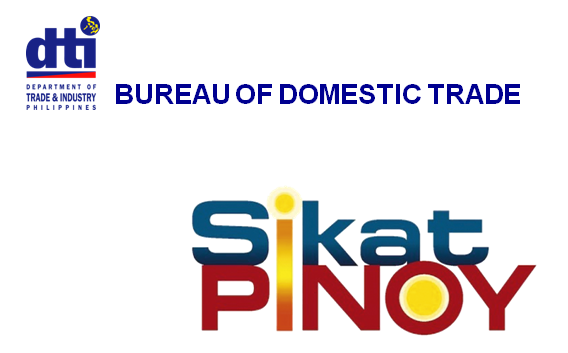 With about half of Filipino MSMEs engaged in the food and beverage sector, the Department of Trade & Industry's Bureau of Domestic Trade (DTI-BDT) is bringing together more than 200 exhibitors from the country's 16 regions to showcase the best of Philippine food products, promote the country as a culinary destination, and provide business opportunities to entrepreneurs nationwide.

Dubbed Piling-Piling Pagkaing Pilipino, this edition of the Sikat Pinoy National Food Fair showcases the products of food entrepreneurs from all over the country, including such products as fruit wines and liqueurs, herbal teas and health supplements, spices and condiments, snacks and pastries, and other mouthwatering delicacies.

Local food products
ADVERTISEMENT - CONTINUE READING BELOW
There are unoy rice from Kalinga, empanada from Ilocos, longganisa from Vigan, Ivatan yellow rice from Batanes, sans rival from Pampanga, cashew nuts from Palawan, smoked fish from Cavite, suman sa lihiya from Oriental Mindoro, laing and pinangat from Albay, snack food from Iloilo, chicharon from Cebu, moron from Leyte, juices from Zamboanga, processed meat from Misamis Oriental, coco sugar from Davao del Sur, and tablea from Agusan del Sur, among others.

For aspiring entrepreneurs, Awareness Seminars are offered on topics such as online marketing, licensing of food establishments or food business operators, guidelines for registration of processed and cooked foods, and duties of MSMEs as responsible taxpayers. Cooking demonstrations are also held during the 4-day event.

For more information, contact the DTI-Bureau of Domestic Trade at telephone no. 751-3223, fax no. 751-3224, or email bdt@dti.gov.ph .