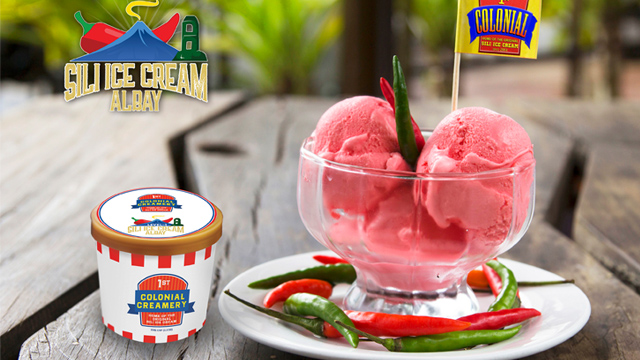 First Colonial's bestselling item is its sili ice cream
Most tourists flock to the Bicol region to see the majestic Mt. Mayon and eat the spicy local dishes. After all, the region is famous for its food infused with siling labuyo (small chili pepper).
But these days, visitors of the region can look forward to enjoying a locally produced dessert made from siling labuyo—the sili ice cream.
ADVERTISEMENT - CONTINUE READING BELOW
The idea of sili ice cream came from a Bicolano who wanted a unique product for his restaurant, First Colonial, which serves traditional Bicolano dishes.
The dessert has become so popular that it has helped its owners expand the restaurant into seven branches.
Filling a gap
First Colonial's owner, Elmer Aspe, credits the success of his sili ice cream to hard work, faith, luck and assistance from the local government.
For years, Aspe had difficulty finding a restaurant in his hometown that serves Bicolano food. Whenever he had visitors, his wife Rowena was forced to cook so that the couple's visitors could taste the region's popular dishes.
"Pag may bisita, walang madalhan na restaurants. Meron mga national players na fast-food. Di mo dalhin dun (There were no restaurants where we could bring our visitors to since there were only national fast-food players. You wouldn't bring visitors there,)" Aspe explains.
ADVERTISEMENT - CONTINUE READING BELOW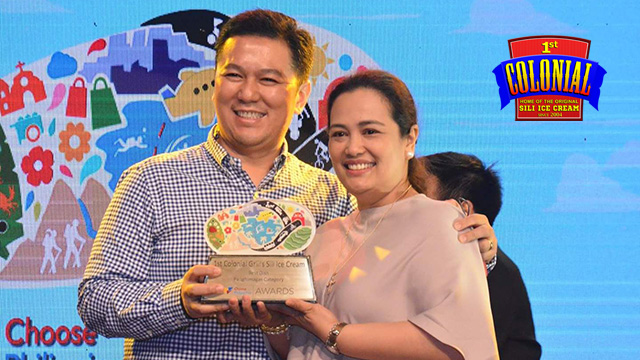 First Colonial's founders and owners Elmer and Rowena Aspe
Already a businessman who owned and operated several pawnshops and franchised food stalls, he decided to open a restaurant that would serve traditional popular Bicolano menu in 2004.
Combining business and tourism promotion
To prepare for their new business venture, Aspe and his wife, both dentists by profession, enrolled in a short course on restaurant operations in Manila. They hired a chef consultant to help them create the menu. The couple decided they wanted to bring back the traditional Bicolano dishes that were labor-intensive.
ADVERTISEMENT - CONTINUE READING BELOW
First Colonial's menu consisted of recipes from the olden days such as tinutungang manok (stewed chicken in burned coconut milk), burned kandingga (sour dish of pork's heart and lung) and the traditional Bicol Express, with meat grilled instead of stewed.
"Mga sinaunang luto yan na wala na ngayon. Yun yung gusto namin ibalik. Purpose ng company is nagnenegosyo ka na, napropromote mo pa ang Bicol (These are traditional dishes that are gone now. That's what we wanted to bring back. The purpose of the company is to do business while promoting Bicol," Aspe says.
Despite filling a gap in the local restaurant industry, Aspe felt that serving traditional Bicolano dishes would not be enough to make his new business venture successful. He then decided to create a new food product that promotes Bicol and is not yet available in the market.
"Naisip ko, why not make a product na lahat ng ingredients galing sa Bicol? Ang top of mind pag narinig mo ang Bicol ay sili. Meron nang sikat na halo-halo product. So, why not make ice cream made from sili? (Why not create a product with ingredients all from Bicol? When you hear of Bicol you think of sili. Halo-halo is already a popular product, so why not make an ice cream made from sili?)," Aspe explains.
ADVERTISEMENT - CONTINUE READING BELOW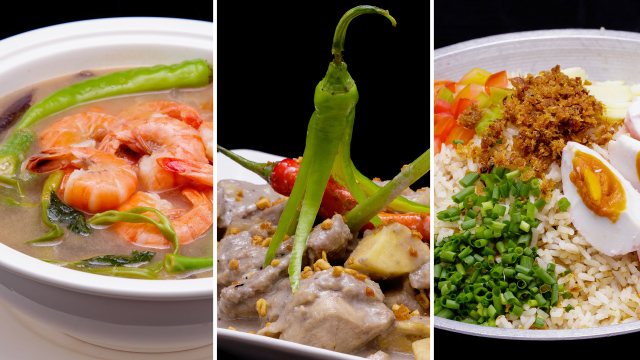 The restaurant also serves classic Bicolano and Filipino dishes like (from left) Sinigang na Hipon, Tinutungang Manok, Tinapa Rice
Creating the sili ice cream from scratch was no easy feat. The first experiments yielded ice cream that tasted and had the texture of a chili sauce. It took three months before his wife Rowena finally perfected the recipe.
ADVERTISEMENT - CONTINUE READING BELOW
A Marian devotee, Rowena says she got the inspiration for the recipe in a dream about the Virgin Mary.
"Tinuturan niya ako. Hindi pala pwede i-extract ang anghang. Hindi pala pwede sa milk dapat coco milk (She was teaching me. You can't extract the spice. You should use coconut milk instead of just milk)," she recalls, interpreting the meaning of her dream.
The next day, Rowena followed the directions she remembered from her dream. The result was exactly the sili ice cream she had in mind.
Word spread quickly that a full-service restaurant offering traditional Bicolano dishes was coming. The opening day of First Colonial restaurant was successful with a long queue of customers ready to eat, Aspe recalls.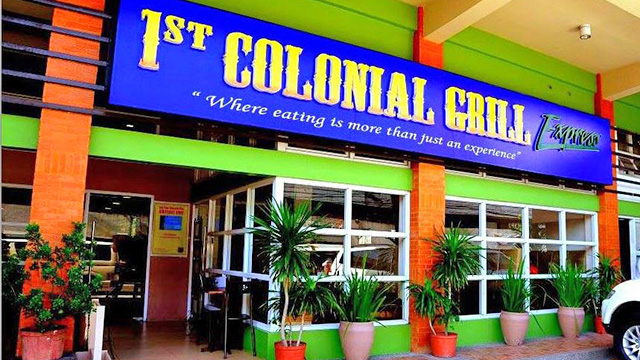 ADVERTISEMENT - CONTINUE READING BELOW
First Colonial now has eight branches and will soon expand to Metro Manila 
It also helped that the restaurant's promotion coincided with a nearby power transformer that broke down, causing a big commotion. First Colonial's opening even made it to the local news.
"Kinabukasan nasa news kami sa lahat ng radio stations. May free plugging. (We were in the news on all radio stations the next day. We had free plugging)," he says
Expanding with more flavors and restaurants
The Aspes did not rest on their laurels after the success of the restaurant and opened a new one after they recovered their investments on the first branch after two years.
To date, there are eight branches of First Colonial in Bicol, seven of which are owned by the Aspes and one franchised. By August, the couple will open a new branch in Metro Manila near the airports and another two in Bicol.
ADVERTISEMENT - CONTINUE READING BELOW
Aspe credits the success of First Colonial to his most popular product.
"We had several products but we focused on our ice cream, which carried our restaurant," he says. The sili ice cream accounts for 20 to 30 percent of sales, which Aspe says is unusual for a restaurant.
"Karamihan pag dessert 10 to 15 percent lang. Mahirap kami to survive, without the ice cream. (Desserts usually account for 10 to 15 percent of sales. We might not have survived without the ice cream)," he says.
He also credits the popularity of the ice cream to word-of-mouth and the promotion of the local government.
"Ang isa na nakapag-boost ng brand namin, na nag-promote is the LGU (local government unit) of Albay. Pati yung governor. (The LGU of Albay, including the governor, helped boost our brand with their promotion.) They would even promote our ice cream abroad," Aspe says.
This year, the Aspes plan to bring their ice cream products to the supermarkets in the hope of helping Bicol become the ice cream capital of the Philippines. First Colonial already completed the Flavors of Bicol last May, with one flavor representing each of the seven provinces of Bicol. Aside from the Flavors of Bicol, the company has nine other flavors, all made from natural ingredients.
ADVERTISEMENT - CONTINUE READING BELOW
The success of their ice cream and restaurant business made Aspe realize a valuable lesson in entrepreneurship: "Uniqueness of product is very important. Wag ka basta basta mag-launch ng product, dapat i-perfect mo muna. (Do not launch a product hastily. Perfect it first). And tie up with your community."
*****
Cherrie Regalado is a contributor to Entrepreneur Philippines. Follow her on Twitter: cherrieregalado@gmail.com