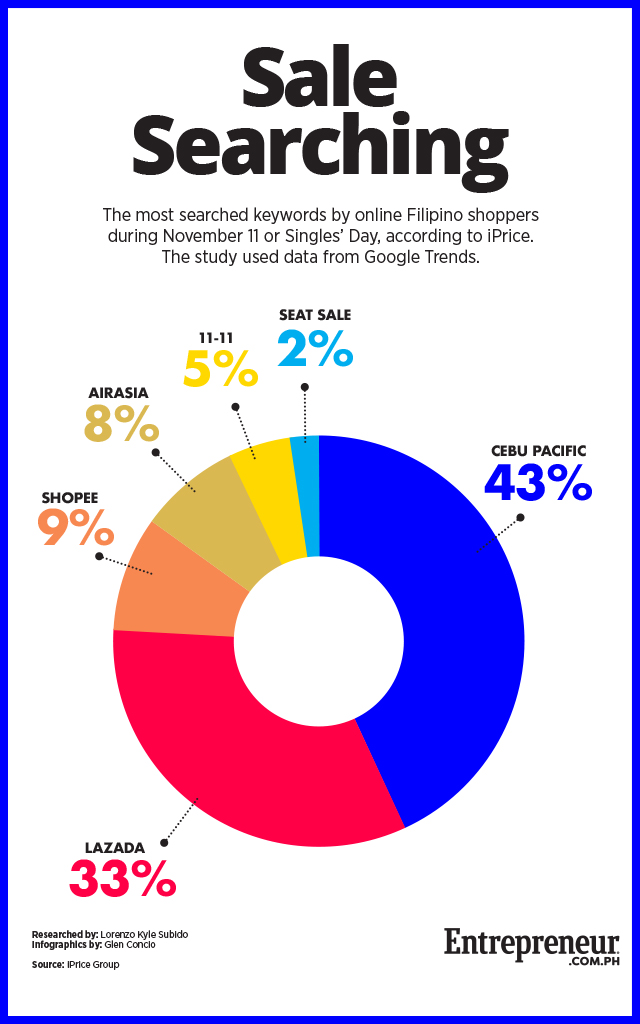 November 11 is a special day for online shoppers in this part of the world. Known as "Singles' Day" and originating from Chinese e-commerce giant Alibaba, the day sees record-breaking numbers in terms of activity and sales. CNBC reported that Alibaba sold over $30 billion worth of merchandise during this year's Singles' Day.
ADVERTISEMENT - CONTINUE READING BELOW
While the Philippine market doesn't see the same large numbers, it still saw a marked increase in e-commerce activity. Data from Malaysia-based online shopping aggregator iPrice Group showed that online visits on local e-commerce platforms grew by 91.3 percent in this year's Singles' Day compared to last year.
But the study, called "Analysing the Singles' Day Consumer Behaviour Trends in the Philippines," also showed that this activity wasn't limited to e-commerce platforms.
In fact, iPrice's analysis of search activity for the day showed that the most searched keyword was Cebu Pacific, with the budget airline receiving 43 percent of search interest that day. It even beat Lazada, the country's largest e-commerce platform, which got 33 percent of searches.
Cebu Pacific wasn't the only airline receiving attention, as international airline AirAsia also got eight percent of searches, slightly behind e-commerce platform Shopee's nine percent. General searches for "11.11" and "Seat Sale" rounded out the most searched keywords. (See infographic)
ADVERTISEMENT - CONTINUE READING BELOW
"The rationale behind the popularity in airline promotions is that majority of the participating airlines in the Singles' Day sale are offering early Christmas and New Year holiday promotions," wrote iPrice in the report. It added that the trend was consistent with other Southeast Asian markets.
As for Lazada and Shopee, iPrice relegated their popularity during the day to the familiarity of the brand among local online shoppers. It cited a Kantar Worldpanel survey that showed how an overwhelming majority of Filipinos liked to shop in big and established brands rather than in alternatives.
"The reason behind the interest in Lazada and Shopee this Singles' Day sale is that Filipinos' online shopping preference is based on brand familiarity thus directly seeking mainly for the top online merchants in the country," said iPrice.
Related story: 92% of E-Commerce Traffic in PH Goes to Only 4 Platfoms—And They're All Foreign Sites
*****
Lorenzo Kyle Subido is a staff writer of Entrepreneur PH
ADVERTISEMENT - CONTINUE READING BELOW