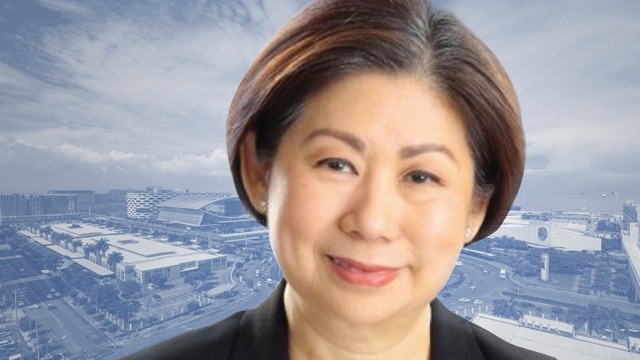 Despite being the country's most valuable listed company whose subsidiaries are leading players in the banking, property and retailing industries in the Philippines, SM Investments Corp. (SMIC) is not immune from worries about its future prospects. The group was founded by Henry Sy Sr., the country's richest person.
In an interview for the newly released Management Association of the Philippines (MAP) and PwC 2017 CEO Survey Report, SMIC Vice Chairperson and BDO Unibank Executive Director Teresita Sy-Coson said that obsolescence and how to prevent it was top of mind when asked what would be her top concern for the SM Group.
"Right now, it's to prevent our business from becoming obsolete," she replied to the question about her top concern at the moment. "That's why you see us changing all the time, we cannot afford to become obsolete."
Elaborating on the factors that she foresees could cause the obsolescence of the vast SM business empire, she added: "There is digital disruption. There is geopolitical disruption. There is also climate disruption. You always have to be on your toes."
Worries about the impact of e-commerce on retailing has prompted the group to beef up its investments in online stores as well as in logistics. In April this year, the SMIC acquired more than a third of publicly listed 2GO Group, the country's biggest integrated supply chain company.
The MAP and PwC CEO Survey Report is timed for the 15th MAP International CEO Conference, which is being held on September 12, 2017 with the theme "ASEAN in Business: Building Partnerships in a Growth Network."
The report details the findings from MAP and PwC's survey of 120 chief executives of companies operating in the Philippines as well as one-on-one interviews with several CEOs of the country's biggest companies as well as fast-growing startups.
Reflecting Sy-Coson's concerns about being rendered obsolete by digital disruption, 71 percent of the CEOs surveyed said they want to strengthen innovation and digital and technological capabilities in their organizations. Similarly, 59 percent said they think that technology will have a significant impact on their respective industries in the next five years.
The survey also found that 75 percent of CEOs said they are likely to enter into a strategic alliance or partnership with another company in the next 12 months. More than half (52 percent) said they are likely to enter new industries while 45 percent said they are looking to compete in new countries, especially in the ASEAN region.
ADVERTISEMENT - CONTINUE READING BELOW
Among the top countries that respondents are looking at are: Vietnam (20 percent), Indonesia (19 percent), Malaysia (16 percent), Singapore (14 percent), Myanmar (11 percent) and Thailand (11 percent).
In her talk with the MAP and PwC interviewees, Sy-Coson expressed key principles for better partnerships. She said: "We have to move at the same pace. We make our partners more aggressive. Our group has a plan on how far we want to expand. If our partners want to move forward with us, then we will take them along. We collaborate and follow the growth."
She added the SM Group doesn't just partner with large companies but also with small and medium businesses. "If it's a startup or a smaller enterprise in retail, we will help them start with a kiosk and encourage them to grow," she said. "On the supplier side, if they have a good product that we could sell, we will give them more volume and try to scale them up. It's all about the meeting of minds."
At the same time, she wants all of SM Group's partners to be ambitious and plan for bigger things. "Scale is the name of the game. Things have to scale up because they are becoming more regional and more global. We cannot talk just about being local," said Sy-Coson.
The survey yielded mixed results on the CEOs' level of confidence about prospects facing their companies, industries and the economy. While the proportion of CEOs saying that the government's economic growth target will likely be met this year went up, the percentage who are very confident that their companies' revenue will continue growing fell to a three-year low. Those who are very confident about better industry prospects also went up slightly. (See infographic)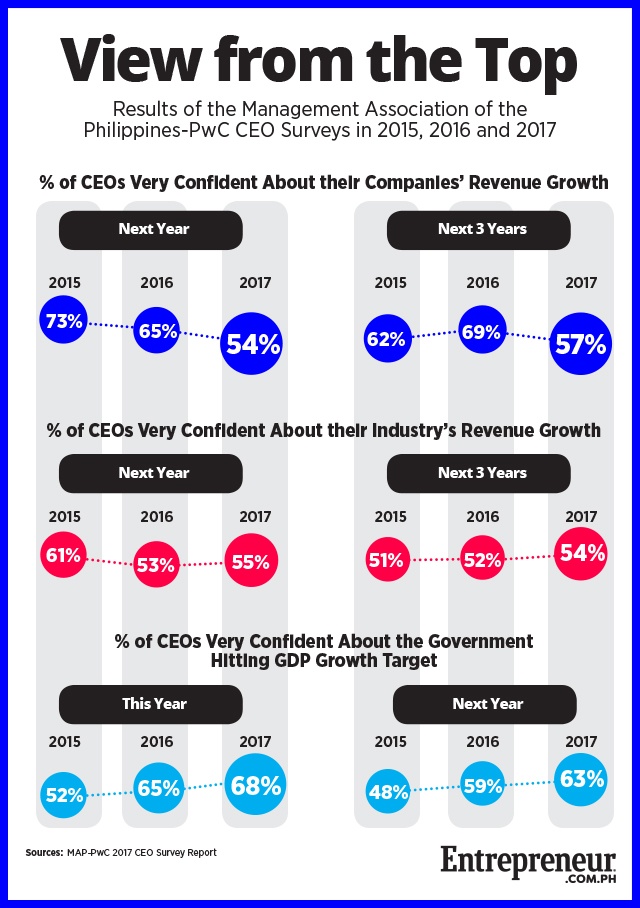 *****
Roel Landingin is the editor-in-chief of Entrepreneur PH