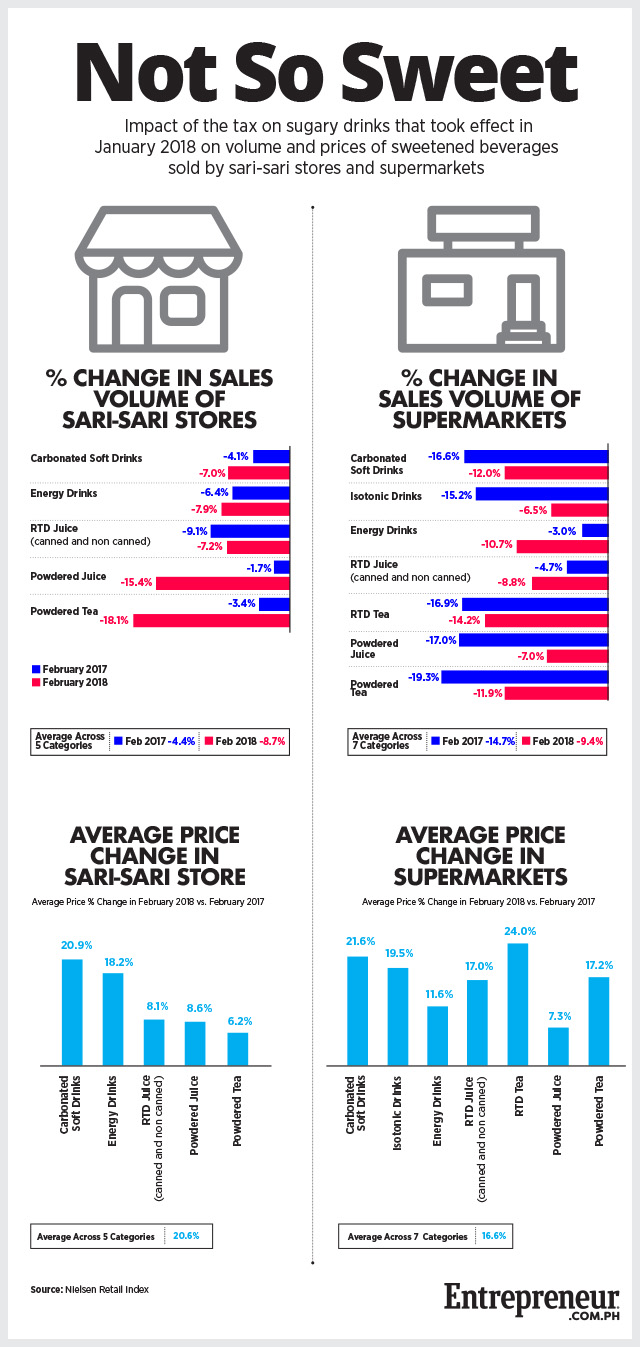 Neighborhood sari-sari stores have been adversely affected by the new tax on sweetened beverages more than bigger supermarkets, according to a report by market analyst Nielsen.
In the study, Nielsen revealed that sari-sari stores saw larger declines in sales volume for different kinds of sweetened beverages compared to the year prior. On average, sales for sugary drinks declined by 8.7 percent year-on-year in February 2018 compared to only 4.4 percent in February 2017. According to Nielsen's data, sari-sari stores experienced sales declines in four out of five types of sugary drinks, the largest being in sales of powdered juices and powdered teas.
ADVERTISEMENT - CONTINUE READING BELOW
In contrast, year-on-year sales declines of the same products in large supermarkets eased from 14.7 percent in February 2017 to only 9.4 percent in February this year. Nielsen's data shows that supermarkets only experienced larger sales declines in two out of seven types of sweetened beverages: energy drinks and ready-to-drink juices. Check out the infographic above for more information.
Nielsen attributed these sales volume declines to changing consumer habits amid price increases brought about by the Tax Reform for Acceleration and Inclusion or TRAIN law at the start of the year. In the new law, sweetened beverages that use caloric or non-caloric sweeteners will be subject to a tax of Php6 per liter, while those using high fructose corn syrup will be taxed at Php12 per liter.
"While healthier and more convenient options contributed to the slowdown of sugar-sweetened beverage over the past year, we can attribute the faster rate of decline to how consumers have changed their consumption and shopping habits amid the first wave of price increases," said John Patrick Cua, managing director of Nielsen Philippines, in a statement. "This reaction from consumers is a normal and expected behavior immediately following a price increase. Over time, some consumers may go back to old buying habits while some will adopt their new buying patterns."
ADVERTISEMENT - CONTINUE READING BELOW
Indeed, these price increases are also more pronounced among sari-sari stores than in supermarkets. Data from Nielsen show that prices of sweetened beverages in sari-sari stores grew 20.6 percent on average compared to 16.6 percent in supermarkets.
According to data from the Philippine Association of Stores and Carinderia Owners, around 40 percent of a sari-sari store's daily income comes from the sales of these sugary drinks. Prior to the TRAIN law's passing last December, members of the association had urged the administration to reconsider the additional tax in light of its adverse effect to the livelihoods of over 1.3 million sari-sari storeowners nationwide.
Related story: Here's How Much More Your Favorite Sugary Drinks Will Cost Due to New Taxes
*****
Lorenzo Kyle Subido is a staff writer of Entrepreneur PH