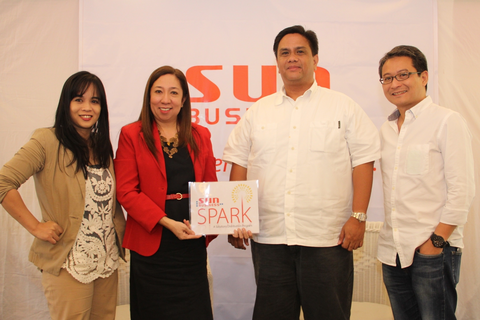 <>Small and medium enterprises (SMEs) can now tap new income streams for their businesses through the new reseller program of Sun Cellular's enterprise unit—
Sun Business
. Dubbed as the
Sun Solutions Distribution Program
, the service will enable SMEs to sell Sun Business services to the general public.
Under the Solutions Distribution program, SMEs can avail of monthly commissions by selling Sun Business solutions, specifically
Sun Message Cast
and
Sun M2M Data Plans
to their network of clients and business contacts. This will allow them to enhance their line-up of products and services and will provide an additional revenue source for their companies. The program will likewise allow Sun Cellular to expand its market reach while at the same time helping build the ICT capabilities of SMEs.
Sun Message Cast
is a web-based messaging business application that allows a company to send and broadcast text messages to one or multiple recipients across all networks.
Sun M2M Data Plans
, on the other hand, are flexible SIM-based data packages that enable businesses to integrate machine-to-machine (M2M) solutions into their operations. Some examples of M2M services are SIM-based tracking solutions, wireless point-of-sale (POS) systems, and wireless automated teller machines (ATMs).
"With our Solutions Distribution Program, we will be empowering the SME sector which supports a huge segment of the country's production and employment. We believe that by helping SMEs become ICT-ready, we are able to help them become more competitive, more efficient, and more profitable," said
Corinne Funk-Zablan, Marketing Head for Sun Business
, during the program launch held in Cavite.
The Municipality of Bacoor in Cavite is one of the earliest adopters of
Sun Business Solutions
. Its local government unit (LGU) recently launched the Strike 24/7 platform—a 24-hour hotline of Mayor Strike Revilla powered by Sun Message Cast, that helps the municipality gather and provide vital law enforcement information to all constituents.
As part of the Solutions Distribution Program launch, Sun Business provided Cavite SMEs with a full-day training session on technology and social media trends. This knowledge-building program of Sun Business will be replicated in other parts of the Philippines to provide the benefits of ICT knowledge and connectivity to more SMEs throughout the country.
"Through this new program, we underscore our commitment to build the capacity and spur the growth and development of SME sector," Zablan concluded.
ADVERTISEMENT - CONTINUE READING BELOW